GRAMMY NOMINEE AND MULTIPLE DOVE AWARD WINNER
JEREMY CAMP LAUNCHES COME ALIVE TOUR
Special Guests Kutless And Adam Cappa Will Join
18-City Fall Outing Slated To Begin October 3, 2014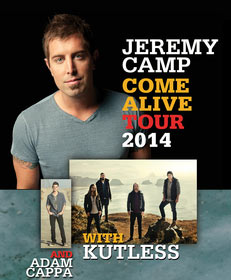 NEWS SOURCE: SouthSide Entertainment
August 11, 2014
NASHVILLE, Tenn. - August 11, 2014 - Multiple GRAMMY® nominee and Dove Award winner Jeremy Camp will headline the Come Alive Tour this fall, featuring special guests Kutless and Adam Cappa. For a dozen years now the Capitol CMG artist has been impacting audiences with the depth of his songs - and his voice. The two-time Male Vocalist of the Year (courtesy of the GMA Dove Awards) will give fans another opportunity to experience his powerful live show when the Come Alive Tour kicks off Oct. 3 in Glens Falls, New York. The highly anticipated tour, named for the current hit single on Camp's latest album, Reckless, will make nearly 20 stops before it wraps up Nov. 22 in Houston, Texas.
Top-selling modern rock/worship band Kutless is touring in support of their 2014 release, Glory, an original blend of congregational worship and atmospheric rock. Meanwhile, Indiana native Adam Cappa continues to garner praise for his 2012 debut, The Rescue, co-written and co-produced by Camp.
In addition to general admission options, a special VIP ticket package is being made available at all Come Alive Tour dates, including a pre-show meet & greet with all artists, a signed tour laminate, a photo op with the artists and early entry into the concert. All ticket purchasing info may be found at www.JeremyCamp.com/tour.
Concertgoers will also get a preview of some brand new music. Camp has promised to play a track from his upcoming 2015 release while on the road this fall. "I want this to be a ministry night," Camp says of the Come Alive dates, adding, "My whole heart for this tour is that people come to know Christ in a personal way."
To hear more about the Come Alive Tour in Jeremy's own words, click here
COME ALIVE TOUR - FALL 2014
*Dates, markets and venues subject to change without notice.
October
October 3 - Glens Falls NY | Glens Falls Civic Center
October 4 - Reading, PA | Santander Performing Arts Center
October 5 - Shippensburg, PA | Heiges Fieldhouse (Uprise Festival)
October 8 - Davenport, IA | Adler Theatre
October 9 - Fargo, ND | First Assembly of God Church
October 10 - West Des Moines, IA| Lutheran Church of Hope
October 11 - St. Paul, MN | Maranatha Hall
October 16 - Fayetteville, AR | University Baptist Church
October 18 - Enid, OK | Enid Event Center
October 19 - Salina, KS | Bicentennial Center
October 23 - Tucson, AZ | Calvary Tucson
October 24 - Redlands, CA | The Packinghouse
October 25 - Las Vegas, NV | Word of Life Christian Center
October 26 - St. George, UT | Cox Performing Arts Center
October 30 - Central Point, OR | Lithia Motor Amphitheatre
November
November 1 - Bend, OR | Christian Life Center
November 2 - Lewiston, ID | Lewis Clark State College
November 22 - Houston, TX | Grace Community Church
For the most up-to-date info on tour dates, visit www.jeremycamp.com/tour.
ABOUT JEREMY CAMP
Over his stellar 12-year career, Capitol CMG artist Jeremy Camp has established himself with these landmark accolades: more than four million albums sold, four RIAA Gold-selling studio albums including his debut album; one RIAA Multi-Platinum long-form video; 36 No. 1 Radio Hits across all formats; GRAMMY® nominated project for his album Speaking Louder Than Before; three American Music Award nominations; Billboard's No. 3 Christian Artist of the Decade including five songs in the Top 50 Billboard Christian Songs of the Decade; Billboard's No. 2 Christian Song of the Year for 2012; Billboard's No. 2 Christian Song Artist of the Year for 2012; four ASCAP Songwriter of the Year awards; ASCAP Song of the Year award; five Dove awards including two-time Male Vocalist of the Year.
In 2013, Jeremy founded Speaking Louder Ministries, which provides free crusade style events and comes alongside local churches or missionaries in the countries where the Gospel has not been heard. Locations of Speaking Louder Ministries' trips so far include: Ukraine, Japan, Guatemala, Kyrgyzstan and Brazil. Jeremy also released his first book and autobiography I Still Believe in 2013 (Tyndale). For more information, please visit www.JeremyCamp.com.
ABOUT KUTLESS
The Portland, Oregon-based band has released eight studio albums on BEC Recordings, including the brand new project Glory (Feb. 11, 2014). Kutless has two RIAA Gold-selling albums for Strong Tower and Live From Portland. The band has had 12 No. 1 radio singles across all formats including their major hits "Strong Tower," "What Faith Can Do" and "Carry Me To The Cross." In 2012, Kutless released Believer, to much media and sales acclaim, debuting at No. 1 on the Billboard Christian & Gospel Chart as well as No. 1 on the iTunes Christian Albums chart.
Launched by original members Jon Micah Sumrall (lead vocals) and guitarist James Mead, the band formed first as a modern rock/worship band at Warner Pacific College in Portland in 2000. Kutless signed to Tooth & Nail/BEC in late 2001 and released its self-titled debut the following year, which went on to become the fastest-selling debut in the label's history. Kutless is John Micah Sumrall, James Mead, Nick de Partee and Kyle Peek. For more information, visit www.kutless.com.
ABOUT ADAM CAPPA
Adam Cappa made his label debut in 2012 with The Rescue. Since that time, the Richmond, Indiana native has continued to deliver guitar-driven Christian pop that helps listeners focus squarely on their faith. Cappa was playing for teen camps when he met fellow Indiana native Jeremy Camp, who generously welcomed Adam to his home studio to record some demos and offered insight into music and ministry. Camp was so impressed that he co-wrote The Rescue with Cappa and co-produced with Andy Dodd (Switchfoot, Plain White T's).
Of his tour mate and friend Jeremy Camp says, "I've come across many amazing musicians in my life, but few are like Adam Cappa, who has a true passion for the Lord above anything else in his life and is extremely talented as well."
###
For more info on Jeremy Camp visit the JFH Artists Database.
For more info on Kutless visit the JFH Artists Database.
For more info on Adam Cappa visit the JFH Artists Database.