FORERUNNER MUSIC CELEBRATES FIRST
DOVE NOMINATIONS
Onething Live and Julie Meyer Recognized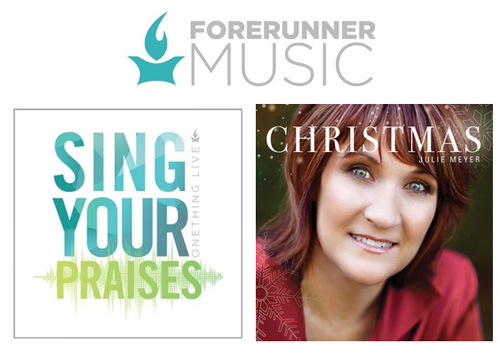 NEWS SOURCE: Forerunner Music
August 14, 2014
Kansas City, Mo. (August 14, 2014) - Forerunner Music celebrated two Dove-nominated projects as nominees for the 45th Annual GMA Dove Awards were announced at a press conference in Nashville, Tenn., yesterday. This marks the label's first time to be nominated for a Dove Award. Onething Live: Sing Your Praises was nominated for Special Event Album of the Year. In addition, worship leader Julie Meyer garnered a nod for her holiday offering, Christmas, in the Christmas Album of the Year category.
"We're delighted to see two albums from IHOPKC worship leaders recognized by the Gospel Music Association!" remarks Forerunner Music President Nick Syrett.
Onething Live: Sing Your Praises, the eighth project from the best-selling Onething Live series, became the highest charting album in the series' history when it debuted at No. 8 on Soundscan's Praise and Worship chart following its release in April. The album was recorded live at last year's annual Onething conference, a premier event where more than 25,000 young adults gathered for extended times of worship, Bible teaching and ministry in downtown Kansas City. The project features 11 of the International House of Prayer's (IHOPKC) talented worship artists, including Misty Edwards, Laura Hackett, Matt Gilman, Justin Rizzo, Jon Thurlow, Anna Blanc, Ryan Kondo, Jaye Thomas, Zac Dinsmore, Jonas Park and Wallace and Rachel Faagutu.
This past holiday season, Meyer gave fans the gift of her first seasonal effort. Christmas includes traditional classics alongside three originals, largely driven by acoustic melodies. The album also features an array of family and friends, including Meyer's son who played on the project as well as co-produced it.
Winners for the 45th Annual GMA Dove Awards will be announced Tuesday, October 7, 2014, at Allen Arena on the campus of Lipscomb University in Nashville. The award show will be broadcast on the Trinity Broadcasting Network (TBN) at a later date.
For more information on these two Dove-nominated projects, visit:
http://www.ihopkc.org/singyourpraises
http://www.ihopkc.org/christmas
ABOUT FORERUNNER MUSIC
Forerunner Music is the official record label of the International House of Prayer of Kansas City, Mo., an evangelical missions organization centered on 24/7 worship and prayer. Having released more than 150 albums since its inception in 2001, the label has produced records for artists such as Misty Edwards, Laura Hackett and Matt Gilman, among others. Forerunner Music albums have reached as high as No. 9 on the Billboard charts and No. 1 on iTunes' Christian & Gospel charts. Visit forerunnermusic.com for more information.
ABOUT THE INTERNATIONAL HOUSE OF PRAYER OF KANSAS CITY
The International House of Prayer of Kansas City (IHOPKC) is a 24/7 prayer ministry that has held worship-led prayer meetings non-stop for 15 years. Since 1999, bands of 10 or more singers and musicians have led an unending cycle of two-hour prayer-and-worship sets-all day and night-in the ministry's Global Prayer Room. The ministry streams this continual worship and prayer live on its website and is watched by tens of thousands of people each day from around the world.
###