Phillips, Craig and Dean Reach Gold Status with Hit Single
"Revelation Song"
Trio's New Single "Jesus, Only Jesus" Going for Adds at Radio August 22nd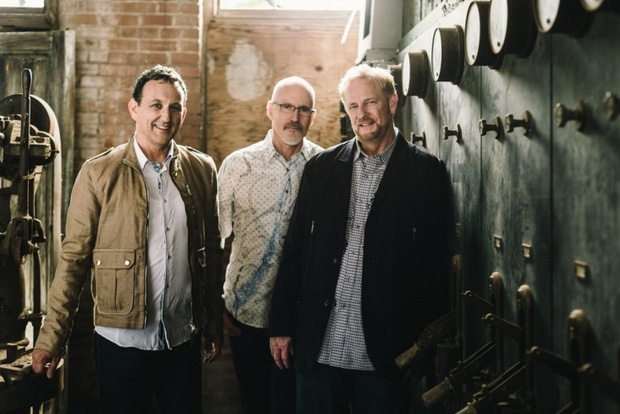 NEWS SOURCE: Bozeman Media
August 14, 2014
Nashville, TN (August 13, 2014) ----- Phillips, Craig and Dean have reached another major milestone in their career, as their No. 1 single, "Revelation Song," has received RIAA certified Gold status. The honor is bestowed on any recording that has sold 500,000 units. The single was No. 1 for 17 weeks on Billboard's AC Monitored chart and also reached No. 1 on Billboard's National Christian Audience chart, AC Indicator chart and Soft AC chart. The group's label, Fair Trade Services, will present the trio with the official gold plaque later this month to mark the noteworthy event for the Dove-Award winning song.
"This significant achievement is a testimony to the enduring impact Phillips Craig and Dean have had on Christian music," says Jeff Moseley, President, Fair Trade Services. "It is remarkable for a group with this legacy to continue to forge new paths for the future instead of resting on their laurels. These men, combined with this incredible song, have created a classic for generations to come. We are happy to celebrate with them and the writer of this song, Jennie Lee Riddle."
"Years ago when Phillips, Craig and Dean started, I could not have imagined that we would still be making music 23 years later, much less that radio and the our listeners would still be playing and listening. It is an honor to have achieved this accomplishment and to have relevance at this point in our career. We are thankful to God, the wonderful people who still download and listen to our music, and to Christian radio for giving us a voice for all these years. Thanks to Fairtrade for their support, to Bernie Hermes for an incredible arrangement, and to Jennie Lee Riddle for a great song to sing." - Phillips, Craig and Dean
Phillips, Craig, and Dean will release their 13th career album on November 11, 2014, Above It All. The first single, "Jesus, Only Jesus," will be going for adds at radio on August 22 and will be available for purchase on iTunes and Amazon Music on August 26th. To keep updated about the new project, tour dates, and other news for the group, please visit online www.phillipscraiganddean.com, www.facebook.com/pcdguys, and www.twitter.com/pcdguys.
About Phillips, Craig and Dean
Since the group was formed more than 20 years ago, Phillips, Craig & Dean has achieved remarkable status in the Christian music industry. They will release their 13th album, Above It All November 11th, have produced 23 No. 1 radio hits, sold almost three million records, and have won three GMA Dove Awards. Their major hits have received national attention with "Revelation Song" staying at No. 1 for a record-breaking 17 weeks, "Crucified with Christ" named Inspiration Song of the Year by CCM Magazine, "Saved The Day" played during a nationally televised game of the Texas Rangers, and "Shine On Us" being the theme song for the National Day of Prayer's 50th anniversary. Phillips, Craig and Dean remain an active touring act, which has included appearances at National Religious Broadcasters and Christian Booksellers Association conventions and Promise Keepers events. The group still maintains their moratorium on Saturday night travel due to their commitments as full-time pastors at their home churches in Austin, TX, St. Louis, Missouri and Carrollton, TX.
About Fair Trade Services
Fair Trade Services, LLC launched in June 2011 by music industry veteran, Jeff Moseley. Fair Trade Services is a partnership based on dialogue, transparency, and respect, formed for the development of remarkable Christian artists who desire artistic excellence, cultural relevance and spiritual significance. Located in Brentwood, Tennessee, their roster includes MercyMe, Laura Story, Audio Adrenaline, The Afters, Phillips, Craig & Dean, Sara Groves, Phil Wickham, Shane & Shane and more. Fair Trade Services is distributed by Provident Distribution and Sony Music. (www.FairTradeServices.com).
###
For more info on Phillips, Craig and Dean visit the JFH Artists Database.