COMPASSION INTERNATIONAL PRESENTS
FRANCESCA BATTISTELLI'S IF WE'RE HONEST TOUR
WITH SPECIAL GUESTS SANCTUS REAL AND JON BAUER

Fall Run Kicks Off Sept. 25, 2014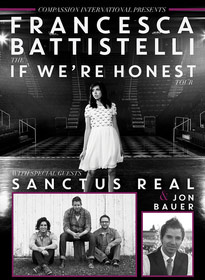 NEWS SOURCE: Southside Entertainment
August 15, 2014
NASHVILLE, Tenn. – August 15, 2014 – GRAMMY®-nominated, Dove Award-winning "Artist of the Year" Francesca Battistelli will headline the If We're Honest Tour this fall with special guests Sanctus Real and Jon Bauer. The 17-city run begins Sept. 25 and wraps up Nov. 2.
This highly-anticipated tour shares a name with Battistelli's new No. 1 selling album, for which she just received her 23rd Dove Award nomination for Pop/Contemporary Album of the Year. Produced by GRAMMY®-nominated and Dove Award-winning producer and her longtime collaborator Ian Eskelin, If We're Honest reveals Battistelli's most intimate and accomplished musical statement yet and showcases her trademark pop and soul-infused sound.
The If We're Honest Tour audience will get the best of both worlds as Battistelli performs music from her new release (including radio favorites "Write Your Story" and "He Knows My Name") along with many of the hits found on her record-breaking debut, My Paper Heart and 2011's bestselling follow-up, Hundred More Years. Meanwhile, Sanctus Real will give fans a sneak peek at music from their upcoming studio project, The Dream (releasing Oct. 14), including the album's first single, "Lay It Down." Canadian favorite Jon Bauer is fresh from thrilling audiences on Steven Curtis Chapman's The Glorious Unfolding Tour.
Select dates on the If We're Honest Tour will feature a VIP ticket package, providing an artist Q&A session along with premium seating. Ticket information for all tour dates is available at www.francescamusic.com. For a special video preview, click here:
The If We're Honest Tour is presented by Compassion International (www.compassion.com), the world's leading authority in child sponsorship. Compassion revolutionized the fight against global poverty by equipping the Church to develop children out of poverty to become responsible and fulfilled Christian adults. Founded in1952, Compassion now partners with more than 6,000 Christian churches in 26 countries to release more than 1.4 million babies, children and students from poverty.
IF WE'RE HONEST TOUR – FALL 2014
*Additional dates to be added. Dates, markets and venues subject to change without notice.
September
September 25 – Pace, FL | Immanuel Baptist Church
September 27 – Houston, TX | Grace Community Church
September 28 – Austin, TX | Life Austin
October
October 1 – Iowa Falls, IA | Bill Riley Band Shell
October 4 – Hidalgo, TX | State Farm Arena
October 5 – Longview, TX | Grace Creek Church
October 10 – Mansfield, OH | Mansfield Christian Church
October 11 – Jefferson, WI | Jefferson High School Performing Arts Center
October 12 – St. Cloud, MN | Calvary Community Church
October 17 – Duluth, MN | Denfeld High School Auditorium
October 18 – Arlington Heights, IL | Christian Liberty Academy
October 24 – Whiting, NJ | America's Keswick Activity Center
October 25 – Elkins, WV | Davis & Elkins College
October 26 – Mifflintown, PA | Cedar Grove Brethren in Christ Church
October 30 – Savannah, TN| Sharon Baptist Church
November
November 1 – Fort Wayne, IN | First Assembly of God
November 2 – Eau Claire, WI | Calvary Baptist Church
For the most up-to-date info on tour dates, visit www.francescamusic.com.
ABOUT FRANCESCA BATTISTELLI
Since her debut in 2008, Francesca Battistelli has earned a GRAMMY nomination (Best Gospel Performance), six Dove Awards including 2011 "Artist of the Year," and 23 Dove Award nominations. Both her debut album, My Paper Heart (certified gold in 2012), and her 2011 sophomore release, Hundred More Years, took the No. 1 spot on Billboard's Christian Album chart. With over 978,000 in album sales to date and over 1.8 million single downloads, she is the best-selling new artist in the genre in the past decade. Her music has also been featured on TriStar Picture's "Soul Surfer," Columbia Picture's "Julie and Julia," TLC's "Jon & Kate Plus 8," ABC's "Extreme Makeover: Home Edition," NBC's "The Biggest Loser," Fox's "So You Think You Can Dance," and several other television and movie outlets. In addition, this past fall she was featured on over 3 million Diet Pepsi cans throughout the U.S. For more info, visit www.francescamusic.com.
ABOUT SANCTUS REAL
Over Sanctus Real's stellar 17-year career, band members Matt Hammitt (lead vocals), Chris Rohman (guitar), Mark Graalman (drums), Jacob Rye (bass), and Seth Huff (keys and guitar) have received critical acclaim as a Christian rock and alternative CCM band. The success of their albums landed Sanctus Real eight No. 1 singles and seven Top 5 radio singles. To date, the band's total digital track sales exceed 1 million. Sanctus Real earned two GRAMMY nominations, including 2009 Best Rock Gospel Album for We Need Each Other and 2010 Best Contemporary/Pop Gospel Album for Pieces of a Real Heart. Since 2004, Sanctus Real has been nominated for nine Dove Awards and won Modern Rock Album of the Year for Fight the Tide in 2005. Sanctus Real was named R&R Magazine's most played CHR radio Christian artist of 2006 and Billboard's No. 4 most played Christian band of 2010. Sanctus Real has toured alongside notable artists such as TobyMac, Casting Crowns, Third Day, MercyMe, Steven Curtis Chapman and Skillet. For more information, please visit www.sanctusreal.com.
ABOUT JON BAUER
Worship artist Jon Bauer has released five independent projects, which have sold more than 40,000 cumulative copies and generated 12 Canadian radio hits, including a No. 1 single and six Top 5 singles. He has toured with artists including Steven Curtis Chapman, Michael W. Smith and Newsboys and continues to play 175+ dates annually. In 2012 alone, he performed more than 200 shows in five countries. Boasting a tally of 20 Covenant Award nominations from 2005-2011, with three total wins for Male Vocalist of the Year (2008), Children's Album of the Year (2009) and Children's Song of the Year (2011), Bauer recently garnered his first Juno Award nomination in the category of Contemporary Christian Album of the Year for Forevermore. His television appearances include "The Harvest Show," Daystar Television Network, "100 Huntley Street," The Miracle Channel, "Living Truth," and TCT Network. He is Canada's top Compassion Canada artist and has helped the international outreach organization see more than 3,000 children sponsored in the last nine months alone. For more info, visit www.jonbauermusic.com.
###
For more info on Francesca Battistelli visit the JFH Artists Database.
For more info on Sanctus Real visit the JFH Artists Database.