Haste The Day To Record New Album; Currently Raising Funds Via IndieGoGo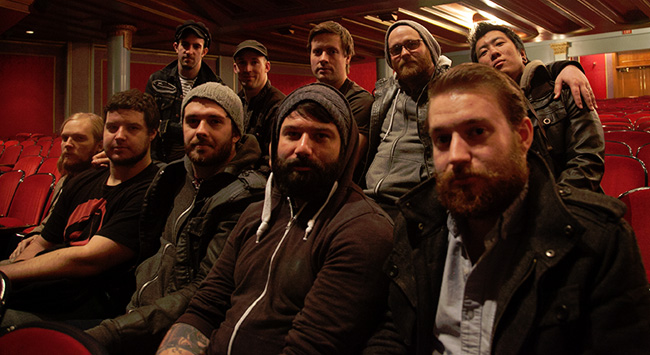 NEWS SOURCE: Haste The Day / Jesusfreakhideout.com
August 15, 2014
Haste The Day is back! The hardcore band, formerly on Solid State Records, is recording a brand new studio album with the help of their fans thru IndieGoGo. The band is planning to record the new record in January, 2015. This will be their first new studio album since 2010's Attack Of The Wolf King.
About the project, the band writes:
In May of this year, we celebrated the 10 year anniversary of the release of our first studio album Burning Bridges. Needless to say, the experience brought a lot of memories back for all members of Haste the Day, past and present. After the gig, Stephen (vocals), Mark (long-time friend and manager) and I (Mike) started talking about what it would look like to put out another album. Needless to say, this was a complex decision making process, but something we all wanted to do.

As is the case with all things in life: if something is worth doing, it's worth doing right! So we spent a lot of time determining the best way to make our 6th full-length studio album. Who would write, who would perform, how would we involve all members of the band in the project in one way or another? You see, we are all friends & brothers and so we wanted to give all the guys an opportunity to participate in one way or another. At the same time, we want to make the best album we can, one that would thrill fans of all eras of Haste the Day. So, here's the scoop: Stephen, Jimmy, Brennan, Scotty, Mike, Giuseppe will be the core writers for the new album, which has yet to be named. Dave will be providing additional writing input as well as helping with guitars and guitar tone during the recording process. Stephen will be producing the album, which we will record in Nashville, Tennessee.

In addition, The Burning Bridges era of Haste the Day will also be writing and performing one song for the new album. For those of you not familiar with that album or the lineup that made it, Jimmy, Jason, Mike, Brennan, and Devin will be writing and recording the song for the album.

We have already begun writing the album and we will begin recording the album in January of 2015. Expect lots of video updates along the way. For all of our backers, expect to get glimpses of the new music as we demo the songs and prepare for the recording process.
Visit their IndieGoGo page for all of the details on how you can be a part of this new project!
###
For more info on Haste The Day visit the JFH Artists Database.