LAURA HACKETT SHARES LOVE WILL HAVE ITS DAY OCT. 21 FROM FORERUNNER MUSIC
New Album Pushes Musical Boundaries with Help from Multiple GRAMMY,
Dove Award-winning Producer Brown Bannister

Audio Release Supported by Extensive Marketing, Promotional, Social Media Campaign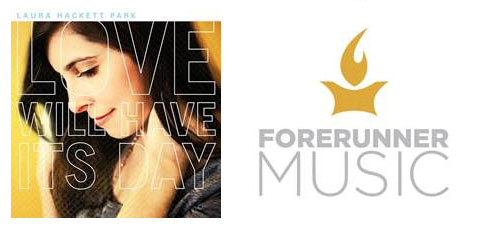 NEWS SOURCE: Hoganson Media
August 18, 2014
Dove-nominated singer/songwriter Laura Hackett will release her newest studio album, Love Will Have Its Day, from Forerunner Music, the official record label of the International House of Prayer of Kansas City (IHOPKC). Available Oct. 21 through digital and retail outlets everywhere and distributed through New Day Distribution, Love Will Have Its Day, is Laura's second full-length album on Forerunner Music and finds her exploring a much broader range of music than ever before.
As one of the worship leaders at IHOPKC, Laura caught the attention of the legendary, multiple GRAMMY and Dove Award-winning producer Brown Bannister, who lends his production talents, along with Ben Shive (Brandon Heath, Bebo Norman, JJ Heller, Andrew Peterson), to this 12-track album that uses a full musical palette to convey the truth of its theme: if we can walk through this life anchored in Christ, then in every situation we know that love will have the final word, and we live with hope.
"I have had the privilege of working with one of the best kept secrets in Christian music!" exclaims acclaimed producer Brown Bannister. "I've found Laura to be a delight-and not just an amazing talent, but also an amazing person…She is just one of those pure souls-pure artists-who is so vertical and given over to the Lord. She has a special gifting as a woman of God and a special role in Kingdom work. I am truly excited to introduce Laura to you, and I can't wait for you to hear the record!"
Armed with strong, thematic songwriting and emotional vocals, the songs are personal, born of the events and people in Laura's life, including fiancé and labelmate Jonas Park, the story of a close friend suffering from chronic pain and more global issues-such as the plight of human trafficking.
Drawing the title of the album from the inspiring song, "Lift Up Your Head," Laura sings, "Breathe, darling, breathe. It's not yet time for you to leave. Love Will Have Its Day. Lift up your head. Turn your face to the rising sun while you wait, while you wait for redemption to come."
"Lift Up Your Head" will also be the first song from the album to be serviced to AC and Hot AC Christian Radio formats, in conjunction with a national publicity campaign and targeted marketing campaign reaching out to over 200,000 consumers and fans through the International House of Prayer and Forerunner Music email lists. The record will further be promoted through key advertising outlets, as well as an aggressive social media campaign targeting nearly 500,000 fans through IHOPKC, Forerunner Music and Laura Hackett.
Additionally, Laura's song and live recording of "The Love Inside" is featured on Onething Live: Sing Your Praises, nominated for a 2014 Special Event Album of the Year Dove Award. Her cover performance of Matt Redman's "Holy" is also featured on the album. Both were recorded as part of the annual Onething Live conference last December at the International House of Prayer of Kansas City, which drew approximately 25,000 young adults to the event.
Making music all of her life, Laura eventually became a worship leader at the International House of Prayer of Kansas City, an evangelical missions organization centered on 24/7 worship and prayer. Laura continues to lead worship in the 24-hour prayer room each week, which is streamed LIVE to over 175,000 people a month, because she says, "Jesus is worthy of constant love and adoration for what He did at the Cross for us."
The full Love Will Have Its Day Track Listing follows:
1. Changes Everything
2. The Love Inside
3. Lift Up Your Head
4. Beautiful Heart
5. Song of Destiny
6. He Shall Reign
7. King Jesus
8. Anger
9. I Feel His Love
10. Got Something Going On
11. Brilliant Light
12. Cover Me
About Love Will Have Its Day
Street Date: 10/21/2014
CD UPC#: 8-2187-00006-2
SRP: $11.99 Digital Price: $9.99
About Laura Hackett
Growing up in the house of prayer, Laura was surrounded by music. Songwriting came naturally for her, and she wrote her first song at the age of eight. She later attended the Conservatory of Music and Dance at the University of Missouri-Kansas City to develop her songwriting skills and graduated with a degree in music theory. Laura now teaches voice classes at the Forerunner Music Academy, which is part of International House of Prayer University, and serves as a worship leader at IHOPKC. Her motivation for music and songwriting comes from a desire to draw people back to God. Laura's songs and vocals have been featured on many different albums in the IHOPKC community. Her first full-length solo album released in the fall of 2009, followed by her single "I Put On Christ (The Battle Is Raging)," which gained recognition through the International House of Prayer's Onething young adult conferences. Visit Laura's website at www.laurahackett.com.
About Forerunner Music
Forerunner Music is the official record label of the International House of Prayer of Kansas City, Mo., an evangelical missions organization centered on 24/7 worship and prayer. Having released more than 150 albums since its inception in 2001, the label has produced records for artists such as Misty Edwards, Laura Hackett, and Matt Gilman. Forerunner Music albums have reached as high as No. 9 on the Billboard charts and No. 1 on iTunes' Christian & Gospel charts. Visit forerunnermusic.com for more information.
About the International House of Prayer of Kansas City
The International House of Prayer of Kansas City (IHOPKC) is a 24/7 prayer ministry that has held worship-led prayer meetings non-stop for 15 years. Since 1999, bands of 10 or more singers and musicians have led an unending cycle of two-hour prayer-and-worship sets-all day and night-in the ministry's Global Prayer Room. The ministry streams this continual worship and prayer live on its website and is watched by tens of thousands of people each day from around the world.
IHOPKC includes a university (IHOPU) with ministry, music, media, and missions schools. The organization is committed to justice and compassion outreaches involving human trafficking, inner-city programs, and adoption. IHOPKC's vision is to work in relationship with the wider Body of Christ to serve the Great Commission, seeking to walk out the two great commandments: to love God and people. The International House of Prayer is an evangelical missions organization that has a growing community of about 4,000. Visit www.ihopkc.org for more information.
# # #