The Follow Tour featuring Shopé, Canon, Json, S.O, Julien & Dj Lagit Announce Tour Dates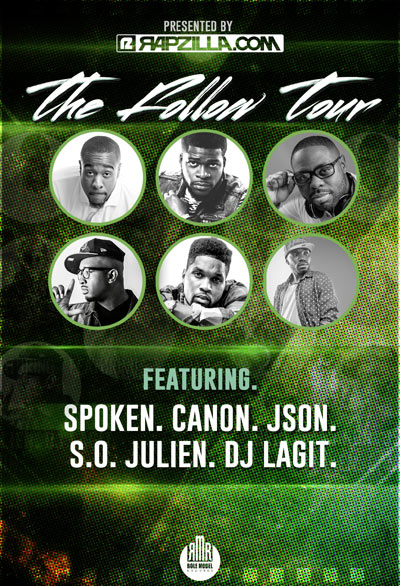 NEWS SOURCE: SOHH PR
August 25, 2014
Presented by Lamp Mode Recordings, Role Model Records, and Rapzilla, The Follow Tour kicks off on September 12th 2014 with Shopé fka Spoken, Canon, Json, S.O, Julien & Dj Lagit hitting the stage in each city. If the follow tour is coming to your city tweet "I live to follow Christ" #TheFollowTour and the name of your city to @rolemodelrecord and you could win a pair of tickets to the concert.
Dates
Sept. 12: Chatsworth, CA - Chatsworth Foursquare Church
Sept. 19: Chicago, IL - The House
Sept. 20: Ottawa, ON - Algonquin College
Sept. 21: Toronto, ON - Garage Concert Hall
Sept. 26: Oklahoma City, OK - The Linked Church
Sept. 27: Houston, TX - The Legacy Church
Sept. 28: Corpus Christi, TX - Calvary Chapel
Oct. 3: Lake Worth, FL - TBD
Oct. 4: Miami, FL - Central Bible Church
Oct. 5: Nashville, TN - Rocketown
Oct.10: San Diego, CA - Valencia Park Elementary School
Oct.11: San Francisco, CA - City Life Church
Oct.18: Colorado Springs, CO - Springs Journey Church
For more info on The Follow Tour, to purchase tickets or to bring it to your city please visit www.thefollowtour.net.
# # #