MAYFLY UNLEASH "LIVE" LYRIC VIDEO FOR "SKYLIGHTS"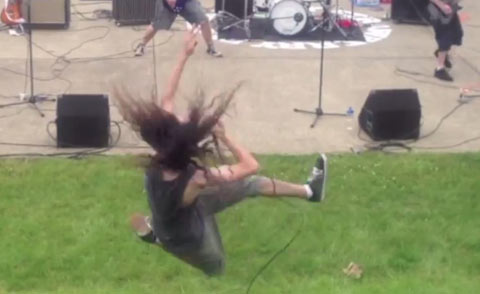 NEWS SOURCE: Gorilla PR
September 2, 2014
(Nashville, Tenn.) September 2, 2014 - Mayfly, the hardest working band in Central Ohio is back at it with their first official lyric video for the song "Skylights" off their debut EP Vereor Deus, Non Dogma on Voluminous Records. The band chose to pursue a different course from many bands by using live video footage from various shows as the backdrop for the lyrics. "Skylights" (featuring Rob Goad and Justin Moore) is quite possibly the EP's most aggressively brutal track among a stable of pretty vicious tunes. In the words of the iTunes editor's review of the album, "the frantic tempo and dense vocal interplay of 'Skylights' takes the EP's ferocity level up another notch." That unbridled intensity is most certainly on display in this video. The video will debut on the Mayfly YouTube channel on Tuesday, September 9th.
As the band prepares for the follow-up to Vereor Deus, Non Dogma, Mayfly continues to blow the doors off any venue courageous enough to host a show. For those occasional outdoor gigs, young families are inevitably sent packing and wildlife is often seen fleeing to the surrounding countryside. The band's testosterone-laden "take no prisoners" swagger leaves a wake of carnage for all to witness. In the midst of this dogged determination to push forward and "make disciples" at any cost, the bold, bearded men from Troy are building a strong, vibrant fan base one show at a time; one tweet at a time; one post at a time; one shattered eardrum at a time. Catch the band this Saturday, September 6th, at Fort Wayne, Indian's Ultrasound Festival before they take a much-needed respite from touring to focus on writing for the next album.
Watch the official lyric video for "Skylights" here:
http://youtu.be/Nxm-sVUc1OY
For more information on Mayfly, please visit:
Facebook.com/MayflySounds
Twitter.com/MayflySounds
YouTube.com/MayflySounds