The Inspirational Country Music Awards Announces Top-5 Finalist and Prepares for Special Twentieth Anniversary Show Hosted by Inside Edition's Megan Alexander and Grammy Award-Winning Comedic Country Legend Ray Stevens
ICM Faith, Family & Country Convention to be held November 9-13 in Music City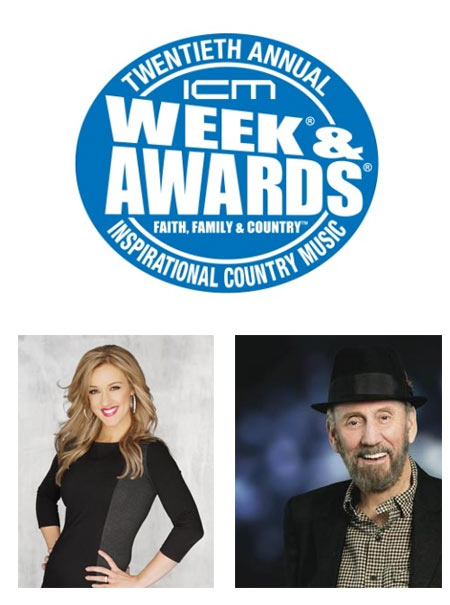 NEWS SOURCE: MorningStar PR
September 25, 2014
NASHVILLE, Tenn. (September 25, 2014) - The Inspirational Country Music Association is pleased to announce the top-5 finalist for this year's Inspirational Faith, Family & Country Awards™ honoring and showcasing the biggest names and emerging talent among artists who perform Inspirational and Christian Country music.
Finalists include such notables as Vince Gill, Guy Penrod, Lady Antebellum, Rhonda Vincent, The Isaacs, Scotty McCreery, Doyle Lawson & Quicksilver, The Roys and more. Russ Murphy leads the nominations with five nods. Tommy Brandt follows with four nods.
Celebrating the twentieth anniversary of the awards show, this year's Inspirational Country Music Awards will be held at Cornerstone Nashville (726 W Old Hickory Blvd, Madison, Tenn.) on Thursday, November 13 at 7:00 P.M. and hosted by Inside Edition's Megan Alexander, who will return for the fifth consecutive year, alongside the Grammy Award-winning comedic Country legend Ray Stevens. Past performers and presenters on the show include Wynonna, Josh Turner, Collin Raye, Tracy Lawrence, Natalie Grant, Charlie Daniels, Andy Griggs, Lonestar, Jamie O'Neal, Linda Davis, Point of Grace and many more. This year's award show will be broadcasted on the NRB Network as well as GEB America with more networks to be announced in the near future (check local schedule listings on each network for broadcast times in your area).
The Inspirational Country Music Awards are held in conjunction with the annual ICM Faith, Family & Country™ Week which draws fans to Music City every year and features the ICM Faith, Family and Country nightly showcases, a special Sunday night Honkytonkin Jubilee, The Power Source #1 Party, Media Appreciation Luncheon, membership breakfast, seminars and much more. Hotel packages are available through The Inn at Opryland by calling 1-800-901-4211. To purchase tickets for the conference or the awards show, click HERE. For more information, please visit www.faithfamilycountry.com.
2014 Inspirational Country Music Awards Top-5 Nominees:
ENTERTAINER OF THE YEAR
Chuck Hancock
Kali Rose
Russ Murphy
Steve Richard
FEMALE VOCALIST
Chareé White
Kali Rose
Larissa
Laura Dodd
MALE VOCALIST
Chuck Hancock
Guy Penrod
Russ Murphy
Steve Richard
VOCAL DUO or DUO PERFORMANCE
Bruce & Betsy Mullen
John Blackwell & Susie McEntire
Kali Rose & Dennis Agajanian
Steve Richard & Laura Dodd
VOCAL GROUP OR BAND
Branded*
Jayc Harold Band
Red Roots
Sunday Drive
The Isaacs
The Kristina Craig Band
*Branded was mistakenly put in DUO. They are now a Group and added to this category
INSPIRATIONAL COUNTRY SONG OF THE YEAR
"I'm A Rock" - Kristina Craig Band
"Pray For Me" - Sweetwater Rain
"Stand Up" – Russ Murphy
"The God Of Another Chance" - Chuck Day
"The Rock On Which I Stand" - Steve Richard & Laura Dodd
MAINSTREAM COUNTRY MALE ARTIST
Alan Jackson
Jeff Bates
Josh Turner
Scotty McCreery
MAINSTREAM COUNTRY FEMALE ARTIST
Carrie Underwood
Dolly Parton
Martina McBride
Rachel Holder
MAINSTREAM COUNTRY DUO OR GROUP
Joey + Rory
Lady Antebellum
Oak Ridge Boys
Rascal Flatts
MAINSTREAM INSPIRATIONAL COUNTRY SONG
"Compass" - Lady Antebellum
"Doin' It Right" - Rodney Atkins
"I Believe" – George Strait
"I Don't Dance" - Lee Brice
"Like Jesus Does" - Eric Church
SONGWRITER
Chuck Day
Chuck Hancock
Corey Lee Barker
Greg McDougal
MUSIC VIDEO OF THE YEAR
"Compass" – Lady Antebellum; directed by Peter Zavaldil
"Invisible" – Hunter Hayes; directed by Ray Kay
"Keep On Rollin'" – Steve Richard; directed by Flick Wiltshire
"Like Jesus Does" – Eric Church; directed by John Peets
"Love Is Stronger" – Jason Crabb; directed by Roman White
NEW ARTIST OF THE YEAR
Bonita Adele
Isaac Cole
Joe Loftus
Steve Shirey
YOUTH IN MUSIC AWARD
Adrienne Haupt
Isaac Cole
McDougal Kids
Mikayla Lynn
MUSICIAN
Dennis Agajanian
Gordon Mote
Greg McDougal
Jayc Harold
INSPIRATIONAL COMEDIAN
Aaron Wilburn
Barry McGee
Chonda Pierce
T. Bubba Bechtol
LIVING LEGEND
The Living Legend Recipient has been determined.
MUSIC EVANGELIST*
Dennis Agajanian
Greg McDougal
Mary James
Russ Murphy
Tommy Brandt
Wade Hammond
* a tie in this category created six nominees
RADIO STATION/NETWORK
HLE Radio
Inspirational Country Radio Network
KSTV 93.1 FM – Dublin, TX
WGDN FM 103.1 - Gladwin, Michigan
WSM AM 650 – Nashville, TN
RADIO PERSONALITY
Hunter Logan
JR Pitsenbarger
Marty Smith
Rich Miller
TELEVISION NETWORK
Christian Broadcasting Network (CBN)
Family Friendly Entertainment Inc.
Hallmark Channel
RFD TV
INSPIRATIONAL BLUEGRASS ARTIST
Doyle Lawson & Quicksilver
Rhonda Vincent
Ricky Skaggs
The Isaacs
FAITH, FAMILY & COUNTRY MOVIE
Gods' Not Dead – Pure Flix Entertainment
Grace Unplugged – Coram Deo Studios / Birchwood Pictures
Heaven Is For Real – Roth Films / Screen Gems / TriStar Pictures
Moms' Night Out – TriStar Pictures / Provident Films / Affirm Films
Son of God – Hearst Entertainment / LightWorkers Media
For additional updates, get social with the ICM Faith, Family and Country Conference and Awards by liking them at www.facebook.com/faithfamilycountry or by following them at https://twitter.com/ICMAwards.
- ### -