AWARD-WINNING MUSICIAN JEAN WATSON PAIRS WITH GUITAR VIRTUOSO PHIL KEAGGY ON NEW HOLIDAY CD
Singer/Songwriter/Violinist Prepares For October 14 Release of
Christmas...Not The Way It Seems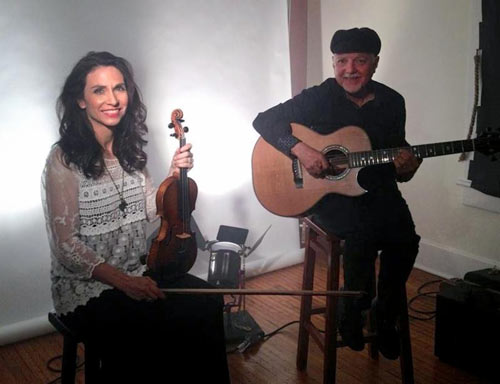 NEWS SOURCE: McCain & Co. PR
September 29, 2014
NASHVILLE, Tenn. (September 29, 2014) - Gospel Music Hall of Famer and guitar virtuoso Phil Keaggy has joined Shadowlands recording artist Jean Watson on the Celtic-infused holiday project, Christmas...Not The Way It Seems. Watson enlisted Keaggy's talents on the lead single, "Do You Hear What I Hear?" Keaggy also joined the classically trained singer/songwriter and violinist on the video for the single, which was directed by award-winning director and producer Ben Pearson (Blue Like Jazz).
Christmas...Not The Way It Seems will be released October 14 through Shadowlands and Elevate Entertainment. Watson, the first artist signed to the indie Shadowlands label, brought in Grammy Award-nominated producer Billy Smiley to produce the 11-song collection of angelic Christmas favorites.
Destined to become a Yuletide classic, Christmas...Not The Way It Seems blends time-honored, beloved carols like "Do You Hear What I Hear," "Angels We Have Heard On High" and "The First Noel," with melodic renditions of less familiar holiday songs like "Pat A Pan," "Coventry Carol" and "Lo How A Rose" and Watson's self-penned Christmas hymn, "Not The Way It Seems."
"Jean is a gifted soul and person. Very seldom do I find someone with incredible gifts in songwriting, singing, and violin all in one person," says Smiley, who, in addition to his Grammy nominations, has produced more than 100 albums and 30 No. 1 songs, and is a founding member of legendary Christian rock band White Heart. "It has been a pleasure to see her wings unfold throughout the recording process. It will be so exciting for the world to see and hear this beautiful talent!"
Musically, the album employs rich, emotive orchestration which, when combined with Watson's ethereal yet resilient vocals, is reminiscent of such world music artists as Enya, Maire Brennan, Clannad and Kristen Getty.
The project opens with Keaggy's unmistakable acoustic guitar stylings undergirding, supporting and uplifting Watson's delicate, lilting vocals on a wistful rendition of "Do You Hear What I Hear?" to create an ethereal atmosphere for listeners to relish. Watson closes the CD with a full band version of the same song, giving listeners the opportunity to experience the expansive range of her musical expressions. In between, Watson takes fans on a sonic journey of wonder as each song delicately and reverently celebrates the mystery of the Incarnation.
Pensive, orchestral woodwinds and strings embellish Watson's bell-like vocals on her achingly melancholic rendition of "O Come O Come Emmanuel." She employs joyous Celtic-rock rhythms on her updated version of the 18th century Burgundian carol, "Pat A Pan," then mixes contemporary instrumental stylings with classic vocals on her up-tempo version of the beloved Christmas hymn, "Angels We Have Heard On High." Watson seamlessly shifts to the meandering, peace-evoking "Coventry Carol."
Fans of traditional Christmas songs will thrill at Watson's compelling and reverent version of "O Holy Night." Moody, swaying acoustic guitars, understated violin and yearning minor key Celtic whistles beckon listeners to stop and ponder on the 19th century English carol "God Rest Ye Merry Gentlemen," and joy simply bursts forth like the sun over an Irish countryside as Watson recounts the wonder of that first Christmas morn on "The First Noel."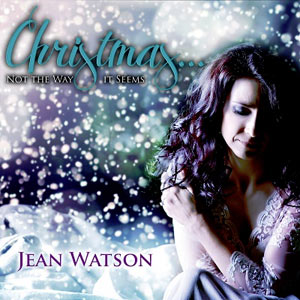 Perhaps less well known than other holiday carols, "Lo How A Rose" may be the oldest song on the project, having been first published in Germany in 1599 A.D. Watson's lilting version of the classic carol segues effortlessly into the newest song on the album, Watson's own "Not The Way It Seems," a contemporary Christmas carol that is destined to take its place among seasonal favorites.
For more information about Watson or Christmas...Not The Way It Seems, visit jeanwatson.com.
Born into a musical family, Jean Watson's classical training began when she was still a young child. Early on she displayed an affinity for the violin, but as time passed she became equally recognized for her wistful, ethereal vocals. As an adult, Watson set aside her music to focus on her responsibilities as a wife and mother. When her marriage ended in divorce, she found herself in a time of deep depression and hopelessness. At her lowest point, she cried out to God.
A short time later, the landlord of the house where Watson lived with her four children stopped by to bring her family a Christmas tree. As he was setting it up, he overheard some Christmas carols that Jean had recorded.
"'What is that?' he asked. 'That's you? I don't know what you are doing with your life, but THAT is what you're supposed to be doing with your life,' Watson remembers. "He told me to keep my rent money and take it to a recording studio and make a CD.' He had no idea that his generosity was an answer to my prayers."
Her landlord's kind financial gift led to Watson's first CD in 2002 and set her on the path that she continues following today, which has taken her around the world performing music from her six albums, including her latest, Christmas...Not The Way It Seems.
Watson has been honored four times as the Best Female Praise and Worship Artist USA by the U.K. Christian Music Alliance and can be heard worldwide on UCB Radio Ireland where she hosts a daily inspirational radio program, Jean Watson, which she records from her Michigan home studio. She has logged thousands of miles traveling to perform churches, prisons, coffee houses, homeless shelters and concert halls. When she is not on the road, she plays violin in the Kalamazoo, Mich., Symphony.
Watson is a newlywed, having recently married Mark Roberts, a chaplain in the United States Air Force. She has four children, Charlie, Andrew, Grace and Katharine; a daughter-in-law, Emily; and two grandsons, Chase and Aiden. Watson lives in Lawton, Mich.
For more information on Watson or Christmas...Not The Way It Seems, visit jeanwatson.com or ucbirelandradio.com or like on Facebook at Facebook.com/JeanWatsonMusic.
About Shadowlands Music:
Shadowlands Music is a division of Best Media Group, a multi-entertainment company focusing on World Music and Organic Pop. Shadowlands Music produces music with a creative Indie mindset, and offers artist development, as well as both digital and physical distribution.
"It's a great time to be independent, free to create music without the restraints of the old labels ways," says Shadowlands Music founder Billy Smiley.
Jean Watson is the first artist signed to the label. To contact Shadowlands Music, email northernshoreprod@mac.com.
About Elevate Entertainment:
Elevate Entertainment is a distribution partner, focused on helping Christian organizations, artists and authors expand their sales while retaining full ownership and control of their products. With an emphasis on the Christian retail market, Elevate Entertainment provides streamlined sales solutions including warehousing, fulfillment, and direct sales into key retail accounts.
- ### -
For more info on Phil Keaggy visit the JFH Artists Database.