Huawei Releases New Brand Video Featuring Ascend Mate2 and its "Do it Big" Philosophy [Video]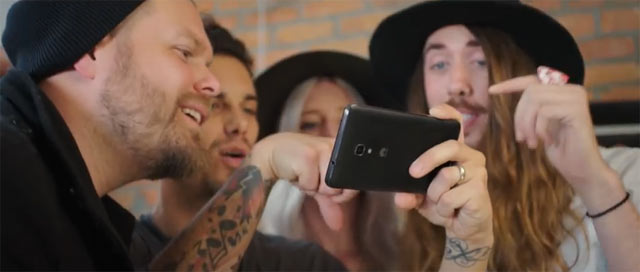 NEWS SOURCE: Huawei
October 1, 2014
PLANO, Texas /PRNewswire/ -- Huawei Device USA is celebrating Go BIG moments with a new brand video featuring the Ascend Mate2 (Mate2) 4G LTE smartphone. Shot in a documentary-style, this video expresses and defines what the company means by its philosophy: "Whatever you do, do it BIG." The video features Jeff Anderson's band Anderson Cale and their music, with a cameo from House of Heroes' drummer Colin Rigsby. To view the video, visit: http://bit.ly/doitbig or check it out below.
Lives are a tapestry of moments: the punch of a timecard, the sharing of an idea, the typical morning rush out the door. That feeling of potential, where even something routine could be the start of something more. All these moments, big and small, are unique to you and made great by you.
This video tells the stories of several special, but relatable, people: a band on the brink of inspiration, a single mom working hard to get ahead, a dancer determined to show her potential. These are their stories-a tribute to how passion and commitment can help big moments become reality. For each, the Mate2 is there to support, helping people live smarter and better by delivering high-end features at an affordable price.
Learn more about Huawei Device USA and its commitment to helping people live life unlocked with quality devices and premium services at a smart price. Visit www.GetHuawei.com.
About Huawei Consumer Business Group
As at the end of 2013, Huawei's products and services are deployed in over 170 countries, serving more than one third of the world's population. Huawei ranked third in global smartphone shipments in 2013. Huawei has also established more than 16 R&D centers around the world in countries such as the United States, Germany, Sweden, Russia, India, and China. One of Huawei's three business groups, Huawei Consumer Business Group (BG) provides a range of products including mobile phones, mobile broadband (MBB) devices, home devices and cloud services. With more than 20 years of rich business expertise in the information and communications technology (ICT) sector, an extensive global network, vast global business operations and partners, Huawei Consumer BG is dedicated to bringing the latest technology to consumers, offering a world of possibilities and creating extraordinary experiences for people everywhere.
For more information, visit Huawei Consumer BG online: consumer.huawei.com/us

For regular updates on Huawei Consumer BG, follow us on:
Facebook: facebook.com/huaweideviceusa
Twitter: twitter.com/HuaweiDeviceUSA
Google+: plus.google.com/+HuaweiDeviceUSA
YouTube: youtube.com/user/HuaweiDeviceUSA
Flickr: flickr.com/photos/huaweideviceusa
Instagram: instagram.com/huaweideviceusa
- ### -
For more info on Jeff Anderson visit the JFH Artists Database.
For more info on House of Heroes visit the JFH Artists Database.