Project 86 Hits the Road with Disciple and Releasing New Single "Pale Rider" from Knives to the Future
NEWS SOURCE: Project 86
October 1, 2014
Los Angeles, CA. September 24th. With their ninth studio album titled Knives to the Future set for release on November 11th, Project 86 is getting ready to hit the road with Disciple in October and Living Sacrifice in November. As the third release on the band's Team Black Recordings label, Knives to the Future will also be distributed by New Day/Selecto Hits and will once again be available in stores nationwide.
After a highly successful Indiegogo campaign where fan support nearly doubled their goal, P86 has been busy in the studio preparing their 12-track full length and have recorded 4 additional acoustic songs. The first single called "Pale Rider" is set to impact Christian radio on October 6th. When asked about the latest installment from P86, lead singer Andrew Schwab commented, "This record is a continuation thematically of where we left off with Wait for the Siren. It tells the story of a soldier post-battle who has forgotten where he came from or who he is. The album is about a search for truth and destiny through rediscovering secrets hidden in your past. Sonically it is heavy, deeply emotional, desperate, and very personal. I'm very proud of what has been accomplished both with the fans and the music in this recent chapter." On top of a busy fall touring schedule the guys will also be filming a music video in November, and Andrew Schwab is set to release a new companion workbook for "The Tin Soldiers" along with a 3-song digital single of his new electronic project, London Six Echo.
For more information on tour dates and the latest news updates on Project 86 visit project86.com.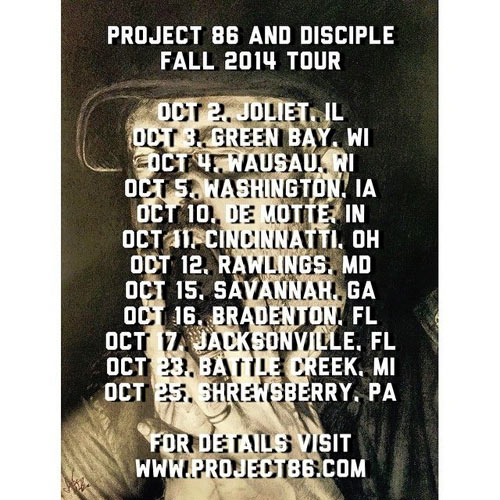 Drawing by John DiBiase (Art)
- ### -
For more info on Project 86 visit the JFH Artists Database.
For more info on Disciple visit the JFH Artists Database.