ELLIE HOLCOMB IS NAMED NEW ARTIST OF THE YEAR AT THE 45th ANNUAL GMA DOVE AWARDS
Holcomb Was Also A Presenter And Performer During The Awards Show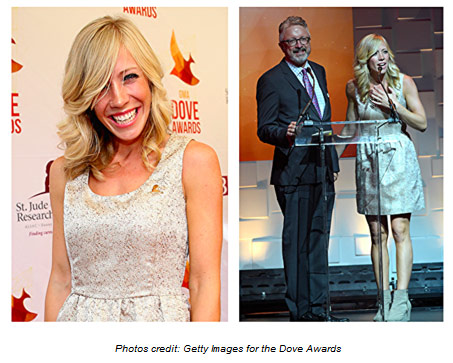 NEWS SOURCE: Merge PR
October 8, 2014
Nashville, Tenn - 8 October 2014 - Singer, songwriter and storyteller Ellie Holcomb was named New Artist of the Year at last night's Gospel Music Association (GMA) Dove Awards. Holcomb is one of only two independent artists that have won this award.
During her acceptance speech, Holcomb tearily shared with the audience, "I am so honored and really shocked actually. What good company to be in and what an honor. I'm so humbled. What...a privilege it is to get to sing and to speak, like so many of you, about how Jesus has shown up in the heights of our joy and in the depths of our suffering." Thanking her family, friends and team from the stage, she quoted from Hosea 6:3, which is the inspiration to the title and theme of her album, As Sure As The Sun.
Ellie Holcomb was one of the most visible artists during the Dove Awards. Along with her win, she performed her single "Broken Beautiful" during the main show, and she was also nominated for best Pop/Contemporary Album of the Year for her debut solo project, As Sure As The Sun. Additionally, she joined her father, Brown Bannister, in presenting the Lifetime Achievement Award, which was given to Hillsong.
The GMA Dove Awards were held in Nashville, Tennessee at Lipscomb University's Allen Arena. The show will air on the Trinity Broadcasting Network (TBN) on Sunday, October 12th. Check local listings for the broadcast time in your area.
ABOUT ELLIE HOLCOMB:
Ellie Holcomb's debut LP As Sure As The Sun released February 18 to huge acclaim, hitting No. 2 its first week on the Christian chart and No. 1 the Christian genre on iTunes and at Amazon in its first week out. The album's first radio single, "The Broken Beautiful," hit No. 7 at AC Indicator, charted on AC Monitor as well as at National Christian Audience, and continues to be heard on stations across the country.
As Sure As The Sun (Full Heart Music) was produced by Brown Bannister and Ben Shive and has been touted as one of the top records of the year and a "must-have" album in everyone's music library. A review in the Examiner sums it up well, stating, "Holcomb sings her honest, vulnerable thoughts to God...There's innocence about her love songs to Jesus that is refreshing in an age when Christian artists seem to be trying too hard to sound overly worldy."
For more information about Ellie Holcomb, please visit EllieHolcomb.com
- ### -