Exaltation will Come!
"When they cast you down, and you say, 'Exaltation will come!' Then He will save the humble person."
-
Job 22:29 NKJV
When I woke up this morning with an overwhelming feeling of dread, I immediately grabbed myself a cup of tea, and opened my Bible. There, the Lord led me to His promise in Job 22:29 (NKJV): "When they cast you down, and you say, 'Exaltation will come!' Then He will save the humble person." I truly was feeling downcast at the moment, so God had my undivided attention, to say the least. The Holy Spirit spoke to my heart and revealed to me that whenever I feel this way, I have to "say" certain things in order to rise above my feelings. In this case, I was to say, "Exaltation will come!" So I began exclaiming the phrase over and over with all my heart.
Then I looked up the word "exaltation" in a secular dictionary, and the definitions I found were - "a feeling or state of extreme happiness; elation, joy, rapture, ecstasy, bliss, delight, and gladness." Another definition stated, "the action of elevating someone in rank, power, or character." And then I read with joy, "The resurrection and 'exaltation' of Christ." Seeing this in a secular dictionary was even more confirmation from the Lord for me. And I sensed Him telling me, "When people or circumstances cast you down, if you will declare in faith, 'Exaltation will come!' then I will deliver you from the hands of those who mean you harm - even the devil himself - and I will fill you with My joy, and promote you." Hallelujah!
All this brought to mind a passage in Psalm 71, which says: "You, who have shown me great and severe troubles, shall revive me again, and bring me up again from the depths of the earth. You shall increase my greatness, and comfort me on every side." (Psalm 71:20-21 NKJV) You see, when the Lord brings us out of trouble as a result of us depending on Him for help, He doesn't just bring restoration of what we lost - no, He brings us out better than before - "increasing" our "greatness"! But notice the psalmist had to say, "You shall increase my greatness." He was speaking out his faith in God's ability and willingness to exalt him.
The Living Bible translation of Job 22:29 says: "If you are attacked and knocked down, you will know that there is Someone who will lift you up again. Yes, He will save the humble." Take this message to heart today, dear one, and let the lifting up and exaltation begin!
Prayer: Lord, when I am cast down by people or circumstances, help me to demonstrate my humble dependence upon You. Teach me how to use my words to express my faith in Your willingness and ability to bring me out even better than before. Thank You that as I cooperate with You for my deliverance and success, You will fill me with joy, and elevate me in rank, power, and character!
-
J. M. Farro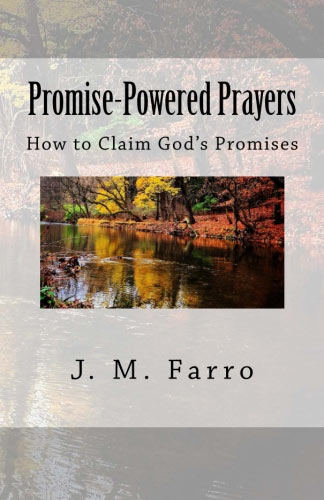 Promise-Powered Prayers Paperback Book

**To order J. M. Farro devotional books on ETSY.com using a credit card, PayPal, or Etsy gift card, Click Here. Books sold through ETSY can be signed and personalized by the author at your request. To place an order on Amazon.com, Click Here.
Full List of Devotionals
The devotionals aren't just limited to weekly! All previously featured devotionals are archived here for your convenience and easy access.

Click here to view many more archived, Spirit-filled devotionals about everyday situations written by J.M. Farro!


Connect with J.M. Farro

*To place an order for J.M.Farro's books on Amazon.com, Click Here.
*Subscribe to J.M. Farro's FREE audio Podcast via RSS
*Follow J. M. Farro on Twitter!
*Visit her official website at JMFarro.com!

*Send any questions or comments you may have to J.M. Farro via our Contact Form!