"We want each of you to show this same diligence to the very end, so that what you hope for may be fully realized." - Hebrews 6:11 NIV
I was looking through an old journal of mine recently, and I stumbled upon a page where I described how discouraged I was over the seemingly nonexistent growth of my ministry. My heart ached as I read the words that must have been difficult for me to write. I was obviously weary and disheartened at the time, and I talked about wanting to quit. When I looked at the date on my journal entry, I shuddered. It was less than two years before I published my first book. I began to think about the tens of thousands of readers I never would have reached with the love and truth of God, if I had quit and given up during those early days of my ministry.
The Lord led me to this journal entry for the very purpose of encouraging my heart. Once again, I was feeling as though my ministry was at a standstill, and that perhaps it was time for me to lay it down. He drove His point home when He showed me the verse above in Hebrews 6:11. If I was to "fully realize" the things I hoped for - including fulfilling my God-given purpose and potential - then I was going to have to remain diligent "to the very end".
Too often, Christians are given an assignment from God, and start out laboring for the Lord with great enthusiasm. But after they have invested much time and effort with little to show for it, they quit before they realize their hopes and dreams. Proverbs 13:4 (NIV) says: "The sluggard craves and gets nothing, but the desires of the diligent are fully satisfied." Another word for diligent is "persistent". In other words, when God gives us an assignment, we don't quit until He tells us to quit. If we're not receiving the recognition and reward we feel we deserve for our service, that's no reason to throw in the towel. It's the easiest thing in the world to quit and give up. That's why there's little or no reward for it. On the other hand, when we remain diligent in our work for God, we show that we love Him and are serious about wanting to obey Him. And there are always rewards for obedience.
You and I weren't filled with the Spirit of God so that we could be quitters. We were given a new birth and a new nature so that we could serve God and others with the mindset that we are ultimately working for Him, and our reward will come from Him. (Ephesians 6:7-8) Scripture declares: "We're not quitters who lose out." (Hebrews 10:39 MSG) Ask yourself today, "What could it cost me if I quit and give up now?"
Prayer: Lord, forgive me for the times that I left assignments from You unfinished. I don't want to be a sluggard who craves and ends up with nothing - I want to be a diligent worker who realizes the fulfillment of Your promises, and my dreams. Give me a spirit of diligence, and whenever I'm tempted to quit and give up, send me the encouragement I need to keep going. Thank You for the untold rewards I will reap when I determine to persist "to the very end"!
Promise-Power Point: Those things I hope for will be fully realized when I perform my God-given assignments with diligence.

***This is an excerpt from J. M. Farro's newest book, The Promise-Powered Life for Women. Please use one of the links below to order your own copy!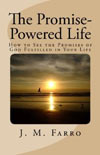 The Promise-Powered Life Paperback Book
**Check out J. M. Farro's brand new book of all-new devotionals (not available anywhere else but in this book)! The Amazon exclusive paperback book, The Promise-Powered Life: How to See the Promises of God Fulfilled in Your Life is available now! Click here for more info!

If you would like to receive J. M. Farro's free Weekly Devotionals, simply insert your email address into the box below and click "Subscribe!" You should get an email confirmation upon submitting your information. If you have any trouble with it, please email J.M. Farro through our Contact Form with "Subscribe" in the Subject and your email address in the body of the message. Thank you!