"But these things I plan won't happen right away. Slowly, steadily, surely, the time approaches when the vision will be fulfilled. If it seems slow, do not despair, for these things will surely come to pass. Just be patient! They will not be overdue a single day!" - Habakkuk 2:3 TLB





About two years into my devotional writing ministry, I was getting so much positive feedback from my readers that one of my friends convinced me to begin contacting publishers, to see if they would be interested in putting my messages into book form. So I set about writing letters to publishers, and sending them a collection of my devotionals. After weeks of hard work and high hopes, all I got in return were rejection notices. For a long time afterwards, I was plagued with feelings of discouragement and disappointment. I constantly prayed that the Lord would give me the strength and endurance to stay at my post, and to complete the assignment He gave me, no matter how long it took. But time and time again, I asked myself, "Why am I doing this? Does anyone really care? Why should I keep going?"

Thankfully, I discovered the promising verse above in the book of Habakkuk. Here, the Lord was reassuring me that even though my hopes and dreams would not be fulfilled right away, they would surely come to pass if I would be patient and refuse to despair - and if I would not abandon my post. And they would be right on time - not according to my timetable, but according to God's. He alone knows the best time to answer our prayers, and when the answer will profit us most.

Exactly two years later, I contacted one of the same publishers a second time, and this time, they were enthusiastic about my devotionals. In fact, they were so excited about my work that they gave me three books at one time, instead of just one. My dream to become a published author had finally been fulfilled, and God brought it to fruition in such a way that it exceeded my highest expectations.

Perhaps you have experienced some difficult delays of your own. Remember this, dear one - where God is concerned, delays are not necessarily denials. Many times, when your prayers go unanswered, He is not telling you "no". On the contrary, many times He is saying to you, "Wait. I have something even better in store for you. Trust Me. Work with Me. And you will see it come to pass!"

Prayer: Lord, forgive me for my impatience and discouragement when things don't happen as quickly as I would like them to. Help me to seek You continually for strength, endurance, and everything I need to wait on You with peace and joy in my heart. Remove from me every hope and dream that is not of You, so that I don't spend my life waiting for things that will never come to pass. Thank You that as I live for You, and follow Your lead, my dreams and visions won't be overdue a single day!

Promise-Power Point: If I will refuse to allow difficult delays to sidetrack me when I am doing the work God has called me to do, He will exceed my highest expectations in fulfilling my hopes and dreams.

The Promise-Powered Life.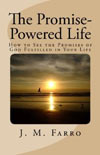 The Promise-Powered Life Paperback Book

**Check out J. M. Farro's brand new book of all-new devotionals (not available anywhere else but in this book)! The Amazon exclusive paperback book, The Promise-Powered Life: How to See the Promises of God Fulfilled in Your Life is available now! Click here for more info!

If you would like to receive J. M. Farro's free Weekly Devotionals, simply insert your email address into the box below and click "Subscribe!" You should get an email confirmation upon submitting your information. If you have any trouble with it, please email J.M. Farro through our Contact Form with "Subscribe" in the Subject and your email address in the body of the message. Thank you!