"That's why I urge you to pray for absolutely everything, ranging from small to large. Include everything as you embrace this God-life, and you'll get God's everything." - Mark 11:24 MSG





I often hear from people whose jobs are at risk, or who have already lost their jobs, and they are some of the most heart-rending emails I receive. One man wrote me recently and said that his company was undergoing reorganization and restructuring, and many of its employees were being laid off. He explained how he desperately needed his job to support his family, and that because of his age and the job climate, it would be very difficult for him to find other employment. He asked me to pray that God would protect and preserve his position at his workplace, and he confessed that he was telling coworkers and loved ones that he expected his division to be completely eliminated within the next few months. I was stunned. On the one hand, this man wanted God to intervene to save his job, and on the other hand, he was predicting that his position would be eliminated in the near future. As I read over his email, it became clear to me that he had adopted a fatalistic view about his situation.

What is a fatalistic view? It's when someone believes that a certain outcome is determined in advance, and cannot be changed. A person who is a fatalist feels that whatever is "meant" to happen will indeed happen. Often, these people are expecting things to turn out badly, and they see no point in trying to change the outcome. In other words, these folks hear a negative report, and they are likely to believe that what the report predicts is inevitable. It could be something as minor as a weather report. Or it could be something as major as a serious health report from a doctor. Here's what's so wrong about this kind of attitude: it's totally unscriptural. In fact, it's satanic. Suppose you hear a rumor at your workplace that there is going to be a major layoff. The first thing the devil is going to do is to try to convince you that you are going to lose your job. He'll put people in your path that will say negative things about your position, your company, and the economy. He'll keep the negative reports coming until you truly believe that it is your destiny to lose your job. Then, either you won't pray at all, or you will pray prayers that have no real faith in them. And you will begin SPEAKING negatively about your company and your job situation to others. When you do that, you are getting out of agreement with God's plans for you, and into agreement with the devil's plans for you. And even if the Lord was prepared to preserve your job, you are likely to lose it because you have given Satan and his cohorts permission to rob you of God's best. Let's do a quick review of the difference between the devil and the Lord. Jesus said: "The thief comes only in order to steal and kill and destroy. I came that they may have and enjoy life, and have it in abundance (to the full, till it overflows)." (John 10:10 AMP) The "thief" is Satan, and if you let him, he will steal your job, your finances, your health, and your loved ones.

I meet a lot of Christians who believe that whatever happens in this world is basically God's will. That is simply not true. If it WERE true, Jesus would not have told us to pray to the Father, "May Your will be done on earth, as it is in heaven." (Matthew 6:10 NLT) And why would the Savior tell us over and over again things like, "Pray…Ask…Seek…Knock…" if our prayers would have no bearing on our outcome? I believe that some Christians are just spiritually lazy at times. It's easier for them to believe that nothing they do or say can have an effect on their lives and circumstances. If it did, they would have to monitor their thoughts, words, and actions very carefully. And for some Christians, that's too much work, and too great a responsibility. It's easier for them to sit back and just blame God for everything that happens, than to hold themselves accountable. Sadly, these people will never fulfill their God-given purpose or potential, and they can never enjoy the full blessing of the promises of God.

Jesus said, "It will be done just as you believed it would." (Matthew 8:13 NIV) I know this is a scary thought, but it's also a promising one, too. When we hear negative reports, we don't have to adopt a fatalistic response. We can pray in faith for the desires of our hearts, while asking for God's best in the situation, whatever that might be. Then we won't cooperate with the devil's plans for us by default. Are you ready to play a bigger role in your destiny according to God's will for you?

Prayer: Lord, I don't want to be spiritually lazy. I want to receive every good thing that You have in store for me. Teach me how to cooperate with You to that end. Show me how to partner with You to receive the outcome You have for me in every situation and circumstance. Help me to pray in agreement with Your good plans and purposes for me. Guard me from speaking words of doubt and unbelief that will give the devil permission to rob me of the blessings, rewards, and opportunities that are my inheritance in Christ. Thank You that as I refuse to adopt a fatalistic mindset, I will experience and enjoy the abundant life You died to give me!

Promise-Power Point: As a Christ-follower, God has gifted me with the ability and responsibility to have a certain amount of control over my outcomes, as I pray and obey Him in every matter that concerns me.

The Promise-Powered Life for MEN.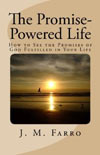 The Promise-Powered Life Paperback Book

**To order J. M. Farro devotional books on ETSY.com using a credit card, PayPal, or Etsy gift card, Click Here . Books sold through ETSY can be signed and personalized by the author at your request. To place an order on Amazon.com, Click Here.

If you would like to receive J. M. Farro's free Weekly Devotionals, simply insert your email address into the box below and click "Subscribe!" You should get an email confirmation upon submitting your information. If you have any trouble with it, please email J.M. Farro through our Contact Form with "Subscribe" in the Subject and your email address in the body of the message. Thank you!