"Be still before the LORD and wait patiently for Him; do not fret when people succeed in their ways, when they carry out their wicked schemes." - Psalm 37:7 NIV
Through my ministry, I regularly hear from Christians who suffer injustices at the hands of wicked people, and who are left bewildered, disheartened, and even angry. They ask for prayer and advice, and many times, they want an explanation. My own husband, Joe, felt like this not long ago when a dear friend of his suddenly cut him out of her will right before she died. For decades, Joe had been like a son to this woman, even when she had alienated all of her other friends by her hurtful behavior. She had no family, so my husband took on the responsibility of giving her sound advice, looking out for her interests, and protecting her from those who he thought were taking advantage of her. This lady confessed to Joe that she had included him in her will because he had been there for her when no one else was. When my husband switched jobs, and was no longer working near this lady's home, he kept in touch with her by phone, and did his best to continue to advise and counsel her. When she became deathly ill, a stranger offered to take care of her dog while she was hospitalized. This man quickly took over her finances, and convinced her to change her will, leaving her money to him in payment for his time and attention. After she passed away, and it was discovered that she left her estate to this stranger, the police got involved because the situation seemed so suspicious, and they questioned Joe to see what he thought of the whole matter. Joe told them honestly that he didn't know the stranger personally, and that he had no proof that the man did anything wrong. My husband confessed to me that he was hurt and bewildered by his friend's decision to cut him out of her will so abruptly just before she died. He said that he never knew what she intended to leave him, but that even if it had been a very small thing, her remembrance of him in such a kind way would show just how much she appreciated all that he had done for her all those years.
King Solomon wrote, "The blessing of the Lord makes one rich, and He adds no sorrow with it." (Proverbs 10:22 NKJV) I told my husband that perhaps God prevented him from receiving an inheritance from his friend because He knew that it would only bring him trouble and grief. No one knew better than the Lord how all those years Joe had cared for his friend and looked out for her interests. So I truly believe that God was keeping His promise to my husband to work all things together for his good, when He did not protect and send forth his inheritance from this lady. (Romans 8:28) Perhaps it was a test that the Lord felt Joe needed to pass. Scripture says that God "will bring to light what is hidden in darkness and will expose the motives of the heart." (1 Corinthians 4:5 NIV) I told Joe that if he had looked out for his friend all those years with the right motives, then he wouldn't have expected any kind of reward for his good deeds. He agreed with me, and it led him to do some serious soul-searching.
God's Word makes it clear that He doesn't want His children grasping for things that are not His best for them. Proverbs says, "Better to be lowly in spirit along with the oppressed than to share plunder with the proud." (Proverbs 16:19 NIV) In other words, the Lord would rather have us oppressed and among the humble, than prospering with the proud. A passage in the Gospel of Luke gives us an idea of how Jesus felt about this subject. "Then someone called from the crowd, 'Teacher, please tell my brother to divide our father's estate with me.' Jesus replied, 'Friend, who made me a judge over you to decide such things as that?' Then He said, 'Beware! Guard against every kind of greed. Life is not measured by how much you own.'" (Luke 12:13-15 NLT) There are many kinds of greed, and the Master is telling us to guard ourselves against all of them. When we start feeling that someone owes us something to the point that we lose our peace or joy, then we have a heart and attitude problem, and we need to confess it to God and ask for His forgiveness. Otherwise, we will live in bondage to our emotions and feelings, and it will affect our health, our peace of mind, and even our relationship with the Lord.
When it seems like wicked people are getting the best of us, the Bible has some wise counsel for us. "Be still before the LORD and wait patiently for Him; do not fret when people succeed in their ways, when they carry out their wicked schemes." (Psalm 37:7 NIV) God doesn't want us fretting and fuming about those who seem to be triumphing over His people. He wants us to trust Him, and to commit the matter to Him, believing that He is a just God, and that absolutely "nothing is hidden from His sight". (Hebrews 4:13 NIV) This Psalm goes on to say: "The wicked plot against the godly; they snarl at them in defiance. But the Lord just laughs, for He sees their day of judgment coming." (Psalm 37:12-13 NLT) The fact is that no one is getting away with anything for very long. God will indeed judge those who violate His laws, especially those who come against His faithful ones. If you don't believe that, you will spend your life trying to get justice for yourself and your loved ones, and all you will accomplish is to delay or prevent the Lord from acting on your behalf. Today, let us make a quality decision not to "set [our] hopes on uncertain riches, but on God, Who richly and ceaselessly provides us with everything for [our] enjoyment"! (1 Timothy 6:17 AMP)
Prayer: Lord, I ask that You work in my heart so that whenever I face injustice of any kind, I will respond in a Christlike manner. Cleanse me of every kind of greed, covetousness, and envy. Help me to commit all of my conflicts and battles to You, and to cooperate with You every step of the way, so that I can receive the victories that You have in store for Your devoted and faithful ones. When others seem to succeed in their wicked schemes, remind me that You are ultimately in control, and that You will work all things together for my good when I put my wholehearted trust in You. Thank You that You are not a stingy God, but a generous One "who piles on all the riches we could ever manage"! (1 Timothy 6:17 MSG)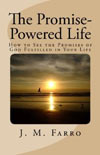 The Promise-Powered Life Paperback Book

**To order J. M. Farro devotional books on ETSY.com using a credit card, PayPal, or Etsy gift card, Click Here . Books sold through ETSY can be signed and personalized by the author at your request. To place an order on Amazon.com, Click Here.

If you would like to receive J. M. Farro's free Weekly Devotionals, simply insert your email address into the box below and click "Subscribe!" You should get an email confirmation upon submitting your information. If you have any trouble with it, please email J.M. Farro through our Contact Form with "Subscribe" in the Subject and your email address in the body of the message. Thank you!