"Words kill, words give life; they're either poison or fruit - you choose." - Proverbs 18:21 MSG





My husband, Joe, and I have been raising pet ducks for many years, and we've had our male duck, Larry, for 14 of those years. Every molting season, Larry would lose all of his brightly-colored, iridescent feathers, and for a time, he'd look woefully scraggly. He would hang his head low, and he'd not only lose his feathers, but also his confidence, boldness, and dignity. The older Larry got, the harder the molting process would be on his health and morale. Seeing our little man so depressed prompted me to ask the Lord what we could do to ease Larry's pain and discouragement. That's when the Holy Spirit brought to my remembrance Proverbs 18:21 (NIV): "The tongue has the power of life and death, and those who love it will eat its fruit."

Suddenly, I knew exactly what we needed to do. I told my husband that we were going to be very careful about how we spoke around Larry while he was looking so shabby. Instead of saying, "Wow, Larry, you really look ratty!" we were going to say, "What beautiful new feathers you're getting, Larry!" We replaced all of our negative speech around Larry with compliments and affirmations, and we kept encouraging him and reassuring him. No doubt, Larry could tell by just the inflections in our voices that we were speaking highly of him, instead of commenting on his dreadful appearance.

I must tell you that changing our attitudes and words toward Larry each time he goes through the molting process has made all the difference. His head no longer hangs low, and he walks just as proudly as when he has his full, beautifully-colored plumage the rest of the year. This experiment has taught my husband and me a memorable lesson about the power of our words, and we have a newfound appreciation for the importance of our speech, and how it can profoundly affect others, as well as ourselves.

Imagine the difference you and I could make in the lives of our spouses, children, grandchildren, parents, siblings, coworkers, neighbors, and others, if we would simply be more aware of our words, and more considerate with our speech. Can you think of someone who could benefit from your positive speech today?

Prayer: Lord, it grieves my heart to think of all the times I spoke harmful words to others, instead of words that heal. Give me revelation knowledge about the true power of my speech and conversation, and do it in a way that will impact my mind and my heart. Whenever I am tempted to speak rashly or thoughtlessly, remind me that when I sow seeds of hurtful speech, I could very well reap a harvest of pain and regret. Today, I commit to seeking and relying on Your wisdom and strength to speak words that build up, instead of tear down!

Promise-Power Point: As I remind myself often that my words have tremendous power and authority in this earth, and as I work with the Lord to measure them before I open my mouth, I will impact others for their good, and for the glory of God.


The Promise-Powered Life.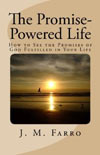 The Promise-Powered Life Paperback Book

**Check out J. M. Farro's brand new book of all-new devotionals (not available anywhere else but in this book)! The Amazon exclusive paperback book, The Promise-Powered Life: How to See the Promises of God Fulfilled in Your Life is available now! Click here for more info!

If you would like to receive J. M. Farro's free Weekly Devotionals, simply insert your email address into the box below and click "Subscribe!" You should get an email confirmation upon submitting your information. If you have any trouble with it, please email J.M. Farro through our Contact Form with "Subscribe" in the Subject and your email address in the body of the message. Thank you!