Taking a trip back in time (going a little McFly here) to life in 2003. I was about to turn 10, CDs were still the standard for music buyers, Myspace was still number one in Social Media, and a little band known as Relient K was getting ready to release their third studio album. Relient K had been active in the scene for a few years prior to this release, with their eponymous debut released on Gotee Records. With The Anatomy of the Tongue in Cheek, the Canton boys started to garner mainstream success, with headlining tours and exclusive interest from clothing brands. When Two Lefts Don't Make A Right, But Three Do dropped on March 11, 2003, the album was welcomed with open arms by fans and critics alike, even earning them a Grammy nomination as well. The album showed growth musically, while still maintaining the witty yet poignant lyrics that they're famous for. With quintessential teenage anthems like "Mood Rings" and "College Kids," to earnest conversations with God, "Getting Into You" and "Am I Understood?" Relient K was proving their staying power while keeping things fresh. Of course, it wouldn't be Relient K without some of the goofiness as well, and songs like "Chap Stick, Chapped Lips, and Things Like Chemistry," "Gibberish" and the delightful hidden track, take care of that void (even if Matt Thiessen is the worst freestyle rapper ever). Two Lefts was undoubtedly one of the highlights of 2003, and marked a new era for the quirky pop rockers.
Fast forward to 2013, and Relient K is still touring and making music, although not as much as they did in their earlier years. With considerable band member and musical style changes, Relient K finally bestows upon their fans a new record. It's been over four years since they've released any original material (there was a covers album that was released in 2011), and the anticipation for some fresh music has been extremely high. The RK boys stated that they initially wanted to release the record in 2012, which then got pushed to January 2013, then pushed to April, and finally settled on July 2013 as their release date for Collapsible Lung, their seventh (including K Is For Karaoke) studio album.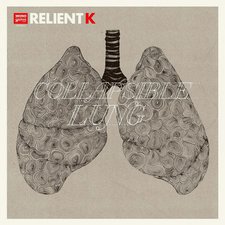 Looking at Two Lefts and Collapsible Lung side-by-side, there are considerable differences and some similarities. With Two Lefts, you get that youthful, yet thoughtful punch and dorky charm that trademarked Relient K in their earlier years, and with Collapsible Lung, you get a more pensive yet laid back vibe while giving it a spin (or a click through your playlist). Both albums give a good look into where the band, especially wordsmith and frontman Matt Thiessen, is in life, while wrapping their stories up nice and tightly in clever hooks and catchy riffs. As far as which is better than the other, I'll leave that to the reader to decide. Both serve as a part of Relient K's journey and career, and both leave the listener with different things to think about after the last track plays.
Over the years, Two Lefts Don't Make A Right, But Three Do has been hailed as Relient K's "best" by some, although it sometimes gets overshadowed by their 2004 release, MMHMM, when discussing Relient K's library. The record was definitely a step in the right direction for these pop punkers, with it taking a more straight up rock approach while still keeping some of the goofiness and all of the wit found on previous records. Two Lefts Don't Make A Right, But Three Do is a classic Relient K album, and still remains as one of the best releases in their genre to this day. Happy belated birthday, Two Lefts, you still look and sound as good as you did ten years ago!
-- Cortney Warner
Comments
1. He said...
It really is sad how much people were so disenchanted with Collapsible Lung...it surpassed many anticipated albums that came out this year (heck, it went #1 on iTunes!) and just because the band wasn't blunt about their faith, they got crucified for it. There was plenty of criticism in the lyrics and the styles that were chosen for the record and I see no problem with RK choosing to have lyrics involving drinking and making mistakes, that's life. I think that's just what i've come to dislike about the Christian music world, how everyone can be so judgmental and not even fully understand where the viewpoints of the lyricists are coming from just because they didn't say God or Jesus about 5 times in their songs. We all screw up and it's unfortunate that this album will go down as "the one you should skip" for the band. Don't Blink was one of the most inspirational songs i've heard in a long time and Lost Boy was a great tune about redemption and being turned around by Christ. I also enjoyed the Michael Buble elements that were on some of the songs. We can't put pressure on an artist to sing about the same cliche stuff all the time, it gets boring and obviously the band has matured. Was it a step down from Forget and Not Slow Down? Of course, but by no means was this a weak record. RK's so called "fans" ripped this recording left and right and tore it down without actually letting the music sink in. As far as Three Lefts go, superb record and timeless. Lots of classic songs and memorable moments for the guys. Looking forward to the 10th anniversary coverage for The Beautiful Letdown!
3. Tim said...
What a great album! This album definitely has a lot of nostalgic value for me as it was the album that introduced me to the Christian music scene. I enjoy it. It's not their best (I'd personally go for Forget And Not Slow Down or Mmhmm) but it's enjoyable, thoughtful and fun.

I think I probably prefer the end of the record the most - 'I Am Understood?', 'Getting Into You', 'From End To End' and 'Jefferson Aero Plane' are just really good songs.

It's interesting you talk about Collapsible Lung. I think something that was really prevalent on Two Lefts is that wit that led to deep and clever points. I don't find that to be as prominent on their latest album.

Anyway, great album. I'm glad you wrote this article.
5. Dilbert said...
In response to He Said, people aren't giving them crap for how little faith elements are in their music. They are getting crap for the content that is in their lyrics! The lyrics talk about one night stands and drinking. Wake up man haha! That's not just a hidden message it's a contrary one to faith in Jesus, and I'm sorry but it does matter. Music is powerful and to truly serve God you don't just section Him off to a corner of your life. By the way go read the lyrics of Lost Boy again and tell me that it's about God. Go read If I Could Take You Home or PTL. I get what you're saying about the negativity in the Christian music scene, but we have to have some standards as far as content goes.
7. jthejust said...
My third favourite album by them, after 1.Mmhmm and 2.Forget and Not Slow DOwn. A great summer time CD to blast out loud.
9. Noah Saunders said...
This is good except, the song title is, "Am I Understood?" not, "I Am Understood"