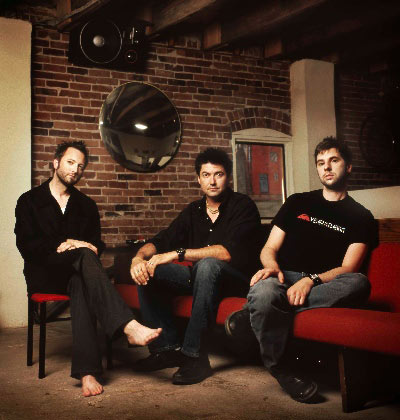 Earlier today, a famed band by the name of PFR (JFH artist page) closed the door on its much anticipated Kickstarter launch and on its triumphant return to the music industry. And the saddest thing is you have probably never heard of them. And, if they were current, you probably wouldn't listen to them. Music has changed so much over the last two decades and it's hardly debatable if it's for the worse.

So let me explain the last twenty years to you from the perspective of a huge PFR fan and what they have meant to me. In the early 90's, when I was first being introduced to "Christian music," there were several groups I was exposed to: Petra (much to my parents chagrin) and Carman. At this point in life, I was just about to embark on my high school journey. I came across PFR thanks to Cory Edwards. His show Signal Exchange introduced me to awesome bands like Audio Adrenaline, dc talk, Big Tent Revival, Hokus Pick Maneuver, Iona and Whiteheart. But out of all of them, PFR has been the one band over the last twenty years that has remained timeless.

So, from 1992-1994, this band released three studio records: their self titled debut, Goldie's Last Day and Great Lengths. Goldie's Last Day (the song and the record) had and still has some of the finest musicianship and some of the most incredible harmonies I've ever heard. I wore that album out so much over the years. Let me quick explain something about reviewing music to everyone; it gets old quick, especially if you don't enjoy what you're listening to. But to do a proper criticism, you have to immerse yourself in the music. I did that for twenty years with this album and it has never gotten old.

So skip ahead to a year later, and they released Great Lengths just after Christmas in 1994. I remember buying that at a home school convention booth in Hershey, PA after my parents decided to start home schooling my siblings. I must have walked past that booth 100 times wishing I had the money to buy it. "Wonder Why" is still one of the best songs to sing at the top of your lungs. Their next record, Them, released in 1996, was harder, darker and sadder than anything else they'd done prior. Perhaps it's from the years of perspective looking back on what was to be their final project in 1996 that makes it feel gloomy. The next year they released three new tracks on The Late Great PFR that almost make me weep when I hear them to this day.

Skip ahead four years and think of Christian music during that time. Bands are breaking up left and right. These are bands that had large influences in my life and bands that showed so much promise: Church of Rhythm, Seven Day Jesus, Reality Check, johnny Q. public all came and went. Then the compilation Roaring Lambs is announced. And what appears on the track list but a brand new song by PFR (and Steve Taylor!) and I'm so excited. "Maybe the fact they're coming out with this song, 'Kingdom Come,' means they'll make more music??" And lo and behold, the following year they returned with Disappear (on Steve Taylor's own label, Squint), and that's what they did (vanish, that is) for another three years until they released The Bookhouse Recordings. And you know what, I don't care that it was commissioned by Family Christian Stores and recorded in a couple days' time; it was great. "In the Middle" is a great song.

Skip ahead 7 years (ask Crowder if that was a coincidence) and they announce a tour to coincide with their 20-year anniversary and a StageIt.com performance. I dragged my wife to John's house to see that. After they announced their Kickstarter project this month, I was counting my money and getting ready to blow my budget. And then the band announces today on their Facebook page that they are officially over and done.

PFR totally encapsulates the notion of less is more. Joel Hanson and Patrick Andrew's vocals complement each other so well, so much so that it may compete with Michael and Kevin from dc Talk. Three guys who once said that they never took a break from each other, just music, are taking a permanent break. (And they are one of the only bands John DiBiase will sing out loud too in the car. After every show we go to together, we inevitably end up talking about PFR at some point). They are the only "spiritual" or "Christian" link that my blood brother, who claims to be an atheist, share anymore. They are the light to which all other trios are held to and they were such a blessing to me over the last two decades.

You're probably asking yourself, "why all the fanboy loving on this band?" Or you maybe you don't really care. Jordan Taylor said in one of Blimey Cow's "Messy Monday" videos that the older music is always better than the newer music, and he's so right. Music that I grew up on will always be better than the new music. Whether that is perspective speaking or is actually true is for you to decide. In 20 years, will what you listen to currently be better than what will be brand new then? I hope not. Will you still have such an appreciation for the bands that you berate and harass people over after they've come and gone (and come and go) again? Or will you forget their last record when the new one hits street? Are the bands you've grown up on making you appreciate music more? -- Whether it was or is Relient K, or a new combo of a powerhouse corporate megaband, or the small local artist who works his tail off because he loves what he does?

I don't know why PFR called it quits. I have my theories, sure, but they're just for me and close friends to ponder. All I can say is "Thank you" to Joel, Patrick and Mark for the best Merry Go Round ever.

-- Kevin Chamberlin

Comments
1. Levi said...
My parents raised me on bands like PFR. Goldie's Last Day was brilliant!
3. Michael said...
I grew up listening to a lot of Christian music and out of all of the bands that I listed to PFR is the only one that I still have on my Ipod. The only consolation prize for me I guess is that I go to the church where Joel is worship leader.
5. Glenn said...
My CD still says Pray for Rain. PFR was one of the few bands I have ever heard where the CD and the live performance were indistinguishable. Joel Patrick and Mark were always on their game. Gosh I love this band. Hoping they'll be back. Regardless, I'll be over here setting up for the gargle solo.
Commenting has been turned off for this entry.