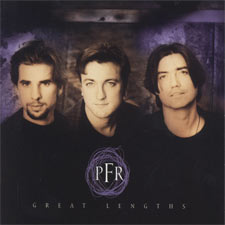 We recently took a look back at the release of Newsboys' Going Public album from twenty years ago, which has gotten me thinking more about other albums from 1994.

Let's flash back twenty years to a time when PFR was alive and kicking. This Minnesota pop rock trio was hailed as one of the best up-and-comings in CCM music. At this time in 1994, PFR had two solid albums under their belt -- the self-titled album Pray For Rain (side note: That was their band name when they debuted and they had to shorten it to "PFR" due to some other obscure band having the name and threatening to sue. Later copies of the self-titled had "PFR" stamped across the front) and its 1993 follow-up, Goldie's Last Day (which, incidentally was about a dog. I think it'd be almost impossible for a major label to release an album from a radio-ready band with a title like that. And yes, that thought just makes me sad).

In December, 1994, PFR released their third studio album, Great Lengths. Their harmonies often brought about comparisons with The Beatles and with the title track from this album, that only increased. One thing I loved so much about the music in the mid to late 90s was that Christian music was about the Christian life; it wasn't just manufactured to be performed by youth bands and worship leaders in church worship services. It was about the Christian lifestyle. It inspired how we lived, not just how we worshipped. It helped inspire us to live a life of worship. Thematically, each track of the album fit this: "Great Lengths" questioned our own tendencies to please ourselves instead of God; "Wonder Why" was about those who try to live their life feeling empty without trying Jesus as the answer; "Merry Go Round" was about forsaking rebellious living; "The Love I Know" was a reflection on disappointing human love versus the fulfilling love of Jesus; "It's You Jesus" was a quasi-worship song acknowledging His goodness; "Trials Turned To Gold" reflected on our transformation through Him; "Blind Man, Deaf Boy" also talked about living outside of His will; "See The Sun Again" addressed doubt and tough times in our walk; "The Grace of God" was about being rebuilt by His grace; "Last Breath" was a rocker about encouraging an unbeliever to consider where they'll go after death; and "Life Goes On," the closing ballad, wrapped things up with a worshipful way of acknowledging life's meaninglessness without Christ's love.

All of it is written in a relatable and down-to-earth way that most worship and radio pop seems to be missing these days. [But, obviously, I am probably in the minority in thinking that.] 20 years later, the lyrics to these songs endure far better than the music itself. The production is clean and crisp, and you'll hear incredible harmonies and melodies without an ounce of autotune or ProTools tinkering, but you'll also hear a sound more akin to 1994 than 2014. But that's not necessarily a bad thing.

Great Lengths was pop rock for fans of both the pop rock genre and somewhere in between contemporary and rock itself. If you like a little on both ends of the spectrum, you were likely to like PFR. I'd say fans of Audio Adrenaline, MercyMe... -- really any of today's pop rock or light rock artists. But lyrically, they're probably a little closer to a Foreman or a Thiessen than any of the given worship artists.

So where is PFR today? They reunited in 2012 for a run of shows and then were days away from launching a Kickstarter campaign last year for a new album before deciding they were forcing things and it wasn't meant to be. In that decision, they announced they were retiring the band permanently, much to the fans' intense disappointment. Frontman Joel Hanson continues to perform solo material, while I can't really say I know what Patrick Andrew and Mark Nash are doing these days (Although I think Mark remains involved in the studio and management side of things).

Great Lengths is still a gem worth digging into and unpacking lyrically 20 years later. It definitely aged stylistically, but for this 90s music listener, it's still a treasured listen. If you're more open minded about the sound of your brand of pop rock, do check this album out! (And the autographed album cover poster is proudly displayed in the JFH office!)
-- John DiBiase
Jesusfreakhideout.com Editor/Writer/Founder

You can find Great Lengths on iTunes!

Comments
1. Jeremy said...
Oh man, you make me want to get that album out and listen to it again. I used to listen to it on the way to high school. I agree Christian music isn't what it used to be (man, I sound like an old fart when I say things like that - I'm only 34!). Today's music isn't as much in depth, and possibly comes across as less sincere at times.
3. Glenn said...
And you wonder why you feel this way
And you wonder how long it will take to heal
And you wonder what you did to get here
And you wonder who will save you from you...

Great Lengths - and pretty much all PFR is pretty close to timeless for me. You young whippersnappers - I'm 39. :) They made amazing music. Sounded as good live as on disc. That is so rare.....

(goes off singing)
Blind man deaf boy and the lover of me...
And where did it lead to.. I fought for air as I was drowning in that rushing stream - as the water poured over me....
5. Caleb said...
I about wore out some PFR CDs. I turned 30 last year and have found myself introducing my three year old to some of my favorite Christian music from the 90s. He loves Peter Furler and old school Newsboys. That makes my 30 year old heart happy. I can't wait to introduce his little brother to some more great tunes.
7. tOdd Lindley said...
I'm also 39 and I recall listening to this record and being VERY disappointed because it was so short in total length (37 minutes, or something...?). Haha, it was an album that grew on me but I'll admit to liking their next record, Them, significantly better.

Thx for the update on PfR, John. Sorry to hear they've "packed it in" permanently. I was really hoping for some new art form these guys.

tOdd
9. Lachlan said...
Amen to all you said man. That's what I miss about most of Christian Music today. Stuff about life. And these guys nailed it, and Newsboys, DC Talk etc. Praise God for Jars, Sara Groves, Rocket Summer and Switchfoot who carry that flag.
@David - Just trying to highlight sorely and wrongly forgotten bands and albums. :) Trust me, some of us are feeling quite old regularly these days. :)

Never got into Leaderdogs For the Blind. Sorry. So don't hold your breath! I do remember the name though...

Dang... in 2 years, JFH will be 20 years old! (if we make it to then, God-willing!)