Film Review
Blast From the Past is not a movie for everyone. Although it has heart, humor, and a moral to it, it has it's down points too. These come in the form of sexually-related comments and bad language. It's almost painful to watch this movie. You see the good values and morality in Americans living in the early 60s, and then you see the filth-ridden corrupt Americans of the 90s. Which do we wish we were? The filth-ridden citizens of the 90s? Hardly. Just one look at the malt shop of the 60s compared to the run-down bar of the 90s and the answer is obvious.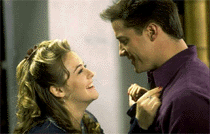 Unfortunately, like most of today's movies, the film is plagued with some very worldly and objectionable elements. Troy, Eve's best friend, is gay. Although Adam doesn't understand it (and thinks he's just "happy"), everyone seems to accept it. Another disappointment is the acceptability of premarital sex. Eve makes several comments suggesting it to be a common thing and hints that she has done it as well. In a conversation with Adam, she is visibly shocked when he tells her he has never had sex. It disturbs me when people-- especially mind-persuading media --portray premarital sex and homosexuality as being acceptable and common, when in fact they are unbiblical and sinful.
Despite the bad points, the everyday Christian can't help but cheer for Adam as he reprimands those who "use the Lord's name in vain" or stops to say grace before a meal. But it is sad to think that these practices were once acceptable and practiced often, but are now considered unthinkable. The language in the film is not too great. 2 "f" words are present, although one is said fast and the other mumbled in the background. There are some sexually-related terms used like "d*ck" and "laid" while some comments bluntly (almost painfully) concern sex, like when Eve accuses Adam of having sex with a woman from the jazz club.
Overall, the movie is very well done with the exception of the above-mentioned material. If the movie was cleaner, I'd have gladly awarded it 3 and a half stars, however, i couldn't give it any lower than 3. If you have any questions about the film before you see it, feel free to e-mail me. - John DiBiase (reviewed: 3/14/99)
Parental Guide: Brief Summary of Content

Sex/Nudity: Numerous sexually-related remarks or references are made; In one scene, Eve and Troy walk into a porn shop to look for Adam's home & we see the covers of various films, but they are deliberately blurred so they aren't distinguishable; Adam briefly stares at a woman in a bikini on his hotel TV.


Vulgarity/Language: 2 "f" words, 6 "g*dd*mn," 5 "s" words, 3 d*cks (some used with "head"), 5 "b*tch," 2 cr*ps, 1 "a" word, 5 d*mns, 10 h*lls, 2 "S.O.B.", 4 uses of "G-d," 2 "Oh L-rd."


Alcohol/Drugs: beer; lots of alcohol; Adam's mother drinks to cope with living underground; hippies smoke unknown substances


Blood/Gore: neither bloody nor gory, we see a woman briefly vomit in a street


Violence: Cars hitting each other; A minor fist fight; An airplane crashes into an empty house causing a major explosion.
** Disclaimer: All reviews are based solely on the opinions of the reviewer. Most reviews are rated on how the reviewer enjoyed the film overall, not on content. However, if the content really affects the reviewer's opinion of the film, it will definitely affect the reviewer's rating.