Film Review
The second installment in the new LarryBoy series continues the adventures of the caped crusader as he comes head to head with a new villain - The Alchemist! This time around, his nemesis brings along a formidable sidekick -- his mother! I thought, once again, this was a great lesson for children. Leggo My Ego! shows the dangers of tearing others down to build themselves up. Growing up I learned this lesson to be a true one that runs rampant all through adolescence. In Leggo... the Alchemist uses Larryboy's pride to tear down the esteem of those surrounding him in Bumblyburg. In the original VeggieTales series, the lessons and scriptures used to be presented to the viewer through Bob, Larry, and their computer Qwerty. In LarryBoy, the wise professor Bok Choy, from the Super-hero 101 class that LarryBoy attends, is the source of the hero's guidance as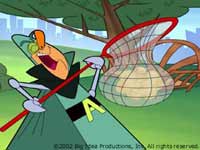 Bok reads scriptural advice from the class's handbook.

Leggo My Ego! was a worthy follow-up to the debut episode, but I couldn't help thinking it wasn't nearly as good. That is not to say I didn't enjoy it. That's hardly the fact! But the Alchemist & Mother Pearl just weren't as interesting to watch as Angry Alvin or the inanimate Lampy. Citizen Larry and his coworkers at The Daily Bumble play a much smaller role as well leaving the focus on Larrboy. Maybe I didn't like how Larryboy really didn't have much of a super-hero personality this time around (which was part of the point), and he was clueless to what Alchemist's scheming. But the premise was perfect to prove the point the story was trying to make.

So if you've got a little 'veggie head' at home who can't get enough of these lovable characters, or if you know someone who loves cartoons like Power Puff Girls or Samurai Jack, Larryboy: The Cartoon Adventures are perfect for your little aspiring super-hero!

- John DiBiase (reviewed: 4/16/03)
DVD Features
Bonus Animated Short - "Cuke Of All Trades"
Concept & Storyboard Art - See early design sketches for Leggo My Ego
Family Fun Activity - Here's an idea for some superhero fun the whole family can enjoy!
Trailers, Sneak Previews & Other Cool Stuff - Find out what's coming from Big Idea
5.1 Dolby Digital Surround
Professor Bok Choy's Pop Quiz #2 - Watch the show, then take Bok Choy's latest trivia quiz!
The Angry Eyebrows Storybook - Read-along with this story from the first Larryboy cartoon adventure
Archie's Supersonic Sound Effects Swapper - Mix-up a scene from the show by changing the sound effects
Learn How to Draw Bumblyburg's Supervillains - The Alchemist and Mother Pearl are no match for a skilled artist like you!
Bumblyburg Bios - Read up on the citizens of Bumblyburg
Hidden "Easter Egg" Features - Bonus features hidden on the disc!
DVD ROM Fun - Games and cool Web links!

** Disclaimer: All reviews are based solely on the opinions of the reviewer. Most reviews are rated on how the reviewer enjoyed the film overall, not on content. However, if the content really affects the reviewer's opinion of the film, it will definitely affect the reviewer's rating.