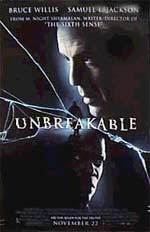 Unbreakable


- for mature thematic elements including some disturbing violent content, and for a crude sexual reference.
Director:
M. Night Shyamalan
Starring:
Bruce Willis, Samuel L. Jackson, Robin Wright Penn
Running Time:
1 hour, 46 minutes
Plot Summary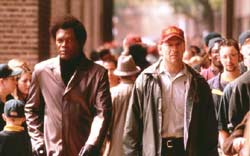 David Dunn's (Bruce Willis) life is turned upside down when a sudden catastrophic train accident leaves David as the lone survivor of the wreck. Not only is he the only survivor but he is completely unharmed. Hearing of the incident, Elijah Price (Samuel L. Jackson), an eccentric comic book collector with a horrible condition which renders him extremely sensitive to bone fractures, finds Dunn to inquire about the experience. Upon finding him and proposing a supernatural explanation, so begins the search for the truth behind what actually happened and why David survived the wreck.
Film Review
Before I saw Unbreakable, I had heard a lot of opinions about it. Most of them were highly negative, filled with disappointment and disgust. After seeing a highly promising preview for a film with an intriguing plot, great cast (Bruce Willis), and talented director (M. Night Shyamalan, who directed 1999's The Sixth Sense), I had made up my mind I'd see it despite public opinion. What I found was a really bizarre movie with a good story, great plot twist, good acting, yet some pretty disturbing moments.
This is one of those movies that you will not get anywhere near what expect from it when you see it. The trailer ads you see in the theaters set you up for a Sixth Sense-like thriller and although similarities exist, it's completely "out there" and unexpected. This movie is a lot slower, a lot darker, and done in a lot more of an artistic, almost fantasy-like fashion. Unusual camera placement and angles are used and dark lighting exists in almost each scene. It's often quiet, as well, the instrumental music is scarce, but when it does exist it's quite prominent and assists the movie quite well. But the biggest thing about this movie that is throwing off everyone is the overall plot. Forget the real-life creepiness of The Sixth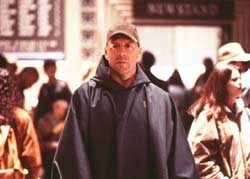 Sense. Just forget it's the same director and writer. But the plot pretty much revolves around comic books. I can't tell much more because it'd give away too much, but if you intend to see this after this review, expect the unexpected, but a very clever story to say the least.
Content was definitely PG-13, however at times it became borderline R merely for it's disturbing nature. Why do I keep saying disturbing and why does the MPAA describe it as "for mature thematic elements including some disturbing violent content, and for a crude sexual reference?" Well, there the mere fact so many people die in the train wreck, the fact Elijah is so "breakable," and some of the visions David has fall under the disturbing category. The following may give a tiny bit away of the plot, but it's necessary to let you know what's in the movie... at some point David learns, as he works as a security guard, that when people touch him he can see sins and crimes they've committed. So, for instance, we see a man walk up to another man's door, tell him he likes his house and wants to come in, and ends up killing the owner of the house (we don't see it, just see him lying dead) and tying up his two daughters and wife. This is the peak of its disturbing nature. We also see a vision of a young girl passed out on a bed and a boy commenting on her drinking too much. We then see him close the door to the room and the vision ends, hinting that the girl was 'taken advantage of.' These events make for an eerier setting and add to what is going on with David, but they are clearly unsettling at the least. Although not graphic in nature, they are unsuitable for younger audiences and may be too much for Christian eyes as well. With that laid out, the film only has a few other objectionable moments. Blood/gore is kept to a thankfully small minimum to where we see a covered up body blurred out in the foreground of a hospital setting while a doctor is talking to David, and we see the sheets breathing body slowly get red with blood. Although blurred out to an extent, it is still pretty gross. Also, we see the wrists of some people bound that are a little bloody. Language is reduced to 1 "s" word and a few other lesser ones, however, there are several uses of blasphemy that were highly unnecessary and as a result, rather offensive. Sexual content is only used for one lewd comment (meant to be funny), and the incident mentioned above which hints at rape but nothing is seen or heard at all.
What could possibly be good about this movie? From the over-all film aspect of the movie, it is highly creative and inventive and something completely different than I've ever seen. Although completely strange and 'wacky,' it's an incredibly well-done story. I would carefully go over what is here and what is listed below in the summary before deciding to see this film. I certainly found it unsuitable for anyone younger than late high school (at least), but will be unsuitable for some adults as well.
In summary, I thought the movie was good, but had its many flaws. Before I heard negative feedback about the film, I expected a lot from it. However, a pretty good film existed underneath a blanket of odd occurrences and some disturbing situations. I give it a rating of 3 out of 5 because it could have been better and could have been less dark in nature.
-
John DiBiase
,
(reviewed: 12/2/00)
Parental Guide: Content Summary

Sex/Nudity
: 1 really crude comment is made. In a vision, it is hinted that a guy takes advantage of a girl who is passed out drunk. All we see or hear is him closing a door, however, and we are to assume something happens (but never officially find out)

Vulgarity/Language
: 1 "s" word, 1 "g*dd*mn," 1 "a" word, 1 "h*ll," 1 "J-sus," 2 "J-sus Chr-st," 1 "Oh my G-d," 1 "Swear to G-d"

Alcohol/Drugs
: David stops a possible drug dealer, some people drink beer and such throughout the movie.

Blood/Gore
: While David is sitting on a table in the ER, we see in the foreground that there is a body with a sheet covering them. As the doctor talks to David, we see a bloodstain on the sheet covering the body slowly grow larger. David finds a dead body. The wire binding a victim's hands together has caused their wrists to be marred and a little bloody.

Violence
: Someone falls down a flight of stairs; a huge train wreck, although unseen, occurs; 1 fight, a man is killed off-screen, 3 women are tied up, a young person holds a gun to another person, etc.
Disclaimer: All reviews are based solely on the opinions of the reviewer. Most reviews are rated on how the reviewer enjoyed the film overall, not exclusively on content. However, if the content really affects the reviewer's opinion and experience of the film, it will definitely affect the reviewer's overall rating.
To find out why we don't review R-rated movies,
click here