Plot Summary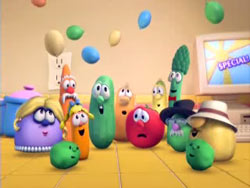 Join Bob, Larry and all the VeggieTales friends for God Made You Special a fun-filled collection of stories that helps kids learn that they are special just the way God made them! Filled with laughs, lots of surprises and one great lesson: "God Made You Special, and He Loves You Very Much!" (from BigIdea.com)
Film Review
VeggieTales: God Made You Special is a collection of short Veggie stories joined together by brand new narrative interludes provided by your favorite digital vegetables. The DVD features one new story as well, "Bob's Vacation" which takes the Veggies out of the kitchen and out of the Bible story setting. The new story is an instant new favorite, as Bob the Tomato enlists the help of Larry the Cucumber to house sit for him while he's away. A misunderstanding between the two leaves Bob with wondering if he's special at all. Without revealing all that unfolds, it's a wonderfully animated, cute little story about discovering your worth in Christ.
Among the stories included, all previously available on other releases, are "Dave and the Giant Pickle," "The Gourds Must Be Crazy," and "A Snoodle's Tale," as well as the "Silly Song" boy band parody "Boys In The Sink." Of the tales included, the Dr. Seuss-like "Snoodle's Tale" is probably the most poignant, driving home the message of God's love and purpose for our lives being what matters most. It a really pulls on the heartstrings, beautifully told through the eyes of a baby Snoodle, and it's powerful for viewers of any age.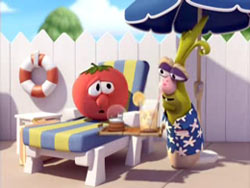 "The Gourds Must Be Crazy" is taken from the third ever VeggieTales release, Are You My Neighbor?, a video that released nearly a decade ago. Because of this, there's a drastic difference in the animation quality - especially noticeable when we see the new narrative clips spliced between the stories, as well as the "Bob's Vacation" story. It's amazing to see how far VeggieTales has evolved in its quality, and the story is still relevant but the animation sticks out like a sore thumb amongst the beautiful newer work. "Dave and the Giant Pickle" fares only a bit better, having debuted only two videos after Are You My Neighbor?. But the DVD's real gems are the newer creations.

All in all, there isn't much here to warrant a purchase for fans who own all of the previous stories, although the very inclusion of the exclusive "Bob's Vacation" comes quite close. A great collection for anyone new to the series that bears a great message of our value to Jesus, VeggieTales: God Made You Special is a special collection with a special and important reminder to God's children.

- John DiBiase (reviewed: 8/10/07)

** Disclaimer: All reviews are based solely on the opinions of the reviewer. Most reviews are rated on how the reviewer enjoyed the film overall, not on content. However, if the content really affects the reviewer's opinion of the film, it will definitely affect the reviewer's rating.