Mark Rice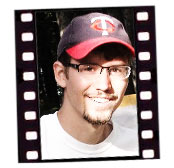 Name: Mark Rice
Role At JfH: Review Writer / Podcast Co-host
Birthday: The Third Day of the Ninth Month in the Ninety-First Year of the Twentieth Century Anno Domini
Age: I have enough confidence in your mathematical abilities that you can calculate for yourself if you so desire...
E-mail:
Staff Contact Form
Pets: Ruby the Hungarian Viszla
Car: One that gets me from Point A to Point B
Education: BS in Mathematics Education
Hobbies: Music, Movies, History, Theology, Competitive Sprinting, Physical Activity, Relaxing, Amassing Useless Trivia
Pet Peeves: Ever since becoming a teacher, my biggest pet peeve is excuses
Thing you MUST Know: Always be really nice to your teachers. They have it harder than you will ever know...
Guilty Pleasures: Being nostalgic (usually in the form of animation geared for much younger audiences than my current self)
Favorite Sports: Track & Field
Favorite TV Shows: "Classic" cartoons or 90's cartoons...
Favorite Movie: All-Time = Wall-E. I'm an avid movie watcher, but I greatly prefer movies that have survived the test of time... and Pixar movies...
Favorite Actors: All-Time = Jimmy Stewart. Next 5: Humphry Bogart, Cary Grant, Clint Eastwood, Tom Hanks, Charlton Heston
Favorite Actresses: All-Time = Audrey Hepburn, Next 5: Ingrid Bergman, Sandra Bullock, Grace Kelly, Katharine Hepburn, Meryl Streep
Favorite Books: The 66 that guide my life,The Screwtape Letters, The Great Divorce, To Kill A Mockingbird and the Redwall series
Favorite Cartoon Characters: Bugs Bunny, Donald Duck, The Warner Brothers (& The Warner Sister), Pinky & The Brain, Tigger, and the Peanuts gang
Favorite Bands: All-Time = Steven Curtis Chapman. The rest are here
Favorite Live Shows: Is it blasphemous for a music critic to never attend concerts?
Favorite Animal: Meerkats (this would definitely be my choice for an exotic pet)
Favorite Food: Honeycrisp Apple
Favorite Fast Food: I've never seen food race before, so I honestly can't say...
Favorite Breakfast Cereal: Honey Nut Cheerios
Favorite Drink: Without water, I'd be dead.
Favorite Candy: Nerds
Little-Known Super Power: An inordinate ability to learn trivia