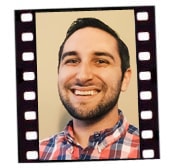 Name: Roger Gelwicks
Role At JfH: Review Writer
Birthday: November 20, 1991
Age: 26
Twitter:
@RogerGelwicks
Instagram:
@RogerGelwicks
Education: Bachelor of Arts from Cedarville University
Hobbies: Writing, public speaking, acting, photography, playing drums, web design, and a whole lot more!
Thing you MUST Know: That's "Gelwicks" with a hard-g like in the word "guest".
Guilty Pleasures: Anything that's made from potatoes and fried.
Favorite Bands: Anberlin, Relient K, Switchfoot, Future of Forestry
Most Embarrassing Moment: Once I was at a seafood restaurant bathroom, and I saw a paper toilet seat cover dispenser. For some strange reason, I thought they were lobster bibs, so I hooked one around my neck and wore it back to my table. *cringe*
Little-known Super Power: I will beat you in a pun-off battle.