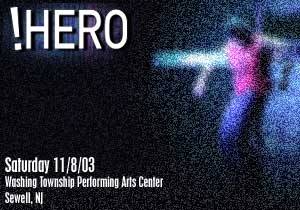 !Hero - The Rock Opera Tour
11/8/03, Washing Township Performing Arts Center, Sewell, NJ
!Hero: The Rock Opera is undoubtedly one of the biggest and most unique events to hit Christian music in recent years. The brainchild of former performing artist and president of ForeFront Records Eddie DeGarmo, !Hero presents the "what if" scenario of Jesus being born and raised in modern times. Replace the Roman empire with an oppressive governmental society called ICON, replace Rome with New York, and mobs with gangs and you kind of have more of an idea what !Hero is like. The controversial side of !Hero places the ultra talented Michael Tait in Jesus's shoes as Hero as well as presenting the Gospel in such a new and exciting way that most people wouldn't normally conceive of. But watching !Hero with a completely open mind to the modernized Gospel story, allows the audience to let a fresh telling of the Gospel unfold before their eyes. It's not about the music. It's about the message. And it's a powerful experience.
A gigantic tarp bearing a pop-art representation of the New York skyline served as a backdrop to a simplistic yet quite effective stage set. Before the show began, roaring sounds of highway traffic filled the auditorium to set the New York mood. A storefront stood off to the audience's right in the background while a street sign resided in the middle (and would play an important role in the play's final scenes). At the top of the storefront resided a large screen which featured place names and scene titles. For example, as the scenes changed locations, this would be indicated on the screen. To the left of the audience was a much larger screen, almost a billboard size that displayed random and often bizarre images throughout the entire performance. Raised up high on a platform, this served as another location for characters to roam.
The rock opera began with Paul Wright as ICON Agent Hunter in his jail cell. It was a simple set piece but very effective. Hunter served as narrator to the story for the most part. While some voice-over narrations inter-spliced more into the story would have helped to explain what the audience doesn't see on stage, it was fun to watch DeGarmo's new takes on the age old stories. It was exciting to watch Tait walk out sporting a baseball-style t-shirt for "Few Good Men" and proceed to a small table where Audio Adrenaline's frontman Mark Stuart was playing cards with producer and artist Michael Quinlan. Watching some high profile names in CCM rock history interact in a big production like this is just fantastic for the Christian music fan. Sometimes, DeGarmo & company went above and beyond expectations to help get the audience involved. You often forget it's a CCM rock opera and not an official theatrical performance. For the famous multiplication of the loaves and fishes for the masses, Stuart, Tait, and St. James took turns using a funky gun to blast candy into the audience as they sung their parts from "Manna From Heaven". Candy rained down upon the crowd at multiple times, offering cylinder-shaped peppermint candies to fall in people's laps. It was an inventive idea and a fun one that really surprised the audience. In another sequence, Michael offers high-fives and handshakes to audience members as Hero greets the audience and T-Bone, sporting a "Security" tee pretends to control Hero's interactions. For moments like "Party In The House Today", the cast members sought to pump up the crowd as Mark Stuart lead the band in this rousing rock number. The moments of the characters talking to each other in between scenes (instead of relying solely on the songs as their means of communicating with one another), added to the flow of the play and I actually felt it could have used more.
The only drawbacks I found were that it may have moved along a little too quickly and didn't fully utilize its space and sets as best as it could have. Four of us on the JfH team trekked to Sewell, NJ for the show with one member of our team, having lived under a rock most of the year, almost completely unfamiliar with !Hero or what it was about. He found some scenes a little hard to follow and the flow a little choppy (but still loved the show). I must agree, however, that if you haven't heard the CD or read the comics, that this would be a somewhat difficult story to totally understand in just one sitting. A little more narration may have remedied this. The other quasi-complaint is severely minor and would have only served as an enhancement. Much like a school play, sets and props were limited, but more would have helped. For example, in "Not In Our House", where Hero is supposed to rampage through the temple and chase out peddlers, the only things Hero overturned or tossed were crumpled garbage cans. A few simple set pieces he could toss or knock over would definitely have made it more powerful, especially given it's such an aggressive song. A larger crowd gathering around Hero at the crucifixion scene would have made it more impacting too, however, it remains still a powerful scene to behold. Lastly, the sequence where Hunter sings to Rebecca St. James's Maggie and they profess their love for each other feels cheesy and misplaced. It had little bearing on the plot and little interaction for the two leading up to the point at which they sing their "Stand By You" duet.
The show included all thirty-one tracks from the record and was divided into two acts. There was also a brief intermission between the acts that was enough to give people some time to stretch their legs. The cast was pretty close to that featured on the album, as well. Unfortunately Skillet's lead vocalist John Cooper, who appeared as Kai on the soundtrack, is not on the tour. In his place is Fusebox's lead vocalist Bill Buchanan who did splendidly in the role. Pieces of Coopers vocals could still be heard in the DAT tracks behind some of Buchanan's vocals, but for the most part, Bill took over entirely. Hero's mother, performed by TobyMac's backup vocalist Nirva on the soundtrack, is replaced here by one-fourth of the late group Raze, Donnie. She does a great job in the part with her incredible vocal power. Finally, Devlin, played by Pete Stewart, was replaced by Shannon Bain. He also filled in for Matt Hammitt from Sanctus Real's part as Crippled Man. He had a pretty decent voice and did well in his part. However, anyone who knows better will recognize that the vocals, when Devlin sings "Do What You Gotta Do" is Bain lip syncing to Pete Stewart's track from the album. But while it would have been nice to see Matt, John, and Pete along for the tour this month, it worked just as well without them.
A wonderful collection of artists who can act just as effectively and powerfully as they can sing accompanied by some impressive dancers comprise what is nothing less than an awesome live production. If you can catch "!Hero - The Rock Opera Tour" in your area, DO - NOT - MISS - IT! If you don't mind some edgy rock, some hardcore hip-hop or rap, or some tender ballads, than you will certainly enjoy the !Hero live show. If you do miss it, all I can suggest is writing the !Hero people and petitioning for a live DVD of sorts. It was a great show guys -- the must-see tour of 2003!
--
John
, 11/9/03
!Hero Cast & Crew
Hero... Michael Tait
Petrov... Mark Stuart
Maggie... Rebecca St. James
Agent Hunter... Paul Wright
Mama Mary... Donnie
Kai (Chief Rabbi)... Bill Buchanan
Jude... Michael Quinlan
Crippled Man... Shannon Bain
Jairus... T-Bone
Jairus' Wife... Donnie
Police Chief Devlin... Shannon Bain
Governor Pilate... Bob Farrell
Band:
&nbsp&nbsp Chad Chapin (drums)
&nbsp&nbsp Lonnie Chapin (bass)
&nbsp&nbsp Justin York (guitar)
&nbsp&nbsp Dave Holvig (guitar)
&nbsp&nbsp Bryce Bell (keys)
Directed by: Bob Farrell and Eddie DeGarmo
!Hero Tour Photo Gallery
click on an image for a bigger size
*all photos by
John
, and are the property of
Jesusfreakhideout.com