God Himself will Provide
"God Himself will provide..."
-
Genesis 22:8 NIV
My eleven-year-old grandson, William, is fascinated with ants. He can tell you almost anything about the ant kingdom, because one of his hobbies is studying them. Recently, he decided that he wanted to start his own ant colony. He got permission from his parents to begin this ambitious project, and then he went about searching for a queen ant. When he told me about it, I suggested that we pray for the Lord to provide him with the perfect specimen for his ant colony. William checked all of the usual places where queen ants would normally be found, but he came up empty every time.
One day, my husband, Joe, stopped by Will's house to drop something off for my son, John, and his wife, Amy. As Joe entered their house, John noticed right away that there was a bug on my husband's neck. Instinctively, Joe brushed the insect off his neck, and it dropped to the floor. William bent down to inspect it, and declared, "It's a queen ant!" Not only was it a queen, but it was the exact species of ant that Will had prayed for. Needless to say, we were all stunned, and we marveled at how the Lord provided my grandson with exactly what he needed to start his new project.
As I pondered over how the Lord graciously answered my grandson's prayer for his ant project, I thought about Abraham's words to his son in Genesis 22:8 (NIV): "God Himself will provide." Since then, every time I begin to worry about my needs, this promise from God comes up in my spirit. Sometimes, it's my healing needs that cause me concern. Other times, it's my financial or material needs. Whatever the need is, I can't stay worried for very long because this promise always arises in my heart. God Himself will provide.
If the God of All Creation cares enough about a little boy's ant project to go out of His way to provide him with the perfect queen ant, why on earth would He do anything less for one of His children who has even more important needs and desires? I am reminded of a powerful verse of Scripture that says: "He who did not withhold or spare [even] His own Son but gave Him up for us all, will He not also with Him freely and graciously give us all [other] things?" (Romans 8:32 AMP) I urge you to believe with all of your heart that the Lord is eager to provide for you - and call upon Him in faith and confidence today!
Prayer: Lord, whenever I begin to worry about my needs being met, remind me that You have promised to be my Provider. (Philippians 4:19) Deliver me from all of my fears. (Psalm 34:4) And help me to always see You as my true Source of all of my healing, financial, and material needs. Teach me to always see You as the generous God you are. Thank You that as I put my trust in You, You will lavish upon me all good things, fulfilling my every need! (1 Timothy 6:17 TPT)
-
J. M. Farro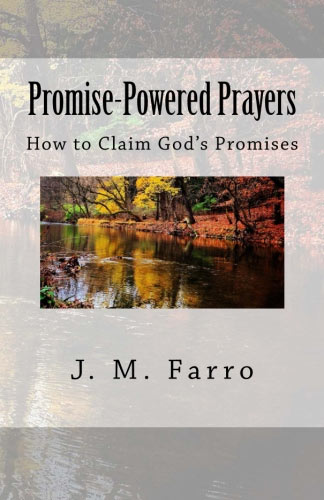 Promise-Powered Prayers Paperback Book

**To order J. M. Farro devotional books on ETSY.com using a credit card, PayPal, or Etsy gift card, Click Here. Books sold through ETSY can be signed and personalized by the author at your request. To place an order on Amazon.com, Click Here.
Full List of Devotionals
The devotionals aren't just limited to weekly! All previously featured devotionals are archived here for your convenience and easy access.
Click here
to view many more archived, Spirit-filled devotionals about everyday situations written by J.M. Farro!
Connect with J.M. Farro

*To place an order for J.M.Farro's books on Amazon.com,
Click Here
.
*Subscribe to
J.M. Farro
's FREE audio Podcast via
RSS
*
Follow
J. M. Farro on
Twitter
!
*Visit her
official website
at
JMFarro.com
!
*Send any questions or comments you may have to
J.M. Farro
via our
Contact Form
!