Our True Hero
"My true hero comes to my rescue, for the Lord alone is my Savior."
-
Psalm 3:8 TPT
When I was growing up, Superman was my favorite hero. Today, while I'm still a fan of the Man of Steel, this fictional character is in a totally different category for me. Why? Because as the Scripture above states, Jesus is "my true hero," and He "alone is my Savior." This Passion Translation tells us in a footnote: "The Hebrew word used sixty times in the Psalms for deliverance is Yeshuah, a variant form of the name for Jesus. This is pointing us to where our salvation is found." This doesn't just refer to our new birth, but to every kind of deliverance we will ever need on this earth – from every sin, bondage, and evil addiction, and every form of harm, including sickness, disease, poverty, and lack. Jesus is well able to deliver us from them ALL.
The second half of Psalm 3:8 in this translation says: "What a feast of favor and bliss He gives His people!" In other words, the Lord delights in showering His devoted ones with an abundance of special benefits and blessings. And He fills us with the kind of joy that can only be experienced by those who walk in close fellowship with Him. If you look up the definition for the word "bliss," you see that it refers to "a state of perfect happiness, typically so as to be oblivious of everything else." This doesn't mean that we become so happy and content that we live irresponsibly. It means that even when we are facing hardship and heartache, we can still experience a deep, abiding joy that helps us to resist dwelling on our troubles.
The Message Bible translation of Psalm 3:8 says, "Real help comes from God." When we need healing, real help comes from God. When we need finances, real help comes from God. When we are troubled by loneliness, fear, depression or rejection, real help comes from God. If you are looking for "real help" today, you can't do any better than making your real hero Jesus – and calling upon His mighty and precious name!
Prayer: Lord, today I appeal to You as my true hero and Savior. Deliver me in every way that I need deliverance, and set me free in every way that I need freedom. In every situation and circumstance, help me to refuse to look to anyone but You for help. Shower me with Your favor, and fill me with Your joy. Thank You that as I learn to rely on You more and more, You will prove to be my Rescuer and my Rewarder!
-
J. M. Farro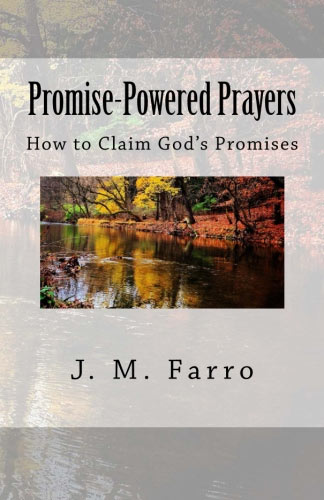 Promise-Powered Prayers Paperback Book

**To order J. M. Farro devotional books on ETSY.com using a credit card, PayPal, or Etsy gift card, Click Here. Books sold through ETSY can be signed and personalized by the author at your request. To place an order on Amazon.com, Click Here.
Full List of Devotionals
The devotionals aren't just limited to weekly! All previously featured devotionals are archived here for your convenience and easy access.
Click here
to view many more archived, Spirit-filled devotionals about everyday situations written by J.M. Farro!
Connect with J.M. Farro

*To place an order for J.M.Farro's books on Amazon.com,
Click Here
.
*Subscribe to
J.M. Farro
's FREE audio Podcast via
RSS
*
Follow
J. M. Farro on
Twitter
!
*Visit her
official website
at
JMFarro.com
!
*Send any questions or comments you may have to
J.M. Farro
via our
Contact Form
!