The Importance of Joy
"Don't be dejected and sad, for the joy of the Lord is your strength."
-
Nehemiah 8:10 NLT
In the Bible, the concept of joy is serious business. It is not a superficial warm and fuzzy kind of feeling. It's a fruit of the Spirit (Galatians 5:22), and it can help the believer overcome all kinds of adversity. The verse above reveals that we gain strength from the joy that God gives us. And the Scriptures indicate that when we lose our joy, we can become victims of despair, and even sickness. Proverbs 17:22 (TPT) says, "A joyful, cheerful heart brings healing to both body and soul. But the one whose heart is crushed struggles with sickness and depression." Have you ever gotten sick after something happened to disappoint or depress you? I have. Next time you are ill, ask yourself if you have been struggling with negative emotions.
Proverbs 15:15 (TPT) says, "Everything seems to go wrong when you feel weak and depressed. But when you choose to be cheerful, every day will bring you more and more joy and fullness." Ever notice how your moods can affect your whole outlook on life? When you are feeling down, it can seem like nothing is going right, and everyone around you irritates you. But if you are feeling particularly cheerful one day, almost nothing bothers you. When you are filled with the joy of the Lord, you feel strong, capable, and ready for anything. That's why a joy-filled believer is hard for the devil to handle. If the enemy can steal your joy, he can rob you of almost anything, including your health.
Romans 14:17 (NIV) says that the kingdom of God is "righteousness, peace, and joy in the Holy Spirit." That should tell us just how valuable joy is to the believer. Jesus spoke about joy a lot. It was the Savior's desire that His disciples would be filled with joy. (John 16:22; 17:13) In John 16:24 (NLT), Jesus says, "Ask, using My name, and you will receive, and you will have abundant joy." And in First Thessalonians 5:16 (NLT), Paul writes, "Always be joyful."
The Bible tells us that God wants us to serve Him with joy. Psalm 100:2 (ESV) says, "Serve the Lord with gladness!" And Deuteronomy 28:47-48 (NIV) says that because God's people refused to serve Him "joyfully and gladly," He would cause them to serve their enemies instead. The Lord deserves to have us serve Him with joy, and He has given us His Holy Spirit as our source of joy.
Let me encourage you to memorize Psalm 86:4 (NIV), so that the next time you need a fresh dose of joy, you can pray like David did: "Bring joy to Your servant, Lord, for I put my trust in You." Before you know it, you will be filled with the joy of the Lord, and nothing will be able to keep you down!
Prayer: Lord, I ask that by Your Spirit, You would fill me with everlasting joy. Give me a happy heart that does me good like a medicine, and a cheerful mind that works healing in every part of me. (Proverbs 17:22 AMP) Whenever I am tempted to despair, remind me of the importance of joy, and how You deserve a cheerful servant. Thank You that Your joy makes me strong and resistant to defeat!
-
J. M. Farro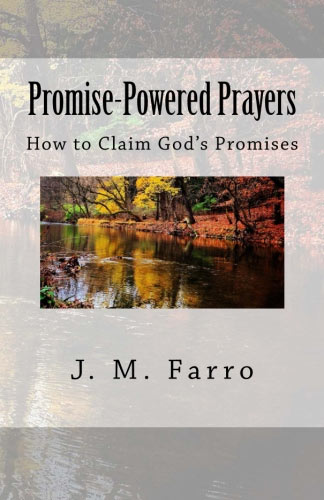 Promise-Powered Prayers Paperback Book

**To order J. M. Farro devotional books on ETSY.com using a credit card, PayPal, or Etsy gift card, Click Here. Books sold through ETSY can be signed and personalized by the author at your request. To place an order on Amazon.com, Click Here.
Full List of Devotionals
The devotionals aren't just limited to weekly! All previously featured devotionals are archived here for your convenience and easy access.
Click here
to view many more archived, Spirit-filled devotionals about everyday situations written by J.M. Farro!
Connect with J.M. Farro

*To place an order for J.M.Farro's books on Amazon.com,
Click Here
.
*Subscribe to
J.M. Farro
's FREE audio Podcast via
RSS
*
Follow
J. M. Farro on
Twitter
!
*Visit her
official website
at
JMFarro.com
!
*Send any questions or comments you may have to
J.M. Farro
via our
Contact Form
!