It Pleases God to Make Us Strong
"You are their glorious strength. It pleases You to make us strong."
-
Psalm 89:17 NLT
When I came across the Scripture above during my devotional time with the Lord, I rejoiced. Seeing in His Word that "it pleases [God] to make us strong," filled me with a fresh sense of hope. You and I don't have to feel ashamed or guilty when we feel weak, or our faith begins to falter. We just need to remember that the Lord is "[our] glorious strength," and that He delights in filling us with His own power.
But this process of God making us strong is not automatic. We need to cooperate with Him in the process. One way we do that is by praying for divine strength. David the shepherd-king wrote, "When I pray, You answer me and encourage me by giving me the strength I need." (Psalm 138:3 TLB) It is a great encouragement to sense a surge of strength after we have asked the Lord to empower us. When we are facing an unpleasant event or task, if we will petition God for an infusion of His strength, even the devil himself will not be able to weaken or defeat us.
Besides praying for strength, we need to seek the Lord's face and His presence in order to draw on His supernatural power. In David's song of thanksgiving in First Chronicles, he tells us, "Seek the Lord and His strength; seek His face continually [longing to be in His presence]." (1 Chronicles 16:11 AMP) There is a measure of divine strength that we will only experience as a result of spending regular, focused time alone with God, without distractions or interruptions. We all love to be able to take shortcuts to achieve our goals, but in God's kingdom, there is simply no substitute for spending time in His presence – sharing our hearts with Him, reading His Word, and listening for His voice.
In Psalm 18, David says of the Lord, "He fills me with strength and protects me wherever I go." (Psalm 18:32 TLB) David depended on the Lord to enable him to fulfill His God-given purpose and potential, and you and I can do the same thing. What is it that God is asking you to do, that begs for an infilling of His power today?
Prayer: Lord, please don't let me go through this life without making the most of Your offer to strengthen me with Your own strength. Teach me how to pray for Your strength on a regular basis, so that I never depend on my own limited power. Fill me with a deep desire to seek Your face and Your presence daily, and show me how to plan my schedule around You. Thank You that You are truly my "glorious strength," and it pleases You to make me strong!
-
J. M. Farro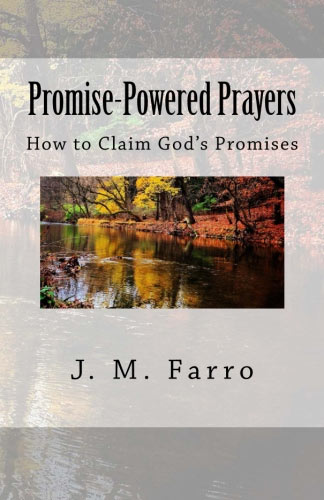 Promise-Powered Prayers Paperback Book

**To order J. M. Farro devotional books on ETSY.com using a credit card, PayPal, or Etsy gift card, Click Here. Books sold through ETSY can be signed and personalized by the author at your request. To place an order on Amazon.com, Click Here.
Full List of Devotionals
The devotionals aren't just limited to weekly! All previously featured devotionals are archived here for your convenience and easy access.
Click here
to view many more archived, Spirit-filled devotionals about everyday situations written by J.M. Farro!
Connect with J.M. Farro

*To place an order for J.M.Farro's books on Amazon.com,
Click Here
.
*Subscribe to
J.M. Farro
's FREE audio Podcast via
RSS
*
Follow
J. M. Farro on
Twitter
!
*Visit her
official website
at
JMFarro.com
!
*Send any questions or comments you may have to
J.M. Farro
via our
Contact Form
!