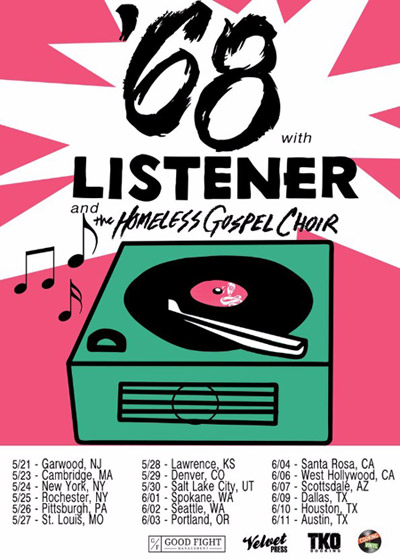 '68/Listener Spring Tour 2017
5/28/17, at Jackpot Saloon & Music Hall
You know who's really good at ruining a good concert? Drunk people. I mean, I get it: this concert was at a bar, and there are going to be people drinking. But if you're going to drink while some very good music is being played live, you need to control yourself and let the others enjoy the show.
Getting to a concert early can really open your eyes to what's going on in the local music scene. I almost never hear about what bands are active in the northeastern region of Kansas, but everytime I hit up a hardcore/metal concert in the area, the openers are always a different local band than the ones before. On this evening in particular, there were two new bands that weren't listed on the bill, neither of which I ended up catching the names of, as the sound was pretty poor at the beginning of the show, and one of them didn't even say their name. The first band, who apparently was comprised of young guys straight out of high school, bore a late emo sound, akin to an act like Noise Ratchet. Though that sound is generally not the highest of quality, this band took it and ran with it, sounding a lot more refined than their age would let on. It's good to see younger guys doing music right. Their set did run a little long, though, playing almost a full set, but I would've much rather seen them play a few more songs than listen to the next band. These guys couldn't decide if they wanted to be New Found Glory or Against Me, so they did both. They did a couple of songs that sounded alright, but for the most part, I just couldn't wait for them to stop playing.
The first official act of this tour goes by The Homeless Gospel Choir. As one guy and his acoustic guitar took the stage, it became apparent that Manchester Orchestra has a more accurate name for their band than this guy. He's definitely not homeless, he's not a choir, and his songs were anything but gospel. Though I like the idea of the name, but I had a hard time enjoying his set. He played an acoustic punk sound, kinda like Destroy Nate Allen, which sounded really great, but his lyrics and beliefs encapsulated the anarchistic side of punk rock. He jokingly called every song a protest song, which was funny, as was his song about learning to like you even if you have bad taste in music, but his message is very liberal and, at times, anti-church. I can't recommend getting there in time to see his set.
The last (and only) time I saw Listener was in what can only be described as an abandoned warehouse loft. I guess. It's a church now, but back then, in the summer of 2011, it was just a room on the second floor of some nearly inaccessible building in Kansas City. The then-trio of musicians, toting a guitar and a drumset, played with a backing track of the additional music from their songs, while Dan Smith talked his words. This time, the set-up was a little different. Dan is still the frontman, of course, but he also played bass, while two guitarists (neither of which were Christin Nelson) played to his right. Kris Rochelle was still on the drums, however. With this newer line-up, the band's performance was a lot heavier, louder, and rockier. They started with "You Have Never Lived Because You Have Never Died" from Wooden Heart, and I was surprised to learn that the crowd wasn't just seeing Listener by accident. They were actually singing along ("singing" used loosely)! The crowd maintained their interest and excitement as Listener played songs from both Wooden Heart and Time Is A Machine, including "Seatbelt Hands," "Eyes to the Ground for Change," and "It Will All Happen the Way It Should." They also played a song called "Money in the Walls," which is apparently from their upcoming album that sounds like will be released in 2017. They closed with one of their best songs, the energetic yet contemplative "Falling In Love With Glaciers," closing their set in grand fashion.
After I saw '68 open for Norma Jean on the O God the Aftermath tenth anniversary tour in 2015, I knew that I needed to see them again. And seeing them again on this tour, I now know I need to see them next time they're in town, as well. Josh Scogin and Michael McClellan are immensely talented musicians, and their insane chemistry coupled with their charismatic showmanship creates a live atmosphere like no other. Like the last time I saw them, their stage set-up was so that they could face each other while playing, and at times, it felt like they were playing against each other, like some music-based fighting game, but in a fun way instead of trying to ruin each other's night. This is part of the beauty of a '68 live show. Another brilliant aspect of their show is the ad lib rock & roll. Sure, they played actual songs, like "Track 1" and "Track 8" from In Humor and Sadness as well as "The Workers Are Few" from their then-forthcoming new album, Two Parts Viper. But they also extended some instrumental sections and went into some jam sessions where they played off of each other and just gave the audience a good time. Though some of audience members were being rather idiotic, Scogin handled it like a champ, and the duo gave us a rock show that we didn't deserve.
At the end of the show, after the adrenaline rush and during the "I can't hear things right now" stage, I was glad to have spent my evening the way I did. Listener is a band that keeps getting better, and '68 is perhaps one of the best live bands I've ever seen. If this tour is coming near your hometown (or wherever you happen to be), and you're into heavy music, you will not regret spending your evening the same way I did. In fact, we should all just be responsible and commit to seeing '68 everytime they're anywhere.
--
Scott Fryberger
, 5/29/17