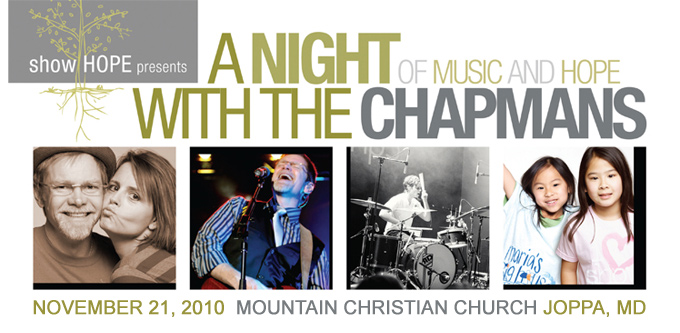 A Night With The Chapmans
11/21/10, at Mountain Christian Church in Joppa, MD
Ever since I can remember, a Steven Curtis Chapman show has been a family affair. Whether it's been headlining The Signs Of Life Tour or a night of Creation Festival, Steven Curtis has always taken time out of his show to talk about his children and wife, Mary Beth. Since the tragic loss of one of their adopted daughters due to an accident two and a half years ago, the Chapman clan has been an especially tight gang. Mary Beth has more recently stepped out from behind the artist to share her own voice on the loss of their daughter, even penning her first book inspired by her life with Steven, titled Choosing To SEE. Meanwhile, Steven and Mary Beth's sons Caleb and Will Franklin have enlisted the help of a couple of friends to form their own musical venture, a rock act simply going by the name Caleb. So with all of the Chapmans brimming with artistic expression these days, it only seemed logical to unite for their first family tour, A Night With The Chapmans.
On the final date of their family tour, we traveled to Joppa, MD to attend the show at Mountain Christian Church. It was actually the second night in a row that the church was holding the tour due to an overwhelming response in ticket sales. But the local radio station in Baltimore sponsored the pre-show Q&A with Steven Curtis and Mary Beth, so we arrived at Mountain Christian just in time for that to begin. Steven fielded most of the questions, which related to music and his career, so we didn't really get to hear much from Mary Beth personally until her part of the show.
When it was showtime, it was shortly after 7:00pm and Steven Curtis Chapman emerged to introduce his sons' band Caleb, before turning the reigns over to them to open the night. The ambience was a little bit more like an indie rock show, as Caleb Chapman stepped to the mic with his guitar, dressed in a blazer and tee. For a young band, they offer a strong pop rock sound that is light on the pop, leaning more towards melodic indie rock. They performed cuts from their debut EP, including the epic "We Will Wait," a song that was inspired by the loss of Maria and is ultimately a longing to see her again in Heaven. For this song, Steven came out to join the band and sing along. It made for an even more powerful set moment.
When Caleb finished, there was a brief set change and Steven Curtis hit the stage to perform his own music. Opening with one of his biggest hits to date, "Dive," the show was off to a grand beginning. With such a full catalog of music to choose from, Steven did a good job selecting a tight set list. However, he did take requests from fans via his website for what songs they'd like to hear on this tour, so that would probably best explain the solid choice of songs. But after "Dive," SCC and band (which included his sons Will Franklin and Caleb on drums and guitar, respectively) moved into "Let Us Pray" from his Signs Of Life record, and then returned to Speechless for the album's title track. Steven Curtis then dipped into the SCC archives for the fan favorite "For the Sake of the Call" and then performed "Free" and "More To This Life" as sort of a medley. After swapping guitars, Steven paused to tell the story of walking in London and being inspired to write the song "Yours." Before finishing the song, he told the story about writing a new verse after the loss of Maria, and closed the song with the additional verse. It added further depth to the performance for Steven to share so openly about the struggles and pain caused by his daughter's loss. It's that kind of openness that the Chapmans have always had that has made it so easy to be drawn into their music and ministry. Following a brief prayer, Steven then performed the heart-wrenching single "Heaven Is The Face," one of the first songs that debuted from his latest release, Beauty Will Rise, that was written out of the dark times following Maria's accident.
Steven Curtis shifted gears a bit to the less serious as he shared about how the most requested song from the fans was one he never plays and regrets even writing. He said he had written the song based on a dare by Carman while on the Young Messiah Tour (which, incidentally, was the very first live concert of any kind that I'd seen), and then performed about half of his hip-hop inspired song from The Great Adventure album, "Got 2 Be Tru." It was a set highlight and the fans roared with excitement over even the idea that SCC would resurrect such a beloved, quirky oldie. Afterwards, Steven called his best friend and fellow musician, Geoff Moore, out on the stage to perform a couple songs they've written together, starting with Geoff Moore & The Distance's "Friend Like U." They performed the songs acoustically as just the two of them, and when they played "Listen To Our Hearts" next, Will Franklin supported the duo on a percussion box. The two then shared about performing "Listen To Our Hearts" in China some years ago, which lead to Steven turning the stage over to Geoff to share about adoption and talk about the Chapmans' ministry, Show Hope. Moore urged the audience to support Show Hope and to check out the ministry during the following intermission... which lasted around twenty minutes.
As it got later and later, I noticed how unusual it was for a Sunday night concert to be running so late. I knew Steven had more songs ahead of him and Mary Beth hadn't even spoken yet. While I personally didn't care, I had to wonder if some of the rest of the audience did (especially those with kids in school). But for Steven's second set, he opened with "The Great Adventure." And of course, since this was the final night of the tour, that inevitably is grounds for pranking! And as Steven played, the guys in Caleb came galloping out on stage and Geoff Moore joined in the singing, while Steven's band members revealed themselves to be wearing old school SCC tour shirts and gear -- some brightly colored and tailor made for girls. It was a great way to add a little extra humor to the night without performing any truly disruptive or destructive pranks (which could ruin the experience for those who paid good money for a night of music). The fun anthem "Live Out Loud" followed, with "Lord Of The Dance" close behind. Steven then introduced the band members - Ben Davis on bass, Bryan Green on keys and his sons - and then offered props to the tour guys as well, especially since this was the tour's grand finale. Chapman took some time next to tell the story behind "Cinderella," at first saying he didn't have time to tell the story but ultimately told it anyway. He performed "Cinderella" and then began to introduce Mary Beth. To do it, he performed some of "I Will Be Here" as just himself and his piano, and then invited Mary Beth onto the stage. And since November 21st also happened to be Steven Curtis's birthday, Mary Beth marched out onto the stage carrying a large birthday balloon with much of the tour crew following her and she lead the audience in singing "Happy Birthday" to the bashful artist. SCC relished in that opportunity to introduce more tour crew members (since they were now on stage with him) and thank them for their participation in the event.
Steven returned to his piano to remain seated there throughout the duration of Mary Beth's talk. She was wondefully charming and funny as she talked candidly about how she and Steven met, how her expectations and plans for life didn't go the way she had originally hoped and about how God had His own plans for her life. She presented some photos up on a projector of her and Steven when they were dating, the children when they were younger, and even wedding photos of her children Emily and Caleb. Mary Beth then recounted Maria's accident and shared about their heartache and God's faithfulness through all of it. It was a powerful talk and a highlight of the evening.
Once Mary Beth exited and Steven's band rejoined him for a couple more songs, I noticed some audience members making their exit. It was already around 10pm and the concert still seemed in full swing (so walking out seemed like leaving a movie theater during the film's climax!). However, SCC knows what he's doing and it seemed more than appropriate to follow his wife's moving message with the song "SEE" from Beauty Will Rise. It's another heart-wrenching song, and it was all the more powerful to hear live with just Steven Curtis at his piano (It's amazing to me that he can even sing a song like that and get through it without breaking down. It's a beautiful but emotional song). He concluded the song with the hymn "It Is Well" and the band joined him one last time for the album's title track, "Beauty Will Rise." It was a wonderful way to bring the mood to a more hopeful conclusion as he then began talking about trusting God and encouraging the audience to do the same. He offered another prayer and then performed a medley of the popular worship songs "Blessed Be Your Name" and "How Great Is Our God." It was impactful to hear the audience united in corporate worship, but it was a little bittersweet to hear Steven close with a Chris Tomlin song rather than one of his own.
A Steven Curtis Chapman show is always a rewarding experience and when the beloved singer/songwriter finally took his much-talked-about family on the road with him, it was as memorable as any fan of the artist's work could imagine. A Night With The Chapmans was one of the best tours of 2010 and hopefully something the Chapmans will assemble for again in the future...
--
John DiBiase
, 12/8/10
Steven Curtis Chapman Set List
01. Dive
02. Let Us Pray
03. Speechless
04. For the Sake of the Call
05. Free
06. More To This Life
07. Yours
08. Heaven is the Face
09. Got 2 B Tru
10. Friend Like U
11. Listen to Our Hearts
- Intermission
12. The Great Adventure
13. Live Out Loud
14. Lord of the Dance
15. Cinderella
16 I Will Be Here
- Mary Beth Speaks
17. SEE / It Is Well
18. Beauty Will Rise / It Is Well
19. Blessed Be Your Name / How Great is Our God
A Night With The Chapmans
click on an image for a bigger size
**vertical images cropped for thumbnails**
Caleb:
Steven Curtis Chapman:
Steven Curtis Chapman and Geoff Moore:
Steven Curtis Chapman:
Mary Beth Chapman:
Steven Curtis Chapman:
*all photos by
John DiBiase
and are the property of
Jesusfreakhideout.com