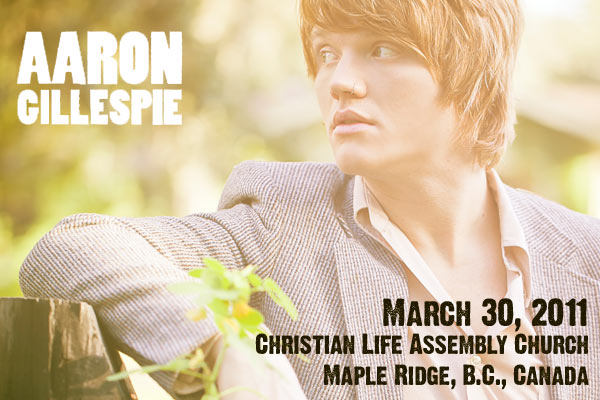 Aaron Gillespie
3/30/11, at Christian Life Assembly Church in Maple Ridge, B.C., Canada
I discovered Aaron Gillespie when I was introduced to Underoath, a band that was not my style back then, but is now one of my very favourites. At the time, Aaron's vocals stood out against Spencer Chamberlain's as almost angelic, cutting through the music and giving me chills. Then he had a project called The Almost, giving fans two albums of almost sugary-sweet fun pop-punk that has gained popularity over time.
With his new worship record, Anthem Song, I wasn't sure what to expect. I had seen him at my church leading worship with our worship team, and it had been incredible. Once word of him coming back to our sister church came out to lead a worship service and introduce his new worship album, my friends and I were all over it.
As was also said on the main review for Anthem Song, I expected a lot more from a talented songwriter and composer, seeing his work through Underoath and The Almost. The worship songs were mediocre at best, the most impactful and powerful being "Earnestly I Seek Thee."
Aaron's vocals, as usual, were powerful and stood out, and his humility left me stunned. Aaron Gillespie is a celebrity among my church, as I'm sure he's used to being, but he wants everyone to know that he is just a man serving Jesus. He's more than happy to take pictures with his fans, but as a friend, not as an idol. He loves the people he meets, loves talking and praying with them, and I'm blessed every time he comes, often more so by watching him with the teens at my church and how he interacts with them. There is nothing arrogant in the way he presents himself, even on stage. He made it clear this was not a concert by him, this was a concert for Jesus and that we were there to worship, not to idolize Aaron.
A few other worship songs not on Anthem Song were sung, which was funny to witness because suddenly everyone knew the words and sang along with gusto. Despite the mediocrity of the album, the worship service was a powerful one.
Towards the end of the service, Aaron came up and spoke about a cause he is very involved with, Compassion International. After speaking from his heart about the children that need care, he told us about a trip to Haiti he recently went on that broke his heart. He went on a prayer team to help out with prayer needs, and after expecting prayer requests that might seem typical such as help with sickness, he met a man who asked him to pray that 'he would follow Jesus more,' as this man was the pastor for that village and 'wanted to be a better leader.' Aaron described this moment with humility, saying "[my] head exploded."
After talking a bit more about Compassion International and urging the crowd to go get some information even if money was tight, to think and pray about it, to talk to our small groups about it, to get groups of friends to adopt kids, to help, and to be a part of something important, he then mentioned his merchandise table which was run by his lovely wife, Jamie. If there's anything I have been impacted by over the years of watching Aaron grow, it's his love for his wife. He talks about her constantly. He sings her praises, talks about her only second to his love for God. It's amazing, and inspiring.
"You should go see my wife at the merch table. She's hot, and she's also pregnant." This statement was met by mass amounts of applause and cheering. Aaron and his wife were married in 2006 and many fans have wondered when they'd begin to start a family.
All in all, the worship service/concert was humble, fun and enjoyable, and despite being unimpressed by the new worship album, I will definitely continue to support Aaron and his cause!
-- Sherilyn M., 4/5/11