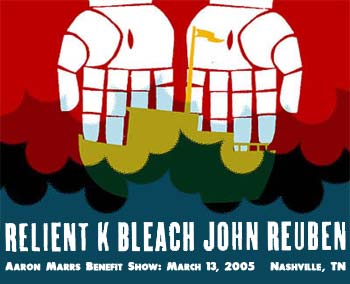 Aaron Marrs Benefit 2005: Relient K, Bleach, John Reuben, & more
3/13/05, Rocketown, Nashville, TN
There are a whole lot of people that have only heard of Aaron Marrs because of his departure from this world. Sadly, I fall into that majority category. But you have no doubt seen his work. He has produced the album art for many Gotee Records albums, including John Reuben and Relient K releases, and even appeared on the cover of the latter's Employee Of The Month EP.
And it was in the pursuit of his media art passion that he was lost at sea in January as he filmed a documentary on Alaskan crab fishing for Paper Jack Films. And, honestly, you hear stories like this all the time, and it is easy to offer your condolences, and then quickly dismiss the tale. But after March 13, 2005, there is almost a sense of guilt for ever feeling that way.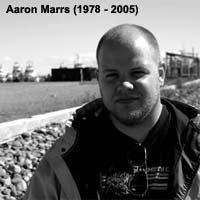 Six artists that were close friends of Aaron's were all in attendance to pay tribute and raise money for the completion of his documentary. The Lonely Hearts, The Kick, The Evan Anthem, John Reuben, Bleach, and Relient K all came out to Nashville, TN to support a dear friend and his passion. And the end result was nothing short of spectacular.
The Lonely Hearts, consisting of members from the defunct Holland, began the night with a little acoustic flavor, playing some new Lonely Hearts tracks, as well as a bit of worship. They then played "Shine Like Stars" from their first and only Holland album. The short set was a fitting opening for the evening. It was not going to be a normal show, for sure.
After The Lonely Hearts took their leave, an announcer took the stage to let the audience know that Aaron Marrs loved American rock 'n roll, and no band better encompassed that art form than The Kick. I saw this band play a month ago, and I would tend to agree. But on this night, The Kick was in rare form. They had more energy than any other band the entire night. Any band that can demand respect, even if you are hearing their music for the first time, is quite special in my book. And The Kick did it March 13th.
Their set of five or six songs came to an end, and The Evan Anthem began their set. I have never claimed to be the biggest fan of The Evan Anthem, but I do have a respect for their music, and they played it well. It seemed as though the crowd just wasn't into it, however. It seemed as though everyone was ready for the show to commence. Luckily, the band's last song, they said, was a favorite of Aaron Marrs. And they went on to cover a Weezer track, to much fan appreciation. Members of Bleach and Relient K took the stage to sing the song along with The Evan Anthem.
After the Weezer rendition ended and The Evan Anthem said goodnight, Aaron Marrs' little brother took the mic and announced simply, "Ladies and gentlemen, John Reuben," with as many applause for John Reuben as there were for the mere fact that Aaron Marrs' sibling had just been on stage. This was the first time I had seen John Reuben since the departure of DJ Manny. With him gone, it's almost seems like a rap fronted rock band. All the hip-hop songs of years past have been reworked to fit a guitar-friendly environment, and have been redone very well, without nearly any sort of distinction that anything is different. Reuben played some of his most popular tracks, "Life Is Short," "Do Not," and "Doin'" (which he called Aaron Marrs' brother back on stage to help him with), and also playfully bantered with the crowd, as is common anytime you see a Reuben show. The finale was actually a new song from Reuben's forthcoming release The Boy Vs. The Cynic. I must say, I was very impressed. I do have, however, a somewhat biased opinion. But the song, most likely called "Out of Control," fused John Reuben's Are We There Yet? roots with his newer Professional Rapper style. It was an amazing song, and I simply cannot wait for the new release this June.
Now, a lot of people at the show that night were diehard Relient K fans who probably did not have the slightest clue who many of the other bands were. But for those of us informed enough to know what was going on, the reunion of Bleach for one final set was one I had dreamed about seeing since…well, August 29th to be exact. Bleach took the stage, and Davy made clear, "We already played our final show, so this is just a family gathering." And indeed it was. They started their set with "We Are Tomorrow," which happened to be the only song not from their new and final record Farewell Old Friends that they played. They played "Clear the Air," "Good as Gold," "To the Top," as well as the beautiful ten minute ballad "Sufficient." Davy talked about Aaron and explained that after the band had readied the release of Farewell Old Friends, that he told his wife he wanted to write a song for Aaron. His wife replied, "You already have." And Davy went to his keyboard and they finished their set, very fittingly, with "Farewell Old Friends."
Personally, I would have liked for Bleach to have closed the evening, as well as been granted a longer set. But this was a benefit show to raise money, and quite honestly, "Relient K" is the name that sells. I have nothing but love for Relient K, they are one of my favorite bands, and I am not ashamed to admit it. But still, respect. Bleach is legendary. Regardless, Relient K began the final set with "Who I Am Hates Who I've Been." This was the first time I had seen them live since the departure of Brian Pittman on bass. I am not entirely sure, but it appeared it was the bassist from Ace Troubleshooter that was filling his shoes. Relient K sounded as good as ever, and it was great to hear the new songs from mmhmm played live. "The One I'm Waiting For" was next, followed by "High of 75," and then "Be My Escape." "Which to Bury, Us or the Hatchet?" was followed directly into "Let It All Out", as on mmhmm, and then Matt Thiessen explained again Aaron Marrs' love for American rock 'n roll. They then proceeded to play "I So Hate Consequences." Which isn't exactly rock 'n roll… at all. But I suppose it's about the closest Relient K comes? Maybe? Anyway, they left the stage, and though it was 11:30PM on a Sunday night, with school looming the next day, the hungry crowd wanted one more. Much to my delight, and the delight of my very good friend standing next to me, they came back out on the stage and played my personal favorite Relient K song, "I Am Understood?"
All and all, an amazing night. It almost seems wrong to try and label it as one of my favorite shows ever, because it wasn't a show. It was a tribute. Aaron Marrs would have been thrilled to see his friends all come out to play a show in his honor. And I know I'm not alone in saying that I wish he were alive today, if only so I could shake his hand and let him know just how many lives he has touched.
--
Josh Taylor
, 3/17/05
Aaron Marrs Benefit Show Photo Gallery
click on an image for a bigger size
The Lonely Hearts
The Kick
The Evan Anthem
John Reuben
Bleach
Relient K
*all photos by
Josh Taylor
, and are the property of the photographer and
Jesusfreakhideout.com