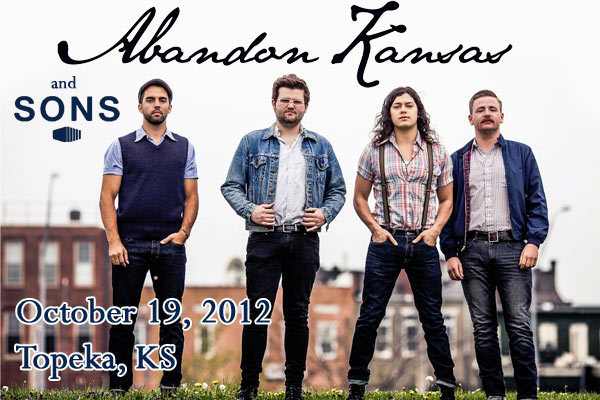 Abandon Kansas, SONS
10/19/12, at Washburn University in Topeka, KS
Surprise concerts can be a bit of a blast. I caught wind that Slospeak rock band SONS was going to be playing a free show in my hometown (bands play all the time around Topeka, but never really in Topeka), and I made my way to Washburn University to check it out. I knew that a local band I had never heard of was opening, but as I arrived, I discovered that SONS was not the only band playing, as Abandon Kansas was actually the closing band. Despite the crowd being pretty slim (about thirty to forty people in attendance), the show turned out to be a lot of fun.
The opening band was a local group, and a new one at that. So new, in fact, that they didn't have an official name yet. However, in the interim, they were going by The Eva Kathryn Project. Though the group was ripe with potential, it was very clear they were new to this; I think this was even their first show, as they had mentioned that they had written all of their songs within the past couple of weeks. There were issues with the sound in the room, which made it difficult to hear parts of their set (which would be the case for the rest of the night as well), but using their own material, the band did traverse through several different styles of music, from alternative to pop rock to blues rock. They also did a cover of a Beatles song I wasn't familiar with. The Eva Kathryn Project has a lot of potential, and also a lot of work ahead of them.
A sorta lengthy set change took place after, as SONS prepared to rock the crowd with their indie-based rock musings. I loved hearing them play an abbreviated version of Coldplay's "Fix You" as their sound check, which then led into a set that featured songs from their latest release, Keep Quiet (their first single "Doubt," "Caution," "Ghosts" and "Masters of the Flattery" were all present and accounted for), as well as several shortened songs that were either new material or older stuff that never got completed. The latter was thrown in as some sort of medley, as they melded into a full song throughout the set. Sound problems aside, the band sounded fantastic, getting down and dirty with the rockier songs, and creating a somber atmosphere for songs like "Ghosts." To wind their set down, SONS ended with the stunning "Masters of the Flattery" -- A terrific end to a great rock set. These guys will be playing shows with Come Wind and Ravenhill in the coming months, so hit those up if they come near your area.
Abandon Kansas played a little longer of a set, with a good selection of songs from their repertoire. They opened with "The Golden State" from their 2011 full-length album, Ad Astra Per Aspera, followed by "Make Believe" from their previous release (and Gotee Records debut), We're All Going Somewhere. Hopping back to Ad Astra Per Aspera, they went into "Like It Or Not," and then had some fun with a couple of cover songs. They didn't do the full songs, rather a two-song medley; they started with "Take Me Out" by Franz Ferdinand (a song with guitar licks that are right up lead guitarist Brad Foster's proverbial alley), which then led into the final verse of The White Stripes' "Seven Nation Army" (of course, with the band hailing from Wichita, it was only appropriate for them to use the verse that contains the line "I'm going to Wichita"). A new song was next, which vocalist Jeremy Spring said was from the current sessions of writing for their new, upcoming album. The song is called "The Chase," and sounds better than most of what was on Ad Astra Per Aspera, giving the audience high hopes for the next album. The boys broke out into a soulful rendition of "Swing Low Sweet Chariot," which skillfully led into what was presumably another new song called "Chariot." Another cover song followed, but this time, Spring gave the audience a choice: "Do you wanna hear The Beatles or The Black Keys?" Those in the audience that answered, myself included, got their wish as Abandon Kansas broke out an excellent cover of The Black Keys' "Tighten Up." They sounded great playing it, and I wanted more. "Give & Take" was next, and then they finished their set with the opening track of Ad Astra Per Aspera, "Heaven Come My Way."
Though not an actual tour line-up (just a couple of bands crossing paths for the evening), SONS and Abandon Kansas sounded really great together. I'm not too sure if Abandon Kansas is actually touring with anyone, but I know they're busy working on their second full-length album for Gotee Records, which I anticipate for release sometime in the spring of 2013. As I mentioned, SONS will be playing a few more mini-tours with some great artists in the next month, then probably taking a brief break. These are some very good live bands, though, so make the trip out to see them if they stop in your neighborhood.
--
Scott Fryberger
, 10/20/12