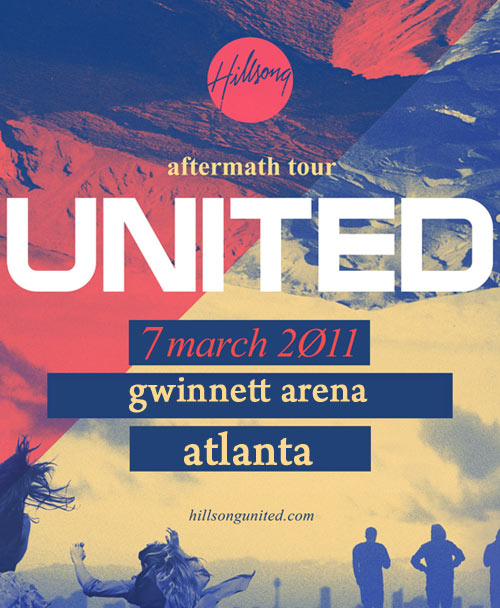 Aftermath Tour
Hillsong UNITED
3/7/11, at Gwinnett Arena in Atlanta, GA
When most bands go on tour, the trend usually is to find venues that aren't too big but aren't too small, being able to keep the concert intimate yet full of production. For Australian natives, Hillsong United, no such thing is possible. They play arena shows out of necessity as much as they do to draw a crowd. As they've embarked on their Aftermath Tour, they are going around the world once more. On March 7th the Arena at Gwinnett Center, just north of Atlanta, Georgia was packed with thousands of people wanting not just a concert but a worship experience. Without a doubt, it was nothing short of Heavenly as those thousands of people sang together with one voice - but I'm getting ahead of myself.
Before the show started and the arena was filling up with tons of anxious attendees, there was a very strange ad slideshow rolling on the massive screens alongside the stage. At first glance they looked really cheap and lame, as if someone created them with Microsoft Paint and PowerPoint. Suddenly, a very well made video began to play, revealing that the ads were meant to look cheap. It was genius! They played up the theme of "Aftermath" as if we were in the 1940's during World War II, building off it the with very obvious propaganda advertising. It was hilariously awesome!
When the lights began to dim, the crowd started to scream. The energy was so contagious it could make a monk break his vow of silence. With no opening act, United stepped out on stage with an explosion of passion with one of their new songs, "Go." While it wasn't one of my favorite songs on their latest release (because it sounds like the same ol' same ol'), it was an excellent opener. And from that moment on, the night went by so fastů even with the 20+ songs! Updated versions of fan favorites "Break Free" and "All I Need Is You" were absolutely amazing.
An excellent highlight was the borderline remix of "Take It All." JD, one of the main worship leaders of United, opened the song up singing into the pickup of an electric guitar. And instead of the normal thumping kick drum, they instead did a half-time, near hardcore, rhythm that gave the song a whole new dynamic.
Between a few selections, the worship leaders would share their heart for worship and how we can spread that heart to the world. United's principal songwriter, Joel Houston, shared a number of times and each time it was extremely heartfelt, especially when he mentioned how the message of Aftermath is connecting with victims of the earthquake in Christ Church, New Zealand (That message is probably growing even stronger with what just happened a few days ago in Japan). The sad part is, a few zealots in the crowd would always interrupt Joel as he was speaking yelling out, "Praise the Lord!" or "Jesus!" And while yes, it is great to praise God, it sounded so disrespectful.
The final song of the set (before the encore) was "With Everything." If you've ever been in a church service and thought, "I hope this is what Heaven is like," you would have been thinking the same thing in that arena. Every person in that room had to have been singing - it was nearly angelic. And even once the United team stepped off the stage, the crowd kept singing. And honestly, I don't think it was because they wanted to see United again, but because they were experiencing God in such a magnificent way. And that's what it's all about.
To sum up the night - it was amazing! Love them or hate them, think they are overplayed or they're the greatest worship team alive, they can lead people into worship. All they really do is point to Jesus and sing songs, and if that leads people into the presence of God, well then by golly they're good at it. It really proves that thought, "Live worship albums don't do a worship experience justice," but if you are there, it's absolutely breathtaking. Bravo!
--
Ryan Barbee
, 3/14/11
Hillsong UNITED Set List
01. Go
02. Break Free
03. It Is You
04. Take It All
05. Search My Heart
06. Mighty To Save
07. Hosanna
08. Nova
09. All I Need Is You
10. Aftermath
11. Freedom is Here (Tag: Shout Unto God)
12. Like An Avalanche
13. Rhythms of Grace
14. The Stand
15. You
16. Take It All
17. From the Inside Out
18. With Everything
Encore
19. Your Name High
20. Yours Forever
21. Take Heart