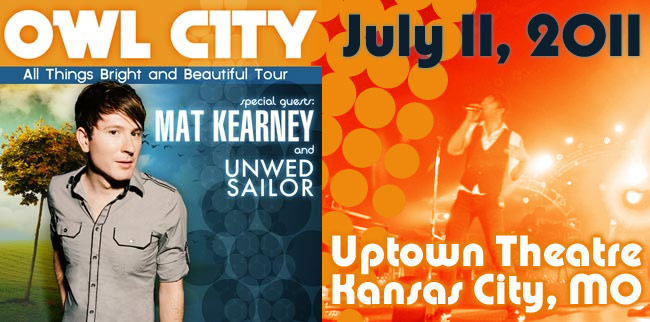 All Things Bright and Beautiful World Tour
Owl City, Mat Kearney, Unwed Sailor
7/11/11, at Uptown Theatre in Kansas City, MO
Last month, the world was treated to a joyful album by Owl City called All Things Bright and Beautiful. In conjunction with its release, the synthpop artist got ahold of Mat Kearney and Unwed Sailor and set out on a world tour by the same name as the album. The tour was scheduled to run through several major cities in the United States, including a night at the Creation Northeast festival and a performance for Jimmy Kimmel Live, then make its way through Australia, Asia and Europe. On July 11, the bands made a stop at Kansas City's Uptown Theatre, to a very surprisingly not sold out house.
The first act was the independent group Unwed Sailor. They were an interesting bunch, with long hair and big beards. I wasn't quite sure what to expect, though I had been told by several people that they make really good music. I was told correctly. Unwed Sailor has no vocalist, just musicians who focus solely on the music aspect. They actually only used the microphone to speak on one occasion, right before their last song to say their thanks to the crowd and the other bands, then played one more song and left the stage. Their set was solid, with ambient, indie rock music that left me wanting to check out one of their albums. It's the kind of music that, if you listened to an album from start to finish, you will have just gone on a journey of some sort. Needless to say, I was pleasantly surprised.
Columbia/Inpop acoustic pop artist Mat Kearney was up next. This was my first live experience with Mat Kearney, but I've been a fan since I just happened to stumble upon his fabulous debut, Bullet. I knew he had gotten some good mainstream exposure since Nothing Left To Lose came out, but until this concert, I didn't know to what extent. The crowd had grown a bit larger after Unwed Sailor left the stage, and Kearney came out to relatively large fanfare. The crowd cheered as the opening beat of "Fire & Rain" started up and Kearney came out on stage. The song got the crowd pumped up, only to continue with a slower song (albeit a very popular one), "Nothing Left To Lose." Next up, a track from Bullet served as a highlight of the night: "Undeniable," which showed that Kearney still has a good flow. To prove it even further, after the song was "over," he added a verse to the song, which turned out to be a freestyle about being in Kansas City. It didn't sound pre-rehearsed; rather, it sounded completely off the cuff. Very impressive. It reminded me why I became a fan of his back in the day. "Breathe In Breathe Out" was next, from the re-release of Nothing Left To Lose. Kearney also mentioned that it was used in an episode of Grey's Anatomy, saying "I didn't know that doctors were gonna make out to it, though." The rest of his set was all new stuff to me. I'm not familiar with his latest album, City of Black and White, and I didn't recognize any of it, so I'm guessing it was from that album. For his last song, though, he played the new single from his upcoming album, Young Love, called "Hey Mama." If you haven't heard it yet, look it up, because it's a jam. It's got some bluesy guitars, some 80s aspects and some Buddy Holly influence, all while maintaining a signature Mat Kearney style. It was enough to spark my interest in Young Love. Look for it to drop August 2.
After about thirty minutes of set change (with a few technical difficulties), the lights went out in the crowd, and bright blue lights shone from the stage as the Owl City band members, sans Adam Young, came out to their respective instruments, including keyboardist and solo artist Breanne Düren. The band played some cool instrumental stuff to start off the set. The music was very drum heavy, with two drummers playing at the same time. The music calmed down, and through the blue lights (which were somewhat hard to see through), I thought one of the drummers looked familiar. He got up and came to the front of the stage, and it was Young (I didn't know he was such a good drummer). The set got started with the opening track from All Things Bright and Beautiful, "The Real World." Excellent start to what would be a fantastic set. "The Real World" just has that sound that serves as a good starting point for anything, sounding like the sun rising over the horizon. Things picked up a little for the Ocean Eyes track "The Tip of the Iceberg," then into the most recent single (or the song from his newest music video), "Deer in the Headlights." The crowd was already very familiar with the song, and I may have heard them a little louder than Young at some points. It was interesting to see the live string section (which consisted of a violinist and a celloist) each move over to a different keyboard for the entirety of the song. Young always has such great talent on stage with him, proving that he's not some overproduced pop star with more autotune and loops than talent. He and his band know exactly what they're doing. Next was, according to Young, "a bit of an oldie." I didn't quite recognize it, but I believe it was fan favorite "Strawberry Avalanche." Without missing a beat, the band dove right into the dance tune "Umbrella Beach." The crowd really got into it, and during the musical interlude near the bridge, I loved that the violinist turned her violin sideways and played it like it was a mandolin or ukelele. I don't recall ever seeing anyone play it like that, but it was interesting. Some beautiful synth lead into "The Technicolor Phase" from his independent album, Maybe I'm Dreaming. It was a slower song, which led into another interesting section of the show: an ambient (and again, drum heavy) instrumental piece called "Setting Sail," which is actually a piece from one of Young's many - and more serious - projects called Port Blue. I wondered if Young ever incorporated songs from his other projects into his Owl City shows, and I guess he does. I halfway expected some Sky Sailing songs, or even some of Breanne Düren's solo material, but a Port Blue piece was the extent of the other projects being represented. Young and the other drummer both tore it up, while maintaining a beautiful ambience with lots of Owl City-esque keys, strings and melodies.
After the Port Blue song, Young moved over to a big xylophone, and played the melody of "Cave In," which the crowd responded very positively to. After grabbing a guitar, they gave the song a little rock intro, then jumped right into it. It halted abruptly when Young changed to an acoustic and mentioned that the next song would be a "romantic duo song," and played the delightful All Things... track, "Honey and the Bee," which featured vocals from Düren in the second verse. Afterwards, when the music ended, everyone in the crowd heard a bunch of birds chirping. Young made mention of the peaceful sound of the chirping, and said "We have a song about birds...and worms." To follow up "Honey and the Bee," they wisely went with the similar "The Bird and the Worm." The celloist moved over to the bass guitar for the song, which made sense since you can take the cello, turn it sideways and then cello! you've got a bass guitar (a hundred points for the first person to name the movie). The tone changed drastically for the next song. Young was alone on stage with just his grand piano, and he played the moody, sad-yet-slightly-hopeful "Lonely Lullaby," which was an exclusive for fans who had access to the Owl City iPhone app, the Owl City Galaxy. It was a little dark, but the piano and lyrics were simply masterful. Owl City fans who haven't heard it yet are really missing out. The lights went out, we heard some audio from Ronald Reagan, though a longer portion of it than what you can hear on All Things... (which is dubbed "January 28, 1986" on the album). Fans knew what to expect next, and yes, the super popular hit "Galaxies" followed. It was played just as it was on the album. It's encouraging to know that, even in a room full of both Christians and non-Christians, Young still represents his Savior through his songs as he belted out "He is the saving grace of the galaxies!" "Angels" followed suit, with the worship song "Meteor Shower" following. Several hands lifted in worship throughout the room, as the Spirit was definitely moving.
The lights went out after "Meteor Shower," and when they came back the band kept on playing with "On The Wing," followed by a weird intro to the next song. It sounded familiar, but I couldn't make it out. It became more and more clear that it was the fan favorite "Hello Seattle." The crowd was very happy about this decision. The next sound we heard was a bunch of crickets chirping. Young sat down at his piano again and said "Who let all these crickets in here? Well, we also have a song about crickets." The song was "Plant Life" (which does mention crickets in the chorus, but it was kind of a stretch for a segue). For those who haven't spent much time on All Things... yet, "Plant Life" has one of my favorite pop music choruses ever. And it makes for a perfect ending to that album (I also found out that Relient K's Matt Thiessen provides some guest vocals on this song, which makes for the second time he's sung in an Owl City song and I didn't have any idea, because their voices sound so much alike). The already-infamous start-up noise to "Alligator Sky" came on and, again, the crowd went nuts. As Young was singing the opening segment, I immediately wondered how they were gonna do this. Were they gonna do the non-album version without the rapping? Or was Young gonna rap?! Surely Shawn Chrystopher isn't on tour with them just for one song a night. In a very creative, and kinda funny, display, they did go with the album version, with an image of Shawn Chrystopher shining on a screen they had on stage. Chrystopher had recorded his segments of the song, and a projector displayed him on the screen for the entire song. Young had choreographed the routine so as to make it look like he was interacting with Chrystopher during the song. It was quite brilliant, to be honest. They even waved to each other at the end of the song. I'm glad they went with the Chrystopher version, not only because I prefer that version of the song, but also because the way they went about it made for a highlight of the night for myself. Young announced the next song, to an even bigger fanfare, as "Fireflies." In all honesty, I was kinda hoping against hope that maybe they wouldn't play "Fireflies" on this tour. I like the song, but I'd definitely be fine without hearing it at a show. However, I did appreciate the arrangement of the song. They didn't just jump into it with its normal intro, but instead the band spent a good minute or so playing this hard rock intro, complete with Young playing some chugging guitar; it was pretty awesome. Young let the crowd sing the first and last choruses of the song, as usual, and everybody in the building knew the words. The final song of their set was "The Yacht Club," a dance song that, on the album, makes use of some vocals by Lights. Since Lights wasn't available, Düren sang her parts (no screen and projector for Lights). The band concluded on a strong note, and said goodbye and left the stage. The crowd cheered and clapped and screamed for more for a couple minutes, until one by one all the band members came back out. The first song of their encore was a slow one for the first half, which picked up for a more dancey section at the end. It was called "How I Became The Sea," a song featured on the iTunes special edition of All Things Bright and Beautiful. For the real final song of the night, they went with the fantastic and poetic "If My Heart Was A House," from the special edition of Ocean Eyes. It was a terrific conclusion, with one of my favorite Owl City songs. After the song, they all got together on stage, took a bow, waved goodbye and left.
Owl City always puts on a good show. A lot of people pass on his music just due to the poppy nature, and assume that a live show would be just a bunch of recorded loops while he sings with an autotuner. Those people are wrong. Young always has a full band with him, and they always arrange the songs in unique ways, so they don't always sound exactly like they do on the album. He's a very talented musician, who writes and records most of the music on the album himself, and plays multiple instruments during the course of one concert set, while singing with his natural voice. The Owl City live band puts on a very creative and artistic set. He brought along some good and fitting talent in Mat Kearney and Unwed Sailor as well. There are still plenty of United States tour dates left on this tour, and then he's hitting the road on the other side of the oceans, so be sure to check him out before he leaves the country. And pick up a copy of his amazing album, All Things Bright and Beautiful, which is available right now.
--
Scott Fryberger
, 7/13/11
All Things Bright and Beautiful World Tour
click on an image for a bigger size
**vertical images cropped for thumbnails**
Mat Kearney:
Owl City: