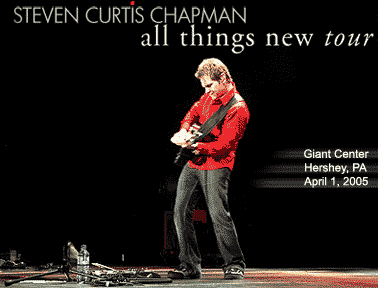 Steven Curtis Chapman, Christ Tomlin, Casting Crowns
4/1/05, Giant Center in Hershey, PA
I've never been much of a fan of large venues for shows. And I distinctly remember seeing Steven Curtis Chapman at Giant Center -- then just called "Hershey Arena" -- many years ago (perhaps even before the Hideout began) and feeling so far away and disconnected from the show. But, alas, with artists as popular as Steven, Michael W. Smith, Amy Grant, and the like, you're not too likely to see them in a small and intimate setting. But Chapman is one who you can always count on for an entertaining and spirit-filled evening. And now, in support of his fourteenth album, The All Things New Tour, Steven delivers once again.
Coinciding beautifully with the "All Things New" theme for the night, Steven opened the evening with the chorus from "Much Of You" and a prayer before the Atlanta-based worship group Casting Crowns moved the crowd. Casting Crowns opened with their simplistic but popular "If We Are The Body" before frontman Mark Hall paused to pour his heart out to the audience regarding his struggles with dyslexia and ADD. Those in attendance who aren't quite excited about the opening act could easily still find relevance in Hall's openness and vulnerability. Casting Crown's unashamed youth-group-style approach to worship leading and songwriting is indeed an acquired taste, but their ministry clearly moved hearts.
Following Casting Crown's brief set, Chapman came back on stage to explain to the crowd his new idea to fill set-change time in with a quick revisit to older classics from his career. The stripped down acoustic set involved his entire entourage who aided him in performing "More To This Life," "For The Sake Of The Call," "Free," "Not Home Yet," "The Change," and "The Walk."
Before Christ Tomlin came on to contribute to the evening, Chapman presented a disclaimer to the audience regarding Tomlin's vocals. For unexplained reasons even unknown to Tomlin, his voice had all but completely quit on him the morning of the show. Tomlin decided to be a real trooper and attempt to lead the crowd in worship regardless of his condition. As a result, a heartfelt and passionate worship set unfolded, with the audience leading most of the songs for Tomlin. The worship leader opened with "Heart Of Worship," offered his original "We Fall Down," and Tim Hughes' "Here I Am To Worship," before ending with his own "Forever." Tomlin's worship session was all about Jesus and a strong addition to the evening. The only drawback musically, however, is the monotonous approach to repeating worship choruses with no end in sight. I felt a song or two began nearly wearing out its chorus. While a song change may have been a stronger choice than dragging out the existing ones, I was still impressed by Tomlin's set.
Steven Curtis Chapman returned again to talk about his experiences with adoption and his three adopted baby girls and played a portion of his song "What Now." Immediately following a video on Steven's organization Shaohannah's Hope, a twenty minute break began, giving everyone a chance to walk around or visit the merch tables. When the break ended, the lights went out once again, and Steven emerged center stage with his full band accompanying him to perform the title track from his newest project, All Things New. Now eighteen years into his career and in his early fourties, some might expect Steven to be slowing down and softening up musically, but that just isn't his style. Visibly still just a boy with his guitar doing service for his King, Chapman and his band are as tight as ever. And it was obvious as his set progressed from one upbeat pop/rocker to the other ("I Do Believe," to "Jesus Is Life," to "Only Getting Started"), that they were having a blast. Naturally, Chapman included a few more slower moments, specifically the worshipful "Much Of You" and then went into a medley of songs from his All About Love album, which never had its own tour in promotion. And what SCC set would be complete without him taking a moment to talk about his family? Chapman always makes his shows feel like a family gathering and when he shares about his children, it only reinforces that feeling. From Caleb's new experiences with learning how to drive to Stevie Joy setting the dining room table on fire, Chapman spoke about as many funny moments as tender ones. This lead into "When Love Takes You In," Steven's piano ballad inspired by his experiences with adoption. A large oval-shaped screen displayed behind Steven and his band for their entire set, occasionally showing shots of scenery, Steven's family, current live footage from the night, and clips from concept videos he's filmed. Scenes from his "When Love Takes You In" video, which features himself with his wife Mary Beth and their first adopted daughter Shaohannah really added to the mood of the song. The traditional worship song "Great Is Thy Faithfulness" followed, along with Steven's "Believe Me Now" (which brought Mark Hall back out to accompany Steven), "Magnificent Obsession" and "Speechless." Steven displayed a sense of childlike pleasure in stirring up the crowd for the closing numbers "Live Out Loud," the always pleasing classic "Great Adventure," and the energetic "Dive." And to end the night with the right mood, Steven lead the crowd in a few more refrains of "All Things New" and invited Casting Crowns and Chris Tomlin back on stage for his offering of Tomlin's "Forever."
Steven Curtis Chapman is as amazing as ever on his most recent outing. And while the opening acts aren't as versatile or appealing musically as Chapman, fans of adult contemporary and worship will undoubtedly enjoy the entire evening. The All Things New Tour is a Chapman fan's dream, with Steven Curtis serving up twenty five songs from his career. If you get a chance to go this Spring, don't miss this tour!
--
John DiBiase
, 4/3/05
Casting Crowns Set List
01. If We Are The Body
02. Praise You With A Dance
03. American Dream
04. Who Am I
05. Voice of Truth (with Steven Curtis Chapman)
06. What If His People Prayed


SCC "Mini Set" List
01. More To This Life
03. The Call
03. Free
04. Not Home Yet
05. The Change
06. The Walk


Chris Tomlin Set List
01. Heart Of Worship
02. We Fall Down
03. Here I Am To Worship
04. Forever
SCC Set List
01. All Things New
02. I Do Believe
03. Jesus Is Life
04. Only Getting Started
05. Much of You
06. I Will Be Here/ We Will Dance/ All About Love/ I'm Gonna Be (500 Miles) Medley
07. When Love Takes You In
08. Believe Me Now (with Mark Hall of Casting Crowns)
09. Great Is Thy Faithfulness
10. Magnificent Obsession
11. Speechless
12. Live Out Loud
13. Great Adventure
14. Dive
15. All Things New / Forever

All Things New Tour 2005 Photo Gallery
click on an image for a bigger size
Casting Crowns
Steven Curtis Chapman
Chris Tomlin
Steven Curtis Chapman
*all photos by
John DiBiase
and are the property of the photographer and
Jesusfreakhideout.com