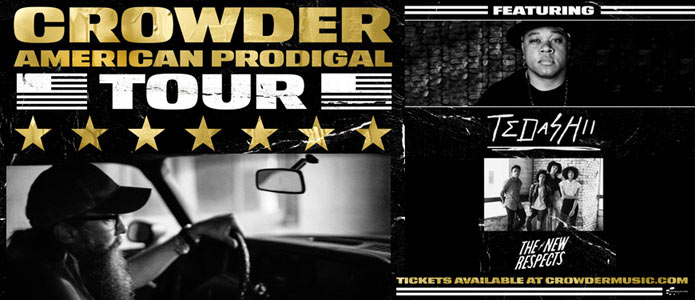 American Prodigal Tour
Crowder, Tedashii, and The New Respects
9/27/16, at Fellowship Bible Church in Topeka, KS
For those who don't know, I live in Topeka, which is the capital of the state of Kansas. What goes on in Topeka, you ask? Well...good question! Let's see, when Nintendo introduced the Pokemon franchise, the city briefly changed its name to Topikachu; fellow believer Kerry Livgren of the band Kansas calls it home; it's also home to a rather unsavory "church" that we don't need to talk about (but you know which one I mean). And every once in a great while, we get a Christian music show. It's rare, but Topeka has seen the likes of Lecrae, Red, I Am Empire, The Ember Days, Newsboys (Peter Furler era), and a few more. When a show comes so close to home (about ten minutes from my place, too), even the though line-up doesn't necessarily fill me to the brim with excitement, it's an opportunity that I will likely take advantage of.
Now, in my experience, concerts never start on time. So I figured that it wouldn't be too terrible to sit outside of Fellowship Bible Church to finish the burgers we grabbed on the way before heading inside. Walking in at about 7:05, telling my wife that we wouldn't miss anything, we heard the sounds of The New Respects already deep into their set. Now, to be totally honest, after looking up one of their songs on YouTube prior to the show, I wasn't entirely excited about this band. So missing their set wouldn't have been all that upsetting to me. However, seeing them live was actually a fine experience. A small, family band, The New Respects played what I would perhaps describe as a mix of Jamie Grace and Alabama Shakes; they've got some soulful, southern charm and a bit of pop to keep it balanced. I don't really know a lot of their songs, but they did play a couple singles, including "Hey!" and "Trouble." The band's stage presence leaves something to be desired, but they're a new band, and I believe that's something that will come with time. Regardless, this band is poised to see an increase in popularity in the near future.
Without waiting a moment, the stage crew got started getting the next act ready. In the interim, the screens above the stage played a couple of advertisements, because God forbid the audience would have to suffer through a set change with no form of entertainment. But I digress... The first ad showed the guys from for King & Country talking about their upcoming movie, Priceless, followed by a trailer for the film, which, oddly, features David Koechner in what seems to be a semi-main role. Koechner is usually known for roles that are a bit more crass, such as Todd Packer from The Office, so it'll be interesting to see how he portrays his character. An ad for the 2017 Passion conference followed. Then Tedashii came out of nowhere.
I guess "out of nowhere" isn't really accurate. I mean, he is second billing on this tour, so he wasn't unexpected. But his set did start seemingly without warning.
I had seen Tedashii once before in 2009. At that time, I was a bigger fan of the rapper and his particular subgenre of hip hop, and I very much enjoyed the show. Now, I'm not an avid listener, but I still anticipated a good show when he took the stage. I discovered quickly, as Tedashii came out, lyrical guns ablaze, that our seating may not have been the best. It was a little difficult to understand what he was saying, sadly. I did recognize a few songs, though, even if vaguely, including "Make War." Tedashii shared a bit about himself, including that one of his first Christian albums after being born again was from the David Crowder*Band, which made him excited to work with Crowder, not only in the studio, but for this tour. He then did a new song that he said he just finished (when, exactly, he did not specify). The song was called "Free," and definitely seemed new; it seemed a little choppy and very short, but will appease Tedashii fans if it ends up on his next album. One of the things he stressed throughout the set was that he wanted to have fun but "keep the main thing the main thing." Of course, as one of the members of the 116 Clique, he wanted to keep Jesus as our priority for the evening. This led to a conversation about some loved ones that he's lost recently, including his stepmom, sister, one-year-old son, and his dear friend DJ Official. Closing his set, he performed his touching song "My Last Goodbye" before preaching a microsermon about walking through valleys before God will bring you up the mountain.
Another video ad popped up, but this time it actually seemed appropriate: it was for CURE Children's Hospital of Uganda, who was actually traveling with the tour. After the ad, one of Crowder's road crew members came out to talk to the crowd about the ministry of CURE. Offering free copies of Crowder's new album American Prodigal for anyone who pledges to donate money, he asked that everyone prayerfully consider checking out the booth. The crew continued their set change as I went to peruse the merch tables, only to find no Crowder vinyl for sale. I made a sad face.
The hopeless despair didn't last long, as Crowder took the stage with a big piano and opened with the intro track from American Prodigal. From there, he and his band launched into the hit single, "Run Devil Run," a song which is actually being used in the trailer for season 3 of The CW's The Flash. Whipping out his famous banjo, Crowder and gang jumped into their ultra popular "I Am" from 2014's Neon Steeple. After hilariously and awkwardly introducing his band members, including Kenny Rogers the arctic fox and new addition Chenney Kesney the grey wolf, they continued the good times with the rap-tinged, banjo-fueled "Keep Me" and the somber "Back to the Garden." The fantastically-paradoxical "My Victory" was next, then Tedashii came back on stage to help with "Promised Land (Glory Hallelujah)," as he does on the album itself. This led to a long segue from Crowder, who talked about the tour, the new album, watching Tedashii when he's sleeping, his "pick pocket," and more. This was, for some reason, my first time ever seeing David Crowder live, and I was delighted to know that he's as fun in person as he seems. He had the crowd engaged and laughing, and it was a great time. He introduced the next few songs as "the riff section" of the set, which got me more excited. This ended up being my favorite section of the set, as the band tore through the "math rock" song, "All You Burdens" and the folk rocker "Prove It." KB was featured on the album version of this song, but since he was not in attendance, the raps were handled by one of Crowder's bandmembers. "Shouting Grounds" came next, followed by a personal favorite, the stomp-clap, bluegrass gem, "Lift Your Head Weary Sinner (Chains)." Before the next song, he talked a bit about the story of the prodigal son and its theme of forgiveness and how the Father lavishes His love on us. This appropriately led to "Forgiven," and then a much quieter time of teh show took place for some more intimate worship. Starting with an acoustic cover of John Mark McMillan's "How He Loves" was great. I was hoping for more David Crowder*Band tunes (DC*B proper, that is), but I loved this offering nonetheless. Crowder was on the acoustic guitar, but the song received some beautiful, bluegrass-style melodies from a mandolin and fiddle player. It was wonderful. They gave the same treatment to "Come As You Are," then picked it back up just a little for the southern gospel track "All My Hope." As the set drew near to a close, the full band was back onstage for "American Outro," then ended with "All We Sinners," as the band bowed out for the evening.
I had initially walked into the church thinking "Alright, let's get to Crowder!" However, I ended up being pleasantly surprised by the openers. While I likely won't end up buying The New Respects' album, I did end up with...well, a new respect for them? (You can groan here...go ahead, let it out)
As I said, I see this band picking up some momentum soon. I did see them having fun and taking silly pictures with fans at their merch table, so they appear to already have a solid interaction with their fans. Tedashii is a man who loves the Lord, and he may have convinced me to give his albums another chance. Mostly, I was excited to finally see and experience a David Crowder concert. I've heard so much about his live shows, and he didn't let me down! American Prodigal didn't strike me the way previous releases have, but after hearing all but one of the songs live, I feel I must go back and give it a few more listens. So the American Prodigal Tour was a successfully good time, and will be for anyone else who gets the chance to catch it!
--
Scott Fryberger
, 10/2/16
Crowder Set List
American Intro
Run Devil Run
I Am
Keep Me
Back to the Garden
My Victory
Promised Land (Glory Hallelujah) w/ Tedashii
All You Burdens
Prove It
Shouting Grounds
Lift Your Head Weary Sinner (Chains)
Forgiven
How He Loves
Come As You Are
All My Hope
American Outro
All We Sinners