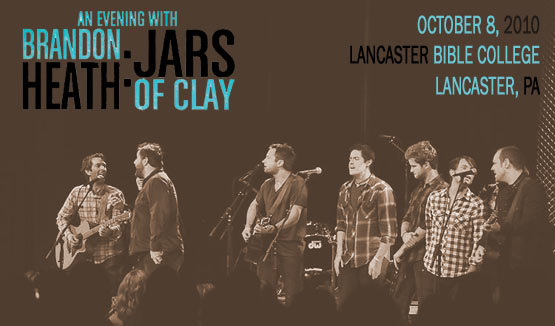 An Evening With Brandon Heath and Jars Of Clay
10/8/10, at Lancaster Bible College in Lancaster, PA
Blowing two tires on the way to the second show of your latest tour is no way to launch a Fall run, but that's exactly what happened to Jars Of Clay on the way to Lancaster, PA on their "An Evening With Brandon Heath and Jars Of Clay" Fall 2010 Tour. Their trailer was what broke down, and because of it, the band had to send a lot of their gear and merch ahead of them to the next show and proceed to Pennsylvania with minimal equipment and no production. Now, Jars has never been a band for elaborate stage production and has always leaned on their music to carry their shows (makes sense, right?), so you'd think a minimalistic tour date would be no problem for the guys. But talk of cancelling the PA date was made with the result being a more stripped down, acoustic show done in its stead. The show must go on, after all.
The Lancaster Bible College date was only postponed by about thirty minutes, and when the show did start, both Brandon Heath, his band, and the Jars of Clay guys emerged together to perform a cover of "Movin' On Up." The collaboration was a great way to launch the evening of music. After the rendition, Jars left Brandon with his band on stage alone for the singer/songwriter to do his thing.
Both Jars and Heath have an acoustic base to most of their music, so the more stripped-down approach worked great for the artists. Their set lists had to be tweaked a bit, but ultimately, there didn't seem to be much different than what you would normally expect from a show from these guys. For example, both acts used primarily acoustic guitars, but there was still bass, drums and keys, and with some serious audio equipment in place, it hardly sounded like an unplugged show. The LBC chapel sanctuary has an intimate feel to it anyway, so the show just felt a little more personal.
This was actually my first time experiencing Brandon Heath's live show. I've seen him perform at the Dove Awards, but it was clearly not his element. Performing with an acoustic guitar in front of a more intimate audience (although the show on this particular evening was still sold out!) seemed like home for Brandon. His voice never sounded so good, and the more organic sound of his music was a better fit than the more polished studio recordings that are more commonly heard on the radio. After "Movin' On Up," Heath launched into "Wait and See," and although I was just starting to build an appreciation for his performance, I had to leave for a scheduled interview. When I returned, I was able to catch a couple final songs from Heath. He was deep in an engaging ballad when we returned, a new song titled "Only Water," and he then moved into "What If" and his runaway hit, "Give Me Your Eyes." Upon completing what is most likely his most recognizable song, Jars of Clay joined Heath again to perform his song "Sore Eyes," which the Jars guys actually wrote with Brandon. It was a treat to see them performing together and it was obvious they were having fun doing it. After the song was finished, an intermission preceded the headlining set from Jars.
When the lights dimmed again, Jars Of Clay opened their set with "Liquid," the lead-off song from their 1995 self-titled debut. It was clear that most of the audience wasn't expecting such a Jars classic to open their set, but because 2010 is the fifteenth anniversary of their debut, the band had planned to perform the record from start to finish. When we saw them in Maryland this past Spring, they performed all eleven songs, including the hidden track, and surprisingly, this was not the case for this show. In fact, the guys even switched the song order up a little bit. But after "Liquid," vocalist Dan Haseltine announced, "So, we released a new record..." and with the audience's knowledge that Jars Of Clay Presents The Shelter had just debuted only three days earlier, the crowd burst into applause. Haseltine soaked up the moment, only to add with a straight face, "...fifteen years ago." The audience then shifted to laughter and Dan explained that to celebrate the debut album, they would be playing all of it tonight. They then talked about the trailer breaking down and joked about how much of the show's production was lost that night because of it. It would become a running gag throughout the remainder of their show as Dan and guitarist Steve Mason would randomly explain some kind of outlandish feature or effect was missing -- whether it was money falling from the ceiling, fairies flying around, or monster trucks rolling down the aisle, nothing was too over the top. It seemed joking about it helped the guys cope with the mishap, and it just added to the lighthearted feel of the night.
What wasn't really addressed, however, was the absence of guitarist Matt Odmark. While Odmark was actually only missing for a few dates due to a family wedding, former front man of The Normals and former member of Caedmon's Call, Andrew Osenga was filling in for Matt. Andy did a great job, but it did feel odd to not see Matt on stage with Dan, Steve and Charlie.
It was so great to hear "Sinking" again, and instead of following it with "Love Song For A Savior" (like on the original CD's track order), they performed "Like A Child" first before moving to "Love Song." A couple more rarities were next with the ballads "Art In Me" and "He." "Boy On A String" followed, and before performing their career-defining song, "Flood," they mentioned that they originally thought the song was a horrible choice for a first single (which they were clearly proven wrong about). A highlight came when Haseltine paused mid-song to joke (with a straight face, of course) that it was at that moment when they would have a rain curtain descend upon the crowd... and everyone would get an umbrella. The beautiful "Worlds Apart" concluded their performance of their debut album (skipping "Blind" and the hidden track), and they masterfully flowed "Worlds" immediately into "Out Of My Hands" from their newest album, The Shelter. It's such a different sound and feel for the band -- leaping fifteen years in their musical career -- but it had an profound feel. Keeping the energy up and the audience engaged, they continued with the emotional rocker (and personal favorite) "Work" and "Dead Man" (both from their 2006 album Good Monsters) before leaving the stage.
But Haseltine stayed on stage to share at length about the ministry of Blood:Water Mission (www.bloodwatermission.com) - an organization the band launched themselves several years ago. Dan shared about a small village in Rwanda built near a volcano that was in desperate need of help building schools, and he urged the audience to participate. It was a great way to encourage community and then perform the band's new anthem for unity in the title track from their new album Shelter. The rest of Jars Of Clay, along with Brandon Heath, joined Dan on stage for "Shelter" (which sounded awesome live with an audience singing along), and Jars closed their set with "Two Hands."
Our very own Timothy Estabrooks was actually at the show the night before the Lancaster show and so he saw the intended tour set. Here's his account of the evening...
On Thursday, October 7th, Jars of Clay and Brandon Heath kicked off their fall tour at a church here in Knoxville, TN. I was on hand as a volunteer for the promoter, a friend of mine. After serving as the designated ticket-taker at the door, I got to head inside and hear most of the concert. I missed the first part of Brandon Heath's set, but what I did hear was excellent. Heath had great stage presence, encouraging the crowd to get involved as he belted out several of his hits, including "Wait and See" and "I'm Not Who I Was." He finished off his set with perhaps his most famous hit, "Give Me Your Eyes."

Next up was Jars, who quickly showed why they're still a mainstay in the industry after fifteen years. They kicked off their set with a compelling rendition of "Liquid," and then went on to surprise the crowd by playing the rest of their self-titled debut album in honor of its 15th anniversary. The show perhaps got a little bogged down during some of the slower songs that clearly were not familiar to much of the crowd. At the same time, there was a definite sense of expectation, as everyone knew they were working towards playing their first and possibly greatest hit, "Flood." When they finally did, the excitement in the crowd was palpable. They then transitioned into songs from their Good Monsters album, finishing up with "Work," followed by their finale (and the highlight of the show for me), a rousing performance of "Dead Man." At this point, they exited the stage and the lights dropped. Of course, everyone knew this wasn't actually the end. Sure enough, the band reappeared after a few moments to play their radio hit "Two Hands" from The Long Fall Back to Earth. Then, Brandon Heath came back on stage and he and Jars frontman Dan Haseltine talked about the charities they were supporting, namely Blood: Water Mission and Food For The Hungry. After speaking for a while, Jars and Heath performed a couple more songs in tandem. At this point, I was back outside handing out flyers for an upcoming concert, so I missed the end of the show.

This was an excellent show, with both Brandon Heath and Jars of Clay showing excellent stage presence and performance. Both artists performed most of their well-known hits, so the crowd definitely left satisfied. My only complaint would be that Jars' set was rather long, and I think they started to lose the crowd near the end.
-- Timothy Estabrooks
At first, I was disappointed that I was missing out on the intended presentation of "An Evening With Brandon Heath and Jars Of Clay" at the Lancaster show, but I couldn't be more thrilled that the band agreed to perform the show despite the complications. If this tour rolls into your town this Fall, you won't want to miss it... especially if you're feeling a little nostalgic this time of year.
--
John DiBiase
, 10/20/10
Jars Of Clay Set List
01. Liquid
02. Sinking
03. Like A Child
04. Love Song For A Savior
05. Art In Me
06. He
07. Boy On A String
08. Flood
09. Worlds Apart
10. Out Of My Hands
11. Work
12. Dead Man

Encore:
12. Shelter
13. Two Hands

An Evening With Brandon Heath and Jars Of Clay
click on an image for a bigger size
**vertical images cropped for thumbnails**
Jars Of Clay and Brandon Heath:
Brandon Heath:
Jars Of Clay:
*all photos by
John DiBiase
and are the property of
Jesusfreakhideout.com