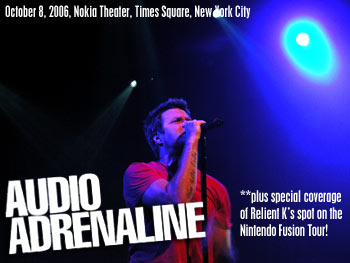 Audio Adrenaline, Phil Wickham // Relient K
10/8/06, at Nokia Theater // Roseland Ballroom, Times Square, New York
Donít say goodbye
Cause I donít wanna hear those words tonight
Cause maybe itís not the end for you and I
And although we knew
This time would come for me and you
Donít say anything tonight
If youíre gonna say goodbye
- Skillet, "Say Goodbye"
Although those verses belong to a band that has little (OK, nothing) to do with this particular concert experience or the band in question, those words come to mind when thinking about this day. You can't really surf Jesusfreakhideout.com without getting some inkling that maybe, just maybe, the guy running this thing likes Audio Adrenaline. Besides being the first real Christian rock band I ever really got into and saw live, Audio Adrenaline has been the poster band for what inspires Jesusfreakhideout.com as well as a source of hope and encouragement in my walk with Christ for over a dozen years. To think I've seen them live for the last time is not only hard to believe, but hard to swallow.
Warning: This review is written in a sentimental nature. Reader discretion is advised.
Yes, October 2006 marks the twelfth anniversary of seeing this band live in concert. After catching just under thirty of their shows in the past twelve years, I've grown accustomed to seeing this band perform on a yearly basis. Audio Adrenaline will leave a void in the Christian music industry, as being a bold example of what makes Christian music great (when it can be). Their ability to embrace the "Christian band" tag instead of whining about it and running from it was one of their many charms. Their live show has always been one of the best in the business, even as lead vocalist Mark Stuart's pipes began failing. Trying to imagine a significant music festival or tour season without them is almost scary.
I approached this particular date on MercyMe's "Coming Up To Breathe Tour" as it will most likely be my final show for AudioA. While they've made it known they're planning a finale in Hawaii, it's not likely we'll win the lottery anytime soon to make the trip (unless the guys swing some miraculous fan packages that allow anyone willing to not eat for a month to come to the event -- I think I could do that). So NYC it is. We arrived in New York City with ample time to spare... only to spend about an hour and a half trying to find parking, even being stuck in a few traffic jams while trying to avoid some random cultural parade. But, alas, we had to relinquish our cash to a parking garage for an unholy twenty bucks. So after a long walk, and discovering the box office wouldn't open for awhile, we found a nice NYC lunch spot and then returned to the box office only to have to wait longer for our tickets.
Once inside, we waited around til the show started, bringing newcomer Phil Wickham to the stage. Wickham is the better of the new worship talent available these days, but possesses a voice that will appear anything but unique. Bearing plenty of resemblance to Keane, Cold Play, and all the other popular "falsetto is now really popular" bands, Wickham's only distinction from his mainstream counterparts is his unashamed heart for worship. Watching Wickham up there on stage is great because you can tell he truly is singing out of love to his Creator -- something that proved infectious to the crowd as many seemed intent to listen, and those familiar with his originals, sing along. Opening with "I Adore You," Wickham moved along pretty quickly given his short opening slot, continuing on with "Yours Alone" and "Divine Romance." It was then that MercyMe frontman Bart Millard emerged from behind the stage to address the crowd. Expressing his love for Wickham's music, he requested Phil to play "Always Forever" from his debut record, claiming that putting him on the spot like that was the only way Phil would play some of his favorites live. With that, Bart exited and Wickham graciously performed the song, ending it with a few choruses of "We Exalt Thee."
A brief set change yielded my reason for braving the insanity of New York City traffic in my beloved car and paying sinful prices for a place to temporarily park it. The Audio Adrenaline guys came out to the sound of an electronic loop, as they assumed their places. Before the lights came up, the audience could see the silhouettes of the AudioA members raise their arms to clap to a rhythm, encouraging the crowd to do the same. After guitarist Tyler Burkum began shouting the vocals to "Clap Your Hands," the lights kicked on, and the signature Audio Adrenaline rock show was underway. One thing's for sure, these guys give it their all at every show -- as if it could be their last; as if Stuart's voice was not hoarse; as if the audience was thousands instead of hundreds. "Worldwide One" was next, quickly followed by their classic, career-defining "Big House." When the lights dimmed afterwards, Stuart was solely illuminated as he belted out the opening verses to "Until My Heart Caves In." The melodic anthem has become a live show staple, and almost an anthem for their faith despite their pending departure. The missions-themed "Hands and Feet" was next, followed by "Ocean Floor." When the song concluded, bassist Will McGinniss traded his time of addressing the crowd with a spiritual message, to plug Burkum's future post-AudioA solo career. With that, and with the full band backing him (Stuart on the tambourine), Burkum took the spotlight for his own love song to his wife, "Goodbye Blues." While Burkum's been in AudioA for nearly a decade now and has written many of the more recent AudioA staples, I noticed a hint of passion in singing his own song that hasn't always shone through when performing songs as Audio Adrenaline. And while this was a neat moment for the AudioA set, it also meant this was one less AA classic that would be played. From there, the band launched into the groovy pop song "Beautiful," including their traditional invitation of bringing some fans on stage to sing and jump along with them. "Get Down" followed, as well as McGinniss's introduction to their final song, including a special thank you to the fans and an invitation to their Hawaii finale. Their self-penned farewell song, "Goodbye" was their set closer, a catchy and bittersweet song that only gets harder to watch as it progresses. I'd told Mark before the show that this would probably be the last time for me, and a lump found its way into my throat when he pointed in my direction before the end of the song. All good things must come to an end, but it's never easy to say goodbye.
I was disappointed in the set length for Audio Adrenaline. Ten songs, including a solo song from their guitarist just didn't seem right for a farewell tour. While it could be due to Stuart's ailing vocals, it's most likely a time restraint issue, to allow enough for the headlining act (who is, in this case, MercyMe). For them to not play such hits as "We're A Band," "Mighty Good Leader," "King," and even "Starting Over" or "Leaving 99," just seemed odd. With rumors circulating that this tour's being extended into the Spring, one can only hope their set time will be extended to honor the band's career and their fans.
...So here's where two tours mash into one. One of AA's members informed us that down the street, also in Times Square, was a stop from The Nintendo Fusion Tour, which fans of the following band who are reading this will know immediately features Relient K. An invitation to attend the RK portion of this particular show from said AudioA member was accepted (I'll be honest, we're not MercyMe fans... sorry guys), and we met them outside of the Nokia Theater following the band's performance there. Before too long, we found ourselves sprinting through Times Square to arrive at the Roseland Ballroom. We'd arrived almost just in time for band's set, and were treated to an entirely different concert experience in the same night. While the Nokia Theater audience consisted of mostly college-age folks and adults, the Roseland Ballroom was packed wall-to-wall with mostly teens eager to see the Tour's headlining acts (and we were all only interested in Relient K's set). But what also differed, was the maturity level and mood of the audiences. During RK's set, we saw a lot of crowd surfing, and a literal fist-fight break out nearby, which was quickly broken up through a little AudioA intervention.
Even if you don't like Relient K's brand of pop/punk with wit and integrity, you have to admire their artistry. And if anything, you have to admire how they came out on stage that night. With the lights down, save for a spotlight or two illuminating a large "Relient K" banner backdrop, the members came running out on stage to the tune of the original NES "Super Mario Bro." video game. Starting with shirtless drummer, David Douglas, each member ran out, and jumped Mario-style in the center of the stage to the classic springing sound the video game would make when Mario or Luigi would jump. It was a clever and fun way to come out on stage -- and perfect for Relient K. The guys opened with "I So Hate Consequences" from their latest record Mmhmm, proceeding to mixup the song selections between new and old favorites, with "Be My Escape," "High Of 75," and "Chap Stick, Chapped Lips, and Things Like Chemistry" following. At this point, vocalist Matt Thiessen admitted that an NYC paper had recently incorrectly claimed that RK performs a certain medley on this tour but that they haven't actually been including it. However, for this particular audience, Thiessen offered what he called "The Top Gun medley," a brilliant mix of the film's theme as well as "Take My Breath Away" and "Danger Zone" from the film's recognizable soundtrack. The medley ended with an especially impressive dual guitar "solo" from Jonathan Schneck (who formerly toured with Audio Adrenaline) and Matt Hoopes as they performed a perfect rendition of the Top Gun theme. From here, Thiessen introduced what he considered the band's most ridiculous song," "Sadie's Hawkins Dance," and announced the March 6th release of their upcoming Five Score And Seven Years Ago album, before performing a selection from it, entitled "Devastation and Reform." "Life After Death And Taxes" preceded "Which To Bury, Us Or The Hatchet?" before a unique sleigh-bell and banjo-driven slowed intro to the closer "Who I Am Hates Who Iíve Been" (followed, obviously, by the song itself) finished out their set.
Shortly after the end of Relient K's set, we left the Roseland Ballroom, sought comfort from a warm Starbucks' pumpkin spice latte and a signature NYC street vendor pretzel, and tried to find our way out of the city (remember kids, print out RETURN HOME directions).
It was a fun and memorable evening... and although I feel I have readied myself for this to be my last hoorah for an Audio Adrenaline show, I do hope Hell freezes over and we either make it to Hawaii, or the Fall Tour turns into a Spring Tour. If you haven't seen AudioA live yet, or if you'd like your chance to say goodbye to one of Christian rock's best, catch The Coming Up To Breathe Tour.
--
John DiBiase
, 10/16/06
October 8, 2006 Event Photo Galleries
click on an image for a bigger size
Phil Wickham
Audio Adrenaline
Relient K
*all photos by
John DiBiase
and are the property of
Jesusfreakhideout.com