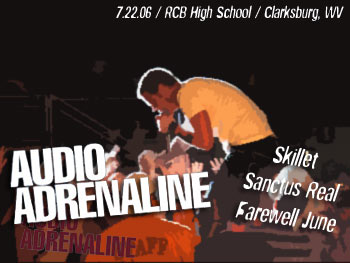 Audio Adrenaline, Skillet, Sanctus Real
7/22/06, at RCB High School, Clarksburg, WV
Ah, road trips. While they weren't something I got to do much of (and when I say "much of," of course I mean "not at all") when I was younger, being married definitely allows for this to be a more feasible option. With 2006 marking the end of the line for one of my all-time favorite bands, extreme measures (i.e. "road trips") are in order. And what better reason to go for it than when the opening acts are serious added bonuses?
The fine folks at Faith Christian Fellowship Church in Mt. Clare, West Virginia organized a well-oiled free outing at the RCB High School in Clarksburg. The half-day event attracted a couple thousand people - young and old - for an evening of food, fellowship, faith, and fun. The festivities were held outside at the school's stadium, something that almost didn't happen due to a torrential downpour earlier in the day. But, by the Grace of God (and much to our delight since we'd already made the trip before the word "stadium" clicked in my head that that meant "outside"), the skies cleared and the show was to go on...
Within the stadium grounds were several stands that offered food and other goodies, as well as a ministry tent and merchandise for the featured bands. Donations of food and money were taken to benefit the poor and defray the event's costs. With a lineup like the one featured, it's amazing there wasn't some kind of cover charge.
The concert started slightly later than planned with indie acoustic rock group Farewell June opening, bearing a style mix that sort of combines the folk jazz sounds of DMB with the contemporary feel of artists like Casting Crowns or MercyMe. Their set had a distinctly indie feel that didn't really seem to mesh well with the following performers, but served as an adequate opening act for such an event, only increasing the diverse assortment of talent featured during the course of the evening.
After a brief intermission and set change, Ohio pop rock quintet Sanctus Real opened their spot with the hit single "Everything About You." Since adding a fifth member to the band, their impressive rock show just seemed even tighter than before. And as they continued the upbeat momentum from "Say It Loud" to "We're Trying" and on to the anti-divorce anthem "Don't Give Up," the energy continued. But this is one of the seemingly few bands remaining in Christian rock today that isn't afraid to share their hearts about their love for Christ. "Eloquent," a song frontman Matt Hammitt wrote about his insecurities, preceded his urging for the audience to help with those sick and dying in Africa by checking out (and contributing to) Mochaclub.org. The band's heart for ministry is one of their charms, and their execution is personal, honest, and inviting. The band's title track from their newest record The Face Of Love followed, serving as a wonderful worship moment. A plea for reconciliation in the form of "The Fight Song" was next, followed by their current single, the beautifully blunt "I'm Not Alright," and the prayerful "Closer." It was a strong set of songs and a wonderful evening highlight.
After Sanctus, speaker Jonathan Shuttlesworth shared a word about salvation, using John chapter 3 as a base for his message. Although Shuttlesworth was virtually shouting at the audience half the time, he was well-spoken and down-to-earth, something few speakers at such festivals seem to be anymore. He avoided the formulaic to spell out salvation about as cut and dry as possible. Shuttlesworth was even as bold as to speak the truth about what he called "camouflage altar calls." While it's typical in a "camouflage altar call" to have everyone bow their head, close their eyes, and privately accept Jesus into their lives, Shuttlesworth observed that it tends to create "camouflage Christians," something that indeed happens all too often. Jonathan ended his engaging message by having an altar call out in the open, encouraging anyone who would like to accept Jesus to make it a declaration before everyone. It was a beautiful sight to see a sizable crowd gather in front of the stage. His time on stage ended by ushering those who came forward to the ministry tent so that they might be equipped for living the Christian life before they left the school grounds.
A brief set change followed the altar call, and Skillet took center stage. Opening with their ferocious rocker, "Forsaken," the hard rock band had the audience's attention from note one, more than likely shocking the socks off of the unsuspecting who hadn't heard of them before, along with the parents who took their kids to see the tamer, more pop-radio friendly acts. The rock quartet launched into a well-mixed sampler of tracks from their three most recent studio albums, selecting the electronic-fueled "You're Powerful" next. In the many years I've seen Skillet perform this song, I enjoyed the new spin they put on it with John Cooper singing the verses through a megaphone held to the mic (which better emulates how the recorded version sounds). The title track from their most recent record Collide followed, along with the worship song "You Are My Hope," which Cooper admitted was for the parents in the audience before he asked if everyone would like to hear more rock (I'll give you one guess what their answer was). At this point, the band broke into a brand new song from their upcoming record Comatose called "Rebirthing." The new songs (including "The Last Night," a duet between John and wife Korey about struggles like cutting and God's answer to them) fit well within the sound Skillet has established over the past decade, falling somewhere between the raw rock sounds of Collide and their previous, more electronic rock sound of Alien Youth. The foursome then finished out their set with the classic "Best Kept Secret," the worshipful "Angels Fall Down," and the rocking hit single, "Savior."
It was time for the last set change and the main event, and it wasn't long before the Audio Adrenaline boys were leading the audience in rhythmic clapping for the catchy "Clap Your Hands." Seeing your favorite band live knowing this very well could be the last time you ever see them perform is a scary and sobering (and depressing...) thought. And as frontman Mark Stuart's vocal abilities have declined in recent years due to vocal chord damage, it just seems to make AA's demise all the more unfortunate because he just can't do it anymore. Stuart's vocals seem to have their on and off days (and obviously it's beyond his control), but they sounded better this evening than they had almost a year ago when we saw them last. Stuart's a trooper though, and with the help of his bandmates and a foolproof setlist, their show was as good as ever. The favorites rolled on out with "Mighty Good Leader" (which featured Sanctus vocalist Matt Hammitt joining Stuart for a verse), "Never Gonna Be As Big As Jesus," and the staple "Big House." In recent years, Mark has encouraged a randomly selected audience member to finish the song out by themselves with just a shout of the word "house." And within the significant space between the audience and the stage were stationed over half a dozen police officers with one becoming Mark's victim as pulled the man towards the stage to finish the song. The officer respectfully joined the band on stage for the song for a truly cute moment in the show (yes, I can say "cute"), especially for those who could see the man's fellow policemen enjoying their friend's moment in the spotlight before thousands. But afterwards, things got a little more serious for a trio of more melodic tunes in the form of "Until My Heart Caves In," a call to missions in "Hands and Feet," and the anthem for forgiveness, "Ocean Floor." Mark picked up an acoustic for a truly rare occasion as he told the story about his father buying a brand new family car when he was a kid and his family couldn't afford much. "Chevette" inevitably followed, along with the must for every AudioA show (besides "Big House"), the rocking "We're A Band." The pop worship sing-a-long "Beautiful" featured the signature show moment where a group of fans are invited on stage to dance around and sing along with the band, before they ended their set with "Get Down." When the lights dimmed and the crowd continued to cheer, calling for "One more song," I was surprised to see a lot of the audience filing out of the stadium. But an encore was expected and the guys returned with the newer classic "Underdog," closing appropriately with the worship single "King" and a bow to the audience.
The event was worth the long drive and hotel accomodations to experience. I was impressed with how well the show was organized, especially since I'd attended a show this Spring locally for Kevin Max that had been embarassingly disorganized and poorly promoted by the small music store that sponsored it (which is especially a shame considering how respected of an artist Max is). But the folks with Faith Christian Fellowship Church knew what they were doing and it showed. While they may not be putting on any more Audio Adrenaline shows in the near future that I'll be attending, I definitely would consider another show put on by them sometime. It was a great lineup and a great evening of music. If you do have any chance at all to see Audio Adrenaline on their farewell tour this Fall with MercyMe, don't miss it. This band will be leaving a significant void in CCM no one will be able to fill.
--
John DiBiase
, 7/24/06
Concert Photo Gallery
click on an image for a bigger size
Sanctus Real
Skillet
Audio Adrenaline
*all photos by
John DiBiase
and are the property of
Jesusfreakhideout.com