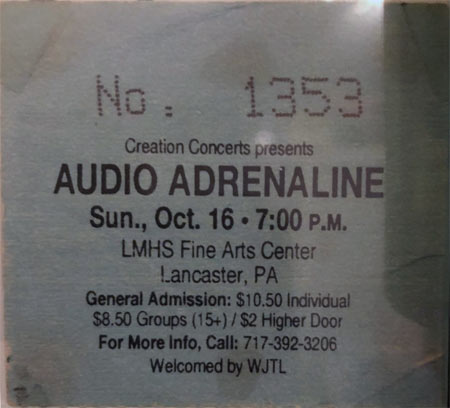 Audio Adrenaline, Out of Eden
10/16/94, at LMHS Fine Arts Center in Lancaster, PA
While my first concert review on JFH was written in early 2000, roughly four years after I started the site, I had actually written a couple early reviews... on paper even... two years before I started JFH.
One such review was one I penned as a very excited fourteen-year-old in October, 1994, after seeing my first-ever real concert. It was rock band Audio Adrenaline, with a new sisters group called Out of Eden opening. It made a tremendous impact on my life, and it lit a fire in me that would eventually inspire me to start this site less than two years later. I recently found a hand-written account of that experience, and I'm going to share it for you all here... edited and rewritten in a way that trims out pointless details and is hopefully more readable, all while keeping the spirit in which it was first written...
On Sunday, October 16, 1994, we saw Audio Adrenaline live--one of the best, loudest, craziest and most hyper bands in Christian music! After attending church that morning (and getting "one step hyper" to Audio A's Don't Censor Me CD while getting ready for the show), I'd donned my Petra "Wake Up Call" tee and Petra hat, and joined my family and a freshly rented 15-passenger van to take our family and a group of friends from high school on a trip to Lancaster, PA. On the ride to the LMHS Fine Arts Center, we listened to both Audio Adrenaline albums, as well as some DC Talk and Newsboys. We were surprised to learn upon arrival at LMHS that Gotee Records' Out of Eden was also performing. The sister trio consisted of teenagers Lisa, Joy and Andrea, with their ages being 18, 13, and 16, respectively. First, we purchased t-shirts at the Audio A merch table [I actually still have my "Big House" shirt some 25 years later!]. And after we grabbed our tour souvenirs, we made our way into the auditorium where we split up, and some of us went to sit in the balcony, while the rest of us--myself included--made our way down front in the standing room area. I have to say, it was truly sublime standing so close to the action at about 20 feet away! When Out of Eden danced out on stage, we knew right away it was going to be great. Standing really close to the big speakers at the side of the stage, I soon learned the importance of earplugs. (The sound was defeaning!)
After Out of Eden played a few songs from their debut, Lovin' The Day, including the hit "Lovely Day," there was a set change. Then, just a few moments later, Audio Adrenaline came out on stage playing "We're A Band," which is easily my favorite song of theirs. My view from the audience of the band was perfect! After the first song, my ear drums were already ringing off the hook. We were already jumping up and down and I was deliriously screaming along the words.
The songs they played included a duet with Out of Eden in "Can't Take God Away," as well as regular performances of "Soulmate," "My World View," "Big House," "Don't Censor Me," "Rest Easy," "Scum Sweetheart," "P.D.A," a "DC-10" and "My God" medley, and "What You Need." Oh, but I couldn't forget "If You're Happy and You Know It!" "Are you HAPPY??" vocalist Mark Stuart shouted, and everyone shouted back. Then he put the microphone close to his mouth and yelled, "Iiiiiiiff yoooouuuu're HAPPY and YOU KNOW IT, CLAP YOUR HANDS!" And everyone clapped in unison. [I then proceeded to describe the song in detail, but you can just hear it on their Live Bootleg album they released the following year.) You just had to be there - it was awesome!
After the guys left the stage, everyone started chanting, "Audio! Audio!". They returned, of course, for an encore, to play their final song, "Let Love," from their Don't Censor Me album. It sounded 10-times louder than on the CD!
But my favorite moment in the show was their announcement that they wouldn't leave until they'd met everyone and signed autographs. I was able to get the full band's autographs and Out of Eden's! It was so cool meeting them.
The next day, I had lost half of my hearing, half of my voice, and had an extremely sore neck. Today is October 20th, 1994, and I'm ready for some more head-banging Audio Adrenaline!
--
John DiBiase
, 10/20/94. Revised and adapted on 4/13/19.