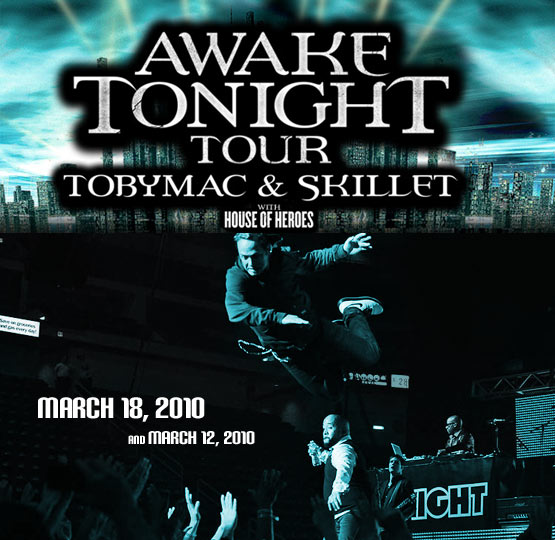 TobyMac, Skillet, House Of Heroes
3/18/10, at Giant Center in Hershey, PA // 3/12/10, at Roberts Stadium in Evansville, IN
When Skillet's John Cooper guest appeared on the title track for TobyMac's fourth solo album, Tonight, the following announcement that the artists would be touring together didn't really come as too much of a surprise. But with both TobyMac (and the Diverse City band) and Skillet owning some pretty incredible performances these days, the idea of them touring together just sounds oh so very good (very much like a sweet slice of Apple Crumb Pie... only louder). So when we learned the tour was making a stop in Hershey, Pennsylvania at the Giant Center, we made sure to be there.
Now, before I get underway, I must present a bit of a disclaimer. In planning to attend the show, we had an interview with TobyMac set up for on-site the day of the show. Toby had a packed schedule, and a last minute planned earlier afternoon time didn't work for us, so an on-the-spot time of 7:15 was then scheduled. While this meant it was directly after House Of Heroes' opening set, it also meant that it was right before co-headlining act, Skillet... and, as with what usually happens with things like this, the time got a bit delayed, and our interview didn't start till during Skillet's performance, and we ended up missing their entire set. Now before any cries "hater," this self-proclaimed Panhead - since 1996, when they debuted, mind you - was attending the tour with complete intentions of seeing their performance, so we're disappointed we had to miss it. At the same time, we did enjoy our time with Toby very much (we hope to post the interview soon), and we look forward to covering the band's next show for you when they come back to PA in April (with RED).
Disclaimer aside (thank you for understanding), we made it to the dance floor moments before Ohio rock band House of Heroes launched into their brief but lovable four-song set. This was House of Heroes' first tour with new drummer, Josh Dun, while bassist Eric Newcomer was back with them again. The foursome still sounded as solid as usual, opening with "Lose Control," one of the harder tracks on their latest record, The End Is Not The End. Actually, all four tracks would be pulled from the standout 2008 release, and "If" served as a worthy successor. The fifteen-minute set time didn't leave room for much chatter, so the guys kept playing on, with the catchy "Leave You Now" following, and their hit "In the Valley of the Dying Sun" closing. With only three bands on the bill, I was shocked (and slightly appalled) at the fact that HOH were only given fifteen minutes, but I suppose with two headliners splitting the top spot, it just allowed for more time for the big guns to give the fans as much as time could allow (and especially on a week night like this one).
It was at this point that we had to depart and meet up with Toby, so I've asked JFH reader and friend Kristina to share her personal experience of Skillet's performance at the March 12th stop in Evansville, Indiana at Roberts Stadium...
"We got to the venue before the doors opened. Fortunately, we didn't have to wait outside very long because it was rainy and cold. After they scanned our tickets we made our way across to the complete other side of the stadium to get to our section. Getting there so early made it a lot easier to find our seats.

People were starting to get anxious waiting on Skillet to start. The stage crew was working as hard and as fast as they could to set up. Suddenly people started cheering. I thought the band was on stage, but no, the crowd was cheering for the fact Skillet's giant backdrop was being released. That was exciting, but not worthy of the screams.

Skillet's set list was a mix of songs from Awake and Comatose, with one song from Collide added towards the end of their show.

"Hero," from Skillet's recent release, Awake, started the show. That actually caught me by surprise. If you've gone to several Skillet shows, especially during the Comatose tours in 2008 and 2009, then you would probably be expecting the show to start in complete darkness while there was a countdown to their song "Comatose." "Hero" was a good way to start the show, with all the fire and lighting. "Whispers In The Dark," from Comatose, was next. There's always intense lighting throughout this song. This has to be a fan favorite since it seems to be on the list for every tour since Comatose's release. "Those Nights," also from the same album, was the third song of the night. Afterwards, it got really dark and quiet on stage. The countdown had begun. Most Panheads knew what was coming next. When the countdown reached the end, the symphonic sounds of the violin and cello pierced the silence. All of a sudden, lights were flashing and "Comatose" began. Next was "Awake and Alive." It seems like the crowd has made this a favorite and started screaming when Jen Ledger started singing her solos. Taking a break from all the hard rocking, John started singing "Jesus Freak" (made popular by DC Talk) which made everyone cheer and sing. He just did the chorus and then claimed that he wrote it. That brought lots of laughter from the audience. After the crowd calmed down, John mentioned that someone once told him that they sing too loud. So to prove that he could be quiet he started singing "Angel" by Sarah MacLachlan. Most everyone in the venue joined in singing. The next song, from Awake, was "Believe." The atmosphere was more serious now when he dedicated the song to his wife, Korey Cooper. This drew quite a few "awwww's" in response. The next song was written as a conversation between God and a girl desperate for help and ready to end her life. John started introducing the song saying it was about a girl who was ready to end her life, but if she would listen to Him it would be "The Last Night" she would ever be alone. Following "The Last Night," the stage went dark again and a single spotlight illuminated the center of the stage. It was time for Jen Ledger's drum solo. At first, it was very quiet as everyone absorbed her talent. Shortly after she began, the crowd erupted in cheers. Everyone was amazed at the talent this twenty year old drummer holds. The only song from the band's 2003 release, Collide, was next. "Savior" brought a lot of energy to the stage. After the song ended, John introduced the next one by saying that sometimes he feels crazy, sometimes he feels like an animal... and "Monster" started, with immediately everyone going crazy, jumping up and down and screaming. This is clearly one of their most popular songs at the moment. After "Monster," Skillet slowed down a little with their emotional ballad, "Lucy." Looking around me I saw many teary-eyed faces. When "Lucy" was over, the stage went dark. A spotlight illuminated the stage where Tate Olsen began his cello solo. As soon as Tate was finished, it went straight to Jonathon Chu's violin solo. The atmosphere completely changes when those two are playing. The show seemed to be over after Tate and Jonathon's solos were done. But Skillet didn't disappoint their fans. They came back out for one more song. "Rebirthing" was the last song and it always makes for a powerful ending.

I watched the show from beginning to end and I sort of felt that it was shorter than usual, but as I look back on it, I realized that, not including "Jesus Freak" and "Angel" and the solos, there were still 11 Skillet songs. So it was actually a pretty long set.

So whether you are a Panhead and have seen Skillet many times, or you are seeing them for the first time, you have to admit... Skillet puts on a KILLER rock show.

Don't miss the Awake Tonight Tour if it invades your town!" - Kristina Hendrickson
Thanks Kristina! When we returned to the Giant Center auditorium (we're back to the March 18th Hershey, PA show, if anyone's getting lost here), Skillet was literally just leaving the stage. The usual extensive set change between headliners was next, as huge lighting rigs were set up for the evening's main event. And when the lights went out again, and the main stage lit up, Skillet's John Cooper appeared on stage - not Toby - as the title track of Toby's latest record, Tonight began. Suddenly, we could hear TobyMac's vocals, but Cooper kept looking on to the audience and McKeehan was still nowhere to be seen... until it dawned on me to turn around. In the middle of the stadium (or, more so towards the back of the standing room on the floor) stood a smaller stage, where Toby was singing his verses to "Tonight." Then, near the latter half of the song, Toby crowd-surfed through the middle of the audience until he reached the stage where the crowd dropped him off and he joined Cooper to finish the song. It was one of the most impressive openers I've seen for a TobyMac performance, and opening his set with it was a great way to bridge the two performances of Skillet and TobyMac... and it also was great to see a little performance from Cooper despite me having missed all of his stage time until that point.
Upon the completion of "Tonight," John Cooper left the stage and TobyMac joined his entourage, the Diverse City Band, to perform "I'm For You" from his 2007 album, Portable Sounds. As can be expected, the TobyMac stage show is a lively one, with much of his crew constantly moving about the stage. Last Fall, Mr. Talkbox, who has appeared on a few of Toby's projects, joined the Diverse City band, so the stage has been even fuller since then. Talkbox makes a great addition as well. And although he's one of the stationary members (along with the band's keys, drums, and DJ Maj), he adds a little extra funk to the stage. Toby then asked the audience if they wanted to hear some new music, and he launched into "Showstopper," the signature rocker for Tonight. After the lights went dim following the song, "No Signal," from Portable Sounds, played as a sample before "Ordinary Love," which featured live trumpet accompaniment. And without missing a beat, they flowed right into "J-Train" from Toby's 2001 solo debut, Momentum, which made for a strong transition. At this point, the front man took a bit of a breather to share from his heart a bit, which lead into the Portable Sounds closer, "Lose My Soul." Then, sticking with cuts from that record, the band moved into "Made To Love," in which Toby took another moment to encourage the audience to stay strong though the times are tough. They transitioned the song into a little bit of the cover "Everything will be Alright." Another fan favorite from Momentum, "Irene," was next, with the freestyle session close behind. For this, GabeReal and Shonlock each get a chance to do a freestyle rap for the audience, while Nirva Ready serves as the "rose between two thorns," as Toby says, and sings the chorus of Rich Mullins' "Awesome God." Now, on the Winter Wonder Slam Tour, Toby performed his own freestyle, choosing part of the dc Talk track, "Jesus Is Just Alright," however, to my disappointment, he didn't join in the freestyle fun at all, and one of my personal favorites, "Boomin'," succeeded his bandmates' offerings instead.
This is when things got really intriguing. For the most part, a TobyMac performance has a certain flow and rhythm. Each tour is slightly different, especially when he incorporates new songs, but like with most bands, there are certain things you can come to expect from a band's live show. However, TobyMac and the Diverse City Band threw a curve ball this time. When the lights dimmed after "Boomin," the recording of the latest offering from Truett "TruDog" McKeehan played, while most of the Diverse City band was visible on stage. This gave Toby, guitarist Timmy Rosenau and GabeReal a chance to make their way to the back of the arena to the additional stage again... for a special acoustic set. The three stood beneath a cluster of hanging lightbulbs of various lengths and sizes, which offered a really cool effect, and a nice touch for the intimate setting. It kind of harkened back a bit to the days when dc Talk would slow it down for an acoustic set, and whip out a couch, rug, and even a lava lamp to give a nice, chill atmosphere. They opened with "Love Is In The House," and surprisingly moved into "Catchafire," and, quite amusingly, the American Idol phenomenon that is "Pants On The Ground." "Gone" was next, and then Toby expressed his appreciation for everyone, before busting out the Bible to read from it and then perform the song his previous band made popular, "In The Light." The acoustic segment was an exciting little twist on their set, but it was a little strange to hear some of his most upbeat songs turned into more stripped-down, acoustic forms (like the poppy "Love Is In The House," the crunk-flavored "Catchafire" and the pop rock "Gone"). While I enjoyed it, I also kind of missed hearing those songs done by the full band too. But I was happy they were included at all.
The trio rejoined the band for their appropriate theme, "Diverse City," and kept the upbeat party songs flowing with "Funky Jesus Music" and closing with the TobyMac set staple old school medley of "Play that Funky Music," "Rollercoaster," "Freak Out," "That's The Way," and "We Are Family." But of course, an encore is to be expected (after all, they hadn't played his current hit single, right?), and when Toby re-emerged now sporting a hoodie (instead of a shirt and tie), it was to perform "City On Our Knees." For Tonight, each track is being given its own music video envisioned by a different director, and tonight Toby debuted the animated music video for the song, playing it on the large screen hanging behind the band (It was pretty fun to note that some of the band hadn't seen it yet either, as Nirva kept turning around to watch it during the song). Toby and his team revved things back up once again for "Burn For You," and the singer ran into the audience to sing the track from the bleachers before heading back to the stage. It was at this point when fans can probably guess where the former dc Talker was headed, and the group launched into the anthemic "Jesus Freak," bringing one last "hoorah," before they played a little bit of Bananarama's "Na Na Na Hey Hey Hey" and said goodbye. GabeReal then emptied a bottle of water over the dance floor crowd as Toby took a flying leap off a ramp and stage-dove into the audience for a fine finish!
The Awake Tonight Tour is quite an event, and especially since I missed nearly half of it, I'm keeping a candle burning in the window in hopes the tour will resume again in the near future. Skillet and Toby offer some of the most powerful shows in Christian music right now, and it's a match-up YOU won't want to miss!
--
John DiBiase
, 3/23/10
Awake Tonight Tour Spring 2010 Photo Gallery
click on an image for a bigger size
**vertical images cropped for thumbnails**
House Of Heroes:
TobyMac:
*all photos by
John DiBiase
and are the property of
Jesusfreakhideout.com