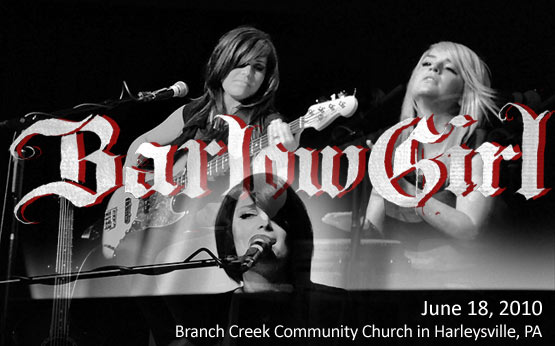 BarlowGirl
6/18/10, at Branch Creek Community Church in Harleysville, PA
Attending the one-off concert can be a risky gamble. In most cases, local acts will precede the headlining national act in an effort to either fill the ticket with affordable entertainment or attempt to promote new aspiring talent (and for them to just be able to say in an online bio that they've shared the stage with a national artist). For a recent concert date that brought the three Barlow sisters to Branch Creek Community Church in Harleysville, Pennsylvania, two local acts padded the evening's billing to offer the audience a full night's worth of entertainment. But while anyone out of town would be completely unfamiliar with the opening entertainment, anyone who frequents Branch Creek was likely to be at least somewhat familiar with the opener, Five Mile Fall, and their successor, Tony Surge. The former was from relatively close by in Souderton, while the latter was the son of a popular local pop artist who was making his live performance debut. Five Mile Fall performed confidently with a modern worship sound that displayed an undeniably indie feel. The group played pretty well together, and the dual vocals ranged from decent to pretty good. Their style wasn't very unique, but upon their announcement to the audience that they'd only been together for eight months, I found myself elevated from unimpressed to surprised. The group has potential, but it was pretty obvious that they were playing to what may have been their biggest audience to date (even one of the vocalists never opened his eyes while he sang... not the best way to engage your audience). Tony Surge was enthusiastically received by the Branch Creek crowd as well. Tony stood on stage and performed with only a mic and a slew of pre-recorded trax to offer his brand of inspirational power pop. He did well for what was apparently his first live performance, although I kept having flashbacks of seeing Eric Champion perform to trax in 1994 before he got wise and took a full band out on the road with him. While these weren't the worst possible opening acts, they weren't very complimentary (or good representations) of the night's main event, and - for me - the Barlows couldn't come out soon enough.
I had been wearily awaiting music to engage me (and admittedly, I was coming off from what felt like an especially long and exhausting week), so it was more refreshing than disappointing to hear the Barlows inform the audience that due to some technical difficulties, they'd have to perform their set entirely acoustic. I've seen the girls only in Summer festival settings up until this point. They either came to our area on a tour with other artists I had no interest in seeing, or the concert date conflicted with some other show or event. And after BarlowGirl released their best album to date, Love & War, last Fall, I especially looked forward to seeing them perform their own full-length set (finally).
Lauren Barlow sat perched on a wooden stool and behind a standing jimbay, while her older sister Alyssa stayed comfortably behind a grand piano and her eldest sister Rebecca cradled an acoustic guitar (and occasionally a bass), while also sitting on a stool, throughout the duration of their set. Banter has always been a Barlow thing - whether it's during their set at a festival or, especially, during an interview, and the girls seemed even more prone to chatter being in such a relaxed setting this evening. They got things started with the worshipful "Psalm 73 (My God's Enough)" from their sophomore album, Another Journal Entry, and then continued with their Love & War album opener, "Come Alive." At this point, the sisters introduced themselves and then Alyssa proceeded to explain the inspiration for their song "Never Alone," all the while playing the memorable piano melody for it. She explained how alone the girls felt while waiting for God to move on their behalf before BarlowGirl signed to Fervent Records, and that in the loneliness and silence of waiting, this song was born (and that it's become a testament to His faithfulness since then). After performing "Never Alone," Alyssa stopped to talk about the song "Stay With Me," before performing that one, and then the girls paused to candidly chat a bit as Becca made the switch from guitar to bass. Lauren even comically joked about how her "sassy" personality had lead to her getting fired more than a couple times during their band's infancy, but her abilities - and last name - made it near impossible for them to exclude her. The fun, piano-driven "Our Worlds Collide" followed, with "Mirror," from their self-titled debut, close behind.
Now, what happened next was the perfect example of what makes this all-sister band stand out from a lot of other groups. Becca Barlow, who's usually the quietest of the trio, spoke up and announced that because of how cool the audience was that night, she wanted to share her testimony with them. Lauren and Alyssa half-jokingly expressed shock at the fact that their more shy older sister actually wanted to talk, and Rebecca proceeded to share how "Mirror" represented much of her own struggles with how she used to view herself when she was a teenager. She explained how once she surrendered herself to God's view of her and began seeking to change her mind by dwelling on His Word, that she was eventually freed from self-destructive thoughts about herself. It was one of the most powerful moments in the evening.
This led perfectly into the emotional ballad "Sing Me A Love Song," which is also from Love & War, and the music paused for a bit while Lauren explained the band's name before getting more serious with the Branch Creek audience. The youngest Barlow took a moment to read 1 Peter 2:9 and quickly got very passionate, to the point of raising her voice, as she talked about making a change in the world as a church body, following God's calling on our lives, and even devoting our lives to changing history. She closed her inspiring talk, leading into their call-to-action anthem, "Million Voices," encouraging the crowd to sing along with their hearts as well as their voices. Afterwards, Alyssa then shared about the inspiration for Love & War's lovely ballad "Beautiful Ending," and then performed it, and followed it with the equally emotional "I Need You to Love Me." Their own rendition of the popular "How He Loves" flowed seamlessly next, and the girls encouraged whoever needed prayer or a rededication of their life to Christ to come forward and pray with some volunteers up front. They then offered a few more refrains of "How He Loves" and exited the stage, allowing a recording of [someone else, not BarlowGirl singing] Keith Green's "O Lord You're Beautiful" playing in the sanctuary to serve as mood music for those wanting to stay in the worshipful setting.
While an acoustic set was apparently not the intended format for the evening's performance, by its conclusion, I was thankful that it was. I'm a sucker for intimate shows and the Barlows seemed to lay even more of their heart out on their sleeves than I've seen before. In fact, I'd love to see them do an entire tour acoustically like this. It really showed off this trio as more than just sisters in a pop rock group, but as seasoned performers and believers with an infectious passion for Christ. I'm excited to see where God takes these young ladies next!
--
John DiBiase
, 6/23/10
BarlowGirl Set List
01. Psalm 73 (My God's Enough)
02. Come Alive
03. Never Alone
04. Stay With Me
05. Our Worlds Collide
06. Mirror
07. Sing Me A Love Song
08. Million Voices
09. Beautiful Ending
10. I Need You To Love Me
11. How He Loves

BarlowGirl - Live June 18, 2010 Photo Gallery
click on an image for a bigger size
**vertical images cropped for thumbnails**
BarlowGirl:
*all photos by
John DiBiase
and are the property of
Jesusfreakhideout.com