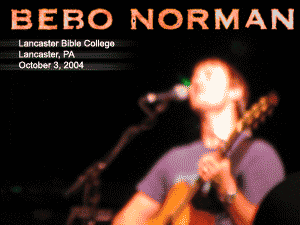 Bebo Norman, Bethany Dillon, Jason Morant
10/03/04, Lancaster Bible College, Lancaster, PA
Being a frequent concert goer for nearly a decade now, I've experienced many different settings and vibes that was determined greatly by the artist's style and the type of audience they attract. But when I attended a recent date on Bebo Norman's Fall "In Concert" Tour, it reminded me just how long it's been since I've been to a true, laid back acoustic show. This time around, for our Bebo show review, I've decided to give the reader a break from my typical reviews to introduce you to my lovely sister-in-law Miriam for a portion of this review. Mim, and avid Bethany Dillon fan, offers her take on Bebo's Fall opening acts...
Being an opening act can't be easy, especially when the most of the audience is there to see the headliner. But Jason Morant and Bethany Dillon warmed up Bebo Norman's audience with humor and grace, not to mention some great music.
I had never heard Jason Morant (apparently pronounced "More-ant") before, but I'm totally a sucker for 20-something guys with mussed up hair and acoustic guitars, so I was mentally prepared, at least, to enjoy his set. (Jason is 23.) He began with "You Give Me Life," just him and his guitar, and I was thoroughly impressed with the quality of his voice. At first I thought he seemed a little self-conscious or nervous on stage, but he warmed up pretty fast after the first song and turned out to be a very engaging performer. Between the first and second song, Jason began a steady stream of funny banter with the audience that would continue throughout the set.
After the first song, Jason was joined by the keyboardist for Bebo's band, Matt. The rest of his set included more songs from his debut record, Abandon: "Fashion," "I Am Yours," and "Inside Of Me." The music was enjoyable and catchy – poppy, but not too poppy, you know? – but I must confess the most memorable part of his set was his audience banter. He encouraged us to "Woo-hoo!" or snap our fingers rather than clap for Bethany and Bebo, he told background stories about his songs, and he introduced himself as Bethany Dillon. When Jason Morant left the stage, a relatively lethargic crowd had smiles on their faces.
I came to the show exclusively to see Bethany Dillon. (I had actually planned to leave right after her set, but decided to stick around and see what all the Bebo Norman fuss is about – and I'm so glad I did.) I've been playing Bethany's album nearly nonstop for weeks, and was very excited to see her live. She came on stage with her guitar, and was joined by Josh Morant – Bebo's drummer and brother of Jason – on hand drums and percussion. My first impression was that I hadn't expected her to be so short, but I had only seen her next to Jason, who must be six feet tall.
Bethany led off her set with "All I Need," her voice warming up as she got going, starting out a bit scratchy but smoothing out by the second verse. After the song, she held her pick between her teeth while she changed guitars, and drawled an Ohio "Well, thank you" to the audience. Very cute.
The rest of her set followed a similar pattern: a well-played song and a sweet "thank you" ("I think it's impolite not to say thank you," she told us), followed by a rambling description of the next song. I thought it was great. The middle of her set consisted of "For My Love," "Revolutionaries," and "Exodus," my favorite of her songs. Her voice stayed strong throughout, although you could hear some scratchiness in her voice when she talked. Bethany ended her set with her single, "Beautiful," the song that made me look for her album, and the one that most people in the audience had heard (if they listen to Christian radio). Overall, a very cheerful and uplifting performance, despite the lazy crowd. My only complaint is that she didn't play one or two more songs. (Miriam DiBiase)
John here, again. Although I've never had a thing for 20-something year old guys with mussed up hair and acoustic guitars, I do agree with her commentary of the sets. They both served as a nice intro for the evening's main event. Everything was very laid back and very personal. Bebo Norman's goal was to make the show feel more like a concert in the audience member's living room and it definitely had that feeling - especially when it was just Bebo and his bandmate Gabe up on stage. Bebo opened his set with "I Am", featuring his live band backing him up. I was actually pretty surprised to see Jason Morant as part of his band, but it added a unique and personal feel to the show. Following the upbeat "Stand" and "Disappear," Bebo's band left the stage for a bit, leaving him and Gabe alone to perform the more softer acoustic songs.
While I prefer live bands, there is something really powerful about just Bebo Norman and his guitar. His deep and emotional vocals are so personal and inviting that it really adds depth and meaning to his songs that you just don't quite get on his recordings. Gabe was a wonderful compliment to Norman's performance, offering the hammered dulcimer on "Tip Of My Heart" and various other unique instruments including a steel guitar on other songs. Bebo and Gabe talked to the audience quite a bit between songs, even making it a point to tease a security guard and Jason Morant's choice of hair products throughout much of their acoustic set. Their humor helped break the ice with the audience. Following the transparent and personal songs "Walk Down This Mountain" and "Where The Trees Stand Still", Bebo shared about his struggle with selfishness and how his recent marriage ten months ago has helped him realize it. This led into the title track from his most recent record Try and was followed by a heartfelt and touching message about his recent trip to Africa to meet the child he sponsors with Compassion International. While a lot of artists share about sponsoring children and reaching out to those in need, I found that Norman's personal account of his experience was more meaningful and left a more lasting impression. It reminded me how important it is for us as Christians to reach out through child sponsorship.
Bebo Norman's band came back later in the set for "Cover Me" and probably his most recognizable song, the incredibly inspired original "Great Light Of The World." Easily one of the best worship songs today, it was the perfect ending to his set. The crowd inevitably cheered for more and Bebo offered a benediction to the crowd with his newer song "How You Love Me" -- just him and his guitar.
I was surprised Bebo didn't join Bethany and Jason out in the lobby to meet people after the show, but considering a grueling touring schedule, it can probably get to be a lot to handle. We did have the pleasure of meeting Bebo in a "Meet & Greet" session and really enjoyed chatting with him about life and his recent marriage.
If the edgier stuff isn't your thing, or you need a relaxing evening with a more mature audience and a fantastic acoustic event, you would do yourself a favor by checking out Bebo Norman's Fall 2004 Tour.
--
John DiBiase
and
Miriam DiBiase
, 10/8/04 - 10/12/04
Jason Morant Set List
01. You Give Me Life
02. Fashion
03. I Am Yours
04. Inside Of Me


Bethany Dillon Set List
01. All I Need
02. Revolutionaries
03. For My Love
04. Exodus
05. Beautiful


Bebo Norman Set List
01. I Am
02. Stand
03. Disappear
04. Tip Of My Heart
05. Walk Down This Mountain
06. Where The Trees Stand Still
07. Try
08. The Hammer Holds
09. Nothing Without You
10. Cover Me
11. Great Light Of The World
Encore:
12. How You Love Me

Bebo Norman In Concert Tour 2004 Photo Gallery
click on an image for a bigger size
Jason Morant
Bethany Dillon
Bebo Norman
*all photos by
John DiBiase
or
Miriam DiBiase
, and are the property of the photographer and
Jesusfreakhideout.com