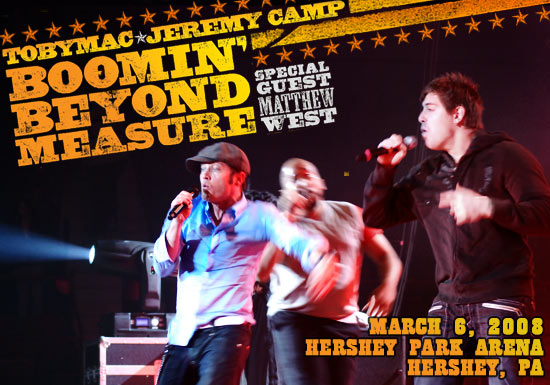 Boomin' Beyond Measure Tour
TobyMac, Jeremy Camp, Matthew West
3/6/08, at Hershey Park Arena in Hershey, PA
It's disheartening to realize that by this time last year, we'd already been to a handful of shows. But this year, thanks to frigid eastern U.S. weather and slim choices for early-2008 tours to attend, TobyMac and Jeremy Camp's "Boomin' Beyond Measure Tour" is our inaugural event for 2008.
The first time I attended Hershey Park Arena for a concert was in 1996 when dc Talk and Audio Adrenaline toured together for the "Jesus Freak Tour." As just a teenager then, it's a bit surreal to attend a show some twelve years later for a member of dc Talk as they co-headline a tour on that same stage - and with both bands from that '96 show being retired now. I hadn't realized until walking inside the Hershey Park Arena again just how small it was in comparison to The Giant Center, which is on the same grounds as the Arena, and often houses big name tours as well. But this venue was perfect for a Thursday night performance of Toby and Jeremy - with special guest Matthew West added in for good measure.
Matthew West kicked off the night bravely with merely an acoustic in hand to perform a small batch of his songs for the Pennsylvania audience. To be honest, I was expecting Matthew to have a full band with him - much like newer artists Aaron Shust and Phil Wickham brought with them on both legs of the MercyMe / Audio A tours in '06 and '07. But while it may seem low key to just have a guy and an acoustic open up for a plugged-in set from Jeremy Camp and an unbridled performance of pop, hip hop and rock from TobyMac, it was a nice way to slowly get the ball rolling. West is an acclaimed songwriter, and it was nice to finally get to see him in a live setting. He opened his set with the soulful and candid "Next Thing You Know," engaging the audience right away. For new track, "A Friend In The World," from his most recent album Something To Say, West encouraged the crowd to sing along to a verse he admits was borrowed from a classic dc Talk tune. His set had begun with a video montage of clips from a documentary about vocal surgery he endured last year that left him with having to remain silent for two full months. After a performance of "Only Grace," West shared a bit about the fear and trial of the experience and how terrifying and faith-testing it was. He then played his current number one single, "You Are Everything," before giving the audience a shot of adrenaline by closing with his most popular song to date, "More."
Right after Matthew left the stage, Toby McKeehan came walking out to talk jokingly about the co-headlining match of Jeremy and him and the fight over who would close out the night, and then enthusiastically introduced Jeremy Camp as the next act. We had caught Camp's previous tour where he performed acoustically in a very intimate setting, so to see him returning to his full production was a big contrast from last Fall's set. Camp and company opened with the worshipful "Give You Glory" (following a quote from Psalm 34) from his most recent album, Beyond Measure, with the band bathing in a blue light as they let the mood build. Setting his guitar aside, Jeremy moved right into one of his more aggressive songs, performing "Take My Life" and then continuing with his single "Tonight" and then paused to talk to the audience. On the previous acoustic tour, Jeremy filled a lot of space between songs with personal time just talking to the crowd from his heart about his family, parenthood, and his love for Jesus. He still found time this night to share his heart, introducing "Take You Back" with the message of 2 Corinthians 1:8 and following it up with a lengthy medley that included "I Still Believe" merged right into "Walk By Faith," and closed with repeated "Hallelujah" choruses. The medley was almost identical to the one on his acoustic tour, but after Camp shared about the loss of his wife (which had originally inspired "I Still Believe"), he resumed the "Hallelujah" choruses and wrapped it up with a few choruses of "Never Let Go."
After sending up a quick prayer, Jeremy continued the set with "This Man," "No Matter What," and "I Just Wanna Celebrate Another Day Of Living," to which he concluded by introducing his talented live band. The rousing "Let It Fade" was next, with the rocker "Lay Down My Pride" following, and Jeremy paused before ending the night by talking about Compassion International. He shared about the five kids that he and his wife sponsor and about the lives he's seen changed by Compassion. After reading a letter from one of his sponsor children, he closed the night with the emotional "Give Me Jesus," starting it off on a quiet note before giving it a powerful finish (complete with disco ball, which rose from the behind the backdrop as he sang). Whether you're a fan of Jeremy Camp's music or not, he has an infectious passion for Christ, and it was easy to find your heart and mind focused on the things above during his set. Despite battling a cold all night, Jeremy's voice seemed completely unaffected even until the final note. After the last song, a large sheet (which hid the stage during Matthew West's performance) dropped back down in front of the band's setup, allowing a Compassion promo video to display overtop of it. After the video, guitarist Randy Williams came out to share more about Compassion and urge the audience to sign up to sponsor a child during the night's fifteen-minute intermission.
Around 9:30pm (two hours after start time), TobyMac and his faithful entourage, the Diverse City band took the stage for their usual tour de force. I was a little surprised the set that would unfold was almost identical to that of their Fall "Portable Sounds Tour" with TFK and BarlowGirl accompanying - the only difference was the omission of "Atmosphere" from this particular set list. Still, a TobyMac show is a guaranteed good time, and the band once again opened with the adrenaline rush of "Ignition." For one of the strongest string of opening tracks for a TobyMac set to date, the band continued with "Catchafire," which on previous tours served as the encore, and Portable Sounds highlight "Boomin'." After the trio of funky rockers, the band takes a brief breather with a recording of the "Flight 92" interlude, which then leads into "No Ordinary Love" - complete with live horn accompaniment from the Diverse band. Without skipping a beat, "No Ordinary Love" blended into "J-Train," and Toby dedicated the follow-up, "Gone" to 'all the ladies' in the audience. "Irene" appropriately followed, along with "I'm For You," and then a message from Toby from scripture about walking in God's light, which naturally led into the popular dc Talk cover, "In The Light." The rocker "Yours" reprised the classic "Tim Rosenau's Guitar VS. Nirva's Vocals" (which ends, of course, with Nirva on top) and the Passion Of The Christ-inspired anthem "The Slam" both proved to be set highlights as usual. During the latter, GabeReal and Shonlock took turns projecting themselves into the air before Toby swiped a light strobe box off of the stage and began swinging it around. Afterwards, Toby took the time to share about Christ's love with the audience before performing the groovy "Love Is In The House," and then hopped over the fence into the audience to mingle with the fans as he continued to sing the song, and stayed there well into "Lose Your Soul." McKeehan returned to the stage to finish the song, even bringing it out with a few choruses of "I Could Sing Of Your Love Forever" (with Nirva's assistance) to end on a worshipful note. The anthemic and fun "Diverse City" was next, another set highlight, before the group closed in true party fashion with a TobyMac staple - the old school medley.
The group didn't even bother dragging out their exit from the stage and just took a slightly extended break after the medley to serve as the separation between the main set and their encore. When they inevitably returned, the Portable Sounds hit single, "Made To Love," kicked off the finale as the group soaked in red lights - and McKeehan encouraged the audience to take the knowledge of Christ's love for us home with them after the show. The group quickly moved into "Burn For You," before the grand finale with the dc Talk original, "Jesus Freak." Towards the middle of the song, Jeremy Camp emerged to join Toby in singing the iconic rocker and remained with the band until the very end. Having Camp close the evening with Toby brought a great unified finish to the jointly billed "Boomin' Beyond Measure Tour."
While the initial thought of a tour matching Jeremy Camp and TobyMac doesn't sound like the most fitting match-up, the results prove to be the contrary. Matthew West brings an intimate and organic start to the night with a powerful worship-minded set from Jeremy Camp in the middle, and a fantastic, high energy performance from TobyMac to cap it off. Although the tour's coming to an end in a few dates, catch it if it rolls up into your neighborhood - of catch each individually sometime if you miss this one.
--
John DiBiase
, 3/7/08
The Boomin' Beyond Measure Tour Photo Gallery
click on an image for a bigger size
Matthew West
Jeremy Camp
TobyMac
*all photos by
John DiBiase
and are the property of
Jesusfreakhideout.com