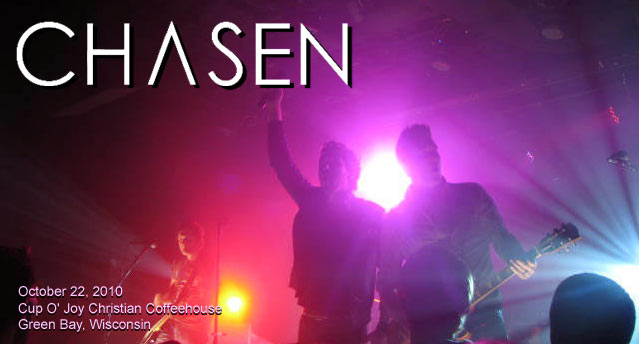 Chasen
10/22/10, at Cup O' Joy Christian Coffeehouse in Green Bay, Wisconsin
On Friday, October 22nd, Chasen took the stage at the Cup O' Joy Christian Coffeehouse in Green Bay, Wisconsin. Generally, the Cup O Joy has pop/rock boy bands as openers, so when the opening act, Not By Chance, began the show, they seemed like the typical garage band. However, their five song set did have quite a bit of musical variety. The opening song, "Eating Me," had a bluesy jazz intro, which quickly morphed into rock, and ended with a reggae twist. The rest of their set had just as much variety, and the stunning lead vocals were clearly the band's largest asset, even if interaction with the crowd wasn't particularly articulate between each song. After Not By Chance's fairly impressive set, Chasen's drummer Aaron Lord took the stage and spoke briefly about World Vision, professing the band as a ministry first and a band second.
After a brief intermission, Chasen began with a dramatic introduction to their latest radio single, "One In A Million." Lead singer Chasen Callahan then donned a guitar for the soft pop song, "Love In Your Name," also from their most recent release, That Was Then, This Is Now. "Castaway" was next, with a strong breakdown and amusing facial expressions from guitarist Evan Silver and bassist Jared Barber. Interestingly, Chasen then played a cover of Hillsong's "Freedom Is Here." This was definitely the most moving song in the set so far, with the audience jumping and chanting the title. Callahan then switched to an acoustic guitar for the worshipful, "Leave You Alone."
With all the lights down and a recorded violin introduction, "Slow Down" began, featuring an admirable worship sound with a hint of country. The atmosphere also slowed down, as Callahan spoke of once being a 15 year old worship leader with a 50/50 Christian lifestyle. The emotion was clear on his face as he began the standout track from their debut album, "Drown." After teaching the audience the chorus of the next song, Callahan told another story of his loss of a 22 year old friend and the hope of Heaven where you know you're going to see lost loved ones again. "Airplanes" then featured harmonizing vocals with a haunting echo, two acoustic guitars and a basic percussion beat.
To lighten the mood, Callahan told an amusing story with an impersonation of a lady at a previous concert who came with 50 of her youth group kids to specifically hear one song, which had not been on the set list for that evening. The song, "Crazy Beautiful," was next, with a catchy opener and an energetic ending. It was followed by two more songs from Chasen's latest release: "Eyes Of A Rescue," and "Bullet." "Eyes Of A Rescue" featured a strong drum intro, a jumping crowd, band member introductions, and some surprising vocal endeavors, making it the standout song of the evening. Chasen ended the show with "On & On," another highlight of the night. Callahan ran into the crowd and stood on a chair to get the audience screaming the "oh-oh's." After returning to the stage and sharing some love for the venue, the show concluded with a very inspirational message. With a verse from James 4 at the heart of the message, the audience was challenged to "love people like it costs you something," to leave a legacy that goes on and on forever, and, finally, to start a revolution. With quite a bit of crowd interaction and a solid selection of energetic pop/rock songs, it was overall a memorable show.
--
Sam Schaumberg
, 10/31/10
Chasen - October, 2010
click on an image for a bigger size
**vertical images cropped for thumbnails**
Chasen:
*all photos by
Sam Schaumberg
and are the property of the photographer and
Jesusfreakhideout.com