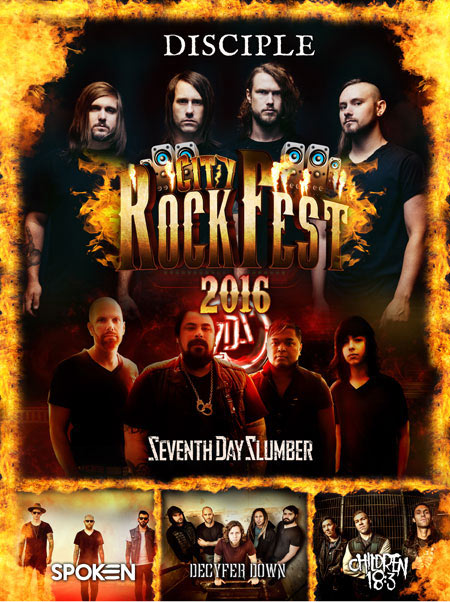 City RockFest Tour
Children 18:3, Spoken, Decyfer Down, Seventh Day Slumber, Disciple
2/10/16, at Northview High School in Dothan, AL

Concerts... as much as it is fun going on road trips to see my favorite bands perform live in a town that is 2-plus hours away from me, knowing that big names like Disciple and Seventh Day Slumber were playing in the town that I live and work in makes the journey to see them shorter, but much sweeter. I had the privilege of seeing these 2 bands last April, along with Decyfer Down, so I knew that I and the other concert attendees were in for a real treat when I saw that they were coming to my city. What made it even better was that they were bringing along Children 18:3 and Spoken this time around.
After a lengthy delay caused by a power outage, which set the concert start time back by close to an hour, Children 18:3 took the stage to open up the night. Before the concert, I took some time to see what this band's sound was like. Honestly, I wasn't much of a fan of their work. With that being said, they have amazing talent and stage presence. The two vocalists were all over the stage during their 4-song set list, and vocalist/guitarist David Hostetter had a great moment of interaction with the crowd when he got on the makeshift barricade composed of chairs for a guitar solo during the song "Oh, Bravo." It was a great start to the night and I'm more than sure that the fans of their music had a great time seeing them live, and I know they gained some new followers as well.
Spoken was up next, and I was really excited to see what they could do. A good friend of mine saw them last year at Life Fest, and had nothing but great things to say about the job they did, so my expectations were set pretty high. Lead singer Matt Baird and his fellow band members did not disappoint at all. Throughout their 6-song set list, Matt was all over the stage and had the most crowd interaction of any artist that played that night. The song choices were great, as they chose songs from their two most recent albums. The only downside was that there were a few songs I would've liked to hear that didn't make it onto the set list.
Decyfer Down was third to take the stage. Lead vocalist and guitarist T.J. Harris and the rest of the guys did a great job on their 6-song concert, as I was expecting. The addition of their newest single "Nothing More" and the unreleased "Anchor Me" off their upcoming album along with hits like "Crash" and "Fading" made for great selections to play. I'm excited to see what the rest of their album sounds like when it comes out. I'm so glad I could see them again and that they could join the City RockFest tour once again this year.
Co-headliner Seventh Day Slumber came on next. As always, they put on an outstanding show that really brought the concert to the next level. The addition of pyro cannons at the front of the stage was frosting on the cake to the energy they had. Front-runner Joseph Rojas sung with passion throughout the show, and long-time guitarist Jeremy Holderfield, along with the newer additions of Ken Reed on bass guitar and Joseph's own son, the spectacular 14-year-old Blaise on drums, shook the entire auditorium. "Bring It On," off their latest EP, hit just as hard as others touched the heart, like "Caroline," a song dedicated to Joseph's mother-in-law. The only downside to their song choices was that "Hunger Strike" wasn't ready for them to perform live yet. What was more powerful than any other moment was when Joseph took the time to share his testimony about feeding the hungry. As a frequent Christian concert-goer, one becomes numb a little bit from hearing stories of the impoverished in other countries. What he told the crowd was anything but ordinary, however. He spoke of the poorest area SDS ever played at, an Indian Reservation in New Mexico that had the highest number of suicides per capita. The concert goers there signed up to sponsor more children than any other city that they played the last time on tour. It really hit my heart, and I will never forget it. Along with that story, he also promised a great prize pack composed of numerous items for anyone who signed up. Seeing all of that really speaks to what Seventh Day Slumber is all about: sharing the gospel of Jesus and helping the less fortunate.
Disciple wrapped up the night in style. After a beautiful rendition of "Tis so Sweet" by lead singer Kevin Young, he blew the place open with "The Name." The entire time they played you could feel the passion emanating from all the band members, including drummer Joey West along with guitarists Josiah Prince and Andrew Stanton. The last time I saw them live, bassist Jason Wilkes was playing his last show, so I knew that the same performance wasn't going to be shown again this time. Any string instrument is better heard and seen live, and the lack of a bass player on stage was evident, but also made up for by the four remaining members of the band. Favorites like "Dear X" and "321" were mixed in with newer songs, such as "Radical," "Dead Militia" and one off their Vultures EP, "Sayonara." As much as I enjoy when a band changes up their set list, I was disappointed to not hear "The Wait is Over" as their intro song of choice, and with the power outage affecting the set times, they couldn't do one of my all-time favorites, "O' God Save Us All," which was set to be one of the 2-song encores they had planned. Even with the time issues, Kevin Young still gave his testimony about the gospel of Jesus Christ after the song "Lay My Burdens." It's always nice to hear personal stories from artists, especially about their families. Kevin shared how his 7-year-old daughter asked to be saved just a few weeks before he went on tour. He then invited those in the crowd to come to know Jesus and dedicate their hearts to Him with a prayer recital. "Game On" ended the night and a great show by Disciple and the rest of the artists that played before them.
The venue for the show was a great choice. The convocation center was more than ample to hold the 300 person crowd with room for everyone to rock out. The crowd, consisting of mostly youths, seemed to really enjoy themselves and wasn't fazed by the delay of the start time. A few band members from Spoken and Children 18:3 kept the few people that got there early company while the power was out inside the auditorium, and Matt Baird of Spoken even joined in for an improvised acoustic show along with Disciple for the VIP crowd waiting in the lobby. Devi Leonard of ROK Productions (the event organizer and promoter) handled the delay very responsibly and kept everyone informed on the situation. For it being their first time holding a show like this, it was done with the professionalism of a seasoned organization. I had a great time there, with the only real downside being the shortened set lists for every band and a few song choices that I didn't get the chance to hear. I know that ROK Productions made a great choice bringing the tour to Dothan, and the Kyle Leonard Memorial Scholarship fund gained some money from a great night.
--
John Breuer
, 2/14/16
Children 18:3 Set List



Bethlehem
Cover Your Eyes
Homemade Valentine
Oh, Bravo

Spoken Set List



Walking in my Dreams
Beyond the Stars
Falling Apart
Through It All
Breathe Again
Poison in the Air
Decyfer Down Set List



Now I'm Alive
Nothing More
Anchor Me
Crash
Scarecrow
Fading

Seventh Day Slumber Set List



Burning Bridges
Awake
Bring it on
We Are the Broken
All She Wants
Caroline
From the Inside Out
Wasted Life
Disciple Set List
Tis so Sweet
The Name
321
Angels and Demons
Into Black
Dead Militia
Sayonara
Lay My Burdens
Dear X
Radical
Fight for Love
Game On
City RockFest Tour 2016 Photo Gallery
click on an image for a bigger size
**vertical images cropped for thumbnails**
Children 18:3
Spoken
Decyfer Down
Seventh Day Slumber
Disciple
*all photos by John Breuer and are the property of the photographer and Jesusfreakhideout.com