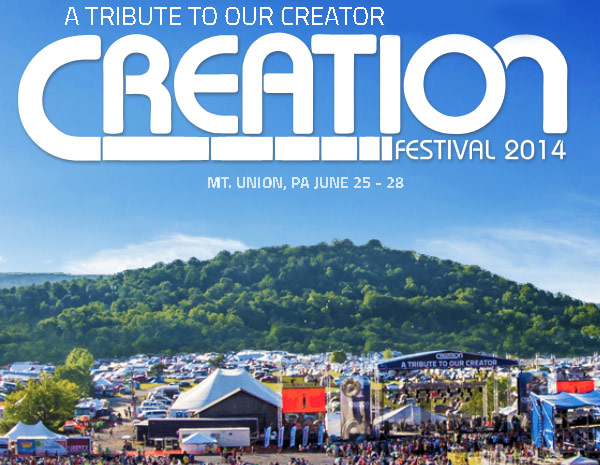 Creation Festival Northeast 2014
6/25-26/14, at Agape Farm in Shirleysburg, PA
Day One: Wednesday
It's that time of year again, and tens of thousands of believers flocked to Mt. Union Pennsylvania to pay "A Tribute To Our Creator" at the 35th annual Northeast Creation Fest.
The big news of the day was the heavy rains that poured through the festival, making everything a virtual mud pit and threatening to see the cancellation of the two headlining acts, Hillsong Young & Free and Chris Tomlin. Thankfully, around 6pm the rains subsided and +50,000 Christian music fans made the muddy trek back to the main stage just in time for for the dub-step rock band, Kronicles.
The energy brought forth from the trio set the stage for a fun-filled night full of mud dancing and instantly helped center the minds of the audience on the Heavens, rather than what weather was pouring down from them. The band went through many fan favorites, all the while engaging the audience with smoke blowers, squirt guns, and beach balls galore. The set wasn't overly long or all that memorable, with the standout being their dub-step remix of the ever popular Jars Of Clay megahit "Flood" (it's on iTunes if your interest has been piqued). The short set, however, was a great was to kick off the night in preparation for Hillsong's latest incarnation.
After an insightful sermon on how Jesus plus nothing equals everything by pastor and LIBERATE founder Tullian Tchividjian, it was time to put on your dancing shoes and worship The Lord with the folks from Hillsong Young & Free. As the name suggests, this isn't your mother's Hillsong. Most of the songs in this set were rollicking, beat infectious, high energy tributes to Jesus. During many songs, the audience was encouraged to let loose and dance while the band did the same on stage. Make no mistake about it though, these aren't the vapid, empty dance anthems that one would hear on secular radio; the lyrics are deep and insightful.
In a unique twist, we were informed that the prior festival Y&F were scheduled to perform at was rained out, thus making Creation Fest 2014 their very first show in The States together. The show opened with the joyous chords of "Wake" sung by the talented Taya Smith (of Hillsong UNITED, "Oceans" fame). As she sung the opening lines of the chorus, "You wake within me...", the audience erupted and the Jesus party was on! The band played through most of their debut album, with highlights being the boisterous "Alive" and the beautifully toned down "Sinking Deep." It was an impressive U.S. debut for the youngsters, and a nice contrast for the night's final act, a little known singer by the name of Chris Tomlin.
Unsurprisingly, Tomlin's set played like a veritable best-of-CCM over the last decade. He opened with the immensely popular "How Great Is Our God," which set the tone nicely for something labeled "Creation Fest." This was the night's first huge singalong, with nary a voice being silenced throughout the entire crowd. With over 50,000 sets of arms outstretched to Heaven singing praises to our Creator, Tomlin cycled through hit after hit as the crowd sang uninhibited and undeterred, anthem after anthem. Chris Tomlin's studio albums have never been a favorite of mine, coming off a little too formulaic, but his live show excels. These songs were written to be an experience in worship, and surrounded by the masses singing praises in unison, it's hard to not get swept up in the spirit of the greatness of our Savior.
The night wasn't all reflective worship though, with "God's Great Dance Floor," "Whom Shall I Fear (Angel Armies)" and "Don't Ever Stop," providing plenty of opportunities to pump your fist and jump up and down. Tomlin even broke out his new single release, "Waterfall," which played nicely in a live atmosphere. The night ended with an extended performance of "Our God" with Tomlin reminding everyone in attendance that even the biggest problems pale in comparison to the greatness God.
As the crowd dispersed--some to join in on the dance party located on the smaller Fringe Stage, and some heading back to their camps for bon fires or fellowship with their pillows given the late hour and exhausting, soggy day--it's hard to imagine that the first night of Creation Fest could be considered a disappointment by anyone. Amongst the wide variety of musical acts taking place on different stages, the skate park, zip line, and assortment of other activities, Creation Fest is a must for any believer looking for a retreat from the hassles of everyday life in this sometimes dark and disappointing world. This being my first time, I can say I was certainly pleased and anxious for what the next day would provide!
Day Two: Thursday
We all awoke from our tents and campsites to the blessed realization that God had rolled away the clouds in the sky, and dried up the land (mostly) and set a beautiful day before us. I left camp early with the intent of shooting and seeing as much as possible.
First up on the main stage was a message by internet sensation and author of "Jesus > Religion", Jefferson Bethke. I've been a big fan and supporter of Bethke, and he has a wonderful way of breaking down some of the complexities of the gospel in simplest terms and relating them in such a basic way to ordinary life. It was a pleasure to see him and a great way to kick off the concert-intensive day.
After shooting some high energy images in Creation Fest's "Extreme Zone" (think skatepark, rock wall, zip line, inflatable rides for the kiddies, and sports galore), I headed to the Fringe Stage to catch Christian Country up-and-comers, Red Roots. It's no secret that I'm not a country music fan, however, this trio of triplets were highly enjoyable. I always respect when an artist doesn't play hide-and-seek with the message of Jesus in their songs, and these sisters were straight forward with the gospel, adding that little country twang. I'm not a country music aficionado, but they sound as good as any country act I've heard on CMT or Froggy. I expect big things from them in the future, and if this is your style of music, it might be wise to jump on the bandwagon now!
Lybecker would kick off the string of concerts for day two on the main stage, and I had been hearing great things about them all day from their performance the previous year. The alternative rock outfit didn't disappoint, as their catchy riffs, Godly lyrics, and charismatic front man had the growing crowd in the palm of their hands through the whole set. Arms were outstretched towards God already, and Lybecker set the right tone for an intimate night of worship and proclamation. (More on that later.) Up next was perhaps my most anticipated performance, for KING & COUNTRY!
These guys are fun. And good. There's no two ways about it. They are the Christian Coldplay, and I mean that in all the best ways. Their newest single, from the highly anticipated sophomore release, "Fix My Eyes" (album due Sept. 16) kicked off the high energy set. Most of the band's material is percussion-heavy, and this new single about fixing our eyes upon God is no different. Brothers Joel and Luke Smallbone banged on heavy bass drums and crashed cymbals and tambourines galore while engaging the audience and Heaven above. The new single was the perfect prelude to for King & Country standards such as "Light It Up," "Busted Heart" and a rousing rendition of "Fine Fine Life." Halfway through the set, the band ventured out into the middle of the crowd, heavy drums and all, to perform for those who didn't have the best seats in the house. As the band headed back towards the stage, Joel remained and lead the crowd in a moving acapella rendition of "Amazing Grace." While short, this was a highlight and served to once again, fix our eyes on The Lord.
Things further took a more intimate turn as Luke shared his story of a life-threatening illness he experienced a little over a year ago, and the toll it took on his family. He shared some words that his wife told him in these dark days, which inspired the next song, "You just can't leave me here." With that, the heart-strings-pulling ballad "Without You" was unleashed on a tearful crowd. It's another beautiful reminder of what's really important, and serves as further excitement for the band's new album. The guys finished out the set with a rousing version of their mega-hit, "Proof Of Your Love," a song which sounds even better live.
Overall, for KING & COUNTRY are amazing, perhaps more so live. They engaged the audience in a way that was unlike any band I'd seen live prior, and you could really feel The Spirit moving with each song. What was to come next, however, was truly unexpected and my most memorable time in the two days I was at Creation Fest.
Up next was CCM hit machine Matthew West. I was expecting something akin to Chris Tomlin's set the previous night, however my expectations were blown away. West started the set with his current single, "Do Something" which immediately got the crowd going. There's nothing quite like seeing 50,000 people yell "RIGHT NOW!" with their arms lifted to God. It was the army cry of God's children to fix this broken world. This song would come back later in the set in one of the most memorable Creation Fest moments.
Later in the set, West invited us to watch a video. In this video was a young man describing circumstances in his life that led to heavy drug abuse. He went on to explain that he would often introduce himself as a drug addict and became comfortable with this fact. After an emotional trip to rehab, finding Jesus, and experiencing a calling into ministry, he would now introduce himself to people as "child of the one true King." Immediately, West's band went into the hit song. West would do something similar to introduce his song "Forgiveness" profiling Renee Napier, who lost her daughter to a drunk driver at age 20. The man, Eric Smallridge, would be sentenced to 22 years in prison. Footage shown from the courtroom showed a sobbing Smallridge facing Napier and family, pleading for forgiveness and sorrowfully apologizing over and over. In the timeframe thereafter, Napier experienced a heavy depression fueled by bitterness. When she finally met face to face with Smallridge and forgave him, the weight was lifted and God began to move in her life. In the following months, Napier and 11 other people testified in front of the judge to have Smallridge's sentence cut in half. This is the "impossible" that West sings about in his song. It was a truly moving story that made everyone look inward and ask themselves if they would be able to do what Jesus said was necessary, just as this woman had.
After an extremely fun set, including West offering to share a post-show funnel cake with a young fan, the band played their last chords. However, West would quickly come back out to speak to an attentive audience on behalf of Compassion International. He explained how he was always reluctant to sponsor a child in the past, and after hearing his hit "Do Something", the folks at Compassion International go ahold of him and offered to let him meet some of these young children. West explained that the experience "crushed him in the best way possible." He soon after sponsored a little boy and explained that for the price of a cup of coffee every few days, he is now laying up treasures in Heaven and has never regretted writing a check to support this young man. He then challenged the audience to do something right now. They were going to play the song once more, and if anyone in attendance would like to sponsor a child, or even would like to think about it, they were instructed to raise their hands. Volunteers were ready to hand out a packet with a child and information on that child to all those with their hands raised. As the song began, a sea of hands went up; it was truly inspiring.
After a short setup time, it was time for the main event. One by one, the Newsboys came out and assumed their positions. This was unsurprisingly the highest energy set thus far, with frontman Michael Tait's Mick Jagger-like swagger spreading out into the dance-loving crowd. What's there to say about a Newsboys show that hasn't already been said? It was a blast! All the hits were here, as were a heavy mix of songs from their latest album, Restart. One of the highlights was a cover of the dc Talk game changer, "Jesus Freak." Wild man drummer Duncan Phillips was seated atop a circular rising platform, which began to get higher and higher. When his drum solo came, the riser lifted forward, and began to spin like a carnival ride, parallel with the floor. Of course, Phillips never missed a step, hitting every beat.
After the final chords of "Jesus Freak" were played, Tait and company exited the stage, which prompted a crowd chant of "God's Not Dead!" They quickly came back and introduced a clip selection from the theatrical success of the same name before going into the crowd favorite. If there happened to be any unbelievers within ear shot of 50k yelling "GOD'S NOT DEAD!", I think they got the message. As the night wound down, the Newsboys finished out their encore with their cover of the Christian standard, "Revelation Song."
The night concluded with a screening of the movie God's Not Dead. I encourage anyone who hasn't seen this film to purchase the DVD coming out in August. It serves as an encouragement and a faith booster, and I feel it's important to support projects such as this that speak the unrelenting truth.
This concluded my two-day adventure at Creation Fest. While exhausting, I can say that any fan of Christian music, or anyone just looking to spend some time in the comfort of so many people in love with Jesus, need to attend this festival. There's literally something for everyone. My only regret is that I couldn't get more days off of work to attend the remainder of the festival, which was headlined by Toby Mac, Family Force 5, Switchfoot, and NEEDTOBREATHE.
On a personal note, I want to extend my personal gratitude to all the folks from campground G9. Not only did they accept me into their family graciously, but they fed me and kept me hydrated throughout the scorching two days I spent there. I couldn't have done it without them!
--
B.J. Smith
, 7/1/14
Creation 2014 Photo Gallery
click on an image for a bigger size
**vertical images cropped for thumbnails**
Kronicles: Main Stage
Tullian Tchividjian: Main Stage
Hillsong Young & Free: Main Stage
Chris Tomlin: Main Stage
Jefferson Bethke: Main Stage
Red Roots: Fringe Stage
Lybecker: Main Stage
for KING & COUNTRY: Main Stage
Disciple: Main Stage
Newsboys: Rockstar Stage
*all photos by B.J. Smith and are the property of the photographer and Jesusfreakhideout.com