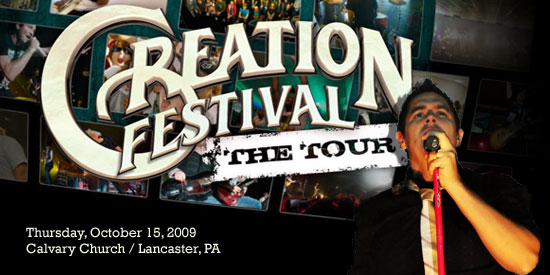 Creation Festival The Tour: Jars Of Clay, Thousand Foot Krutch, Audio Unplugged, B.Reith, This Beautiful Republic, FM Static
10/15/09, at Calvary Church in Lancaster, PA
Last year, the massive Christian music festival Creation took its music event national with its first Fall "Creation Festival - The Tour." With Kutless headlining, and featuring artists like Fireflight, KJ-52, Esterlyn, and Worth Dying For, the tour expanded Creation's territory nationwide. And with its second annual run being this year, the tour upgrades its headliner to industry veterans Jars Of Clay, and features such rock talents as Thousand Foot Krutch, This Beautiful Republic, and FM Static, while debuting hip hop/R&B artist B.Reith and featuring the touring musical ministry of Audio Unplugged - which discusses the successes and failures of two founding members of Audio Adrenaline.
On a rainy (and in some places snowy) day in October, Calvary Church in Lancaster, Pennsylvania brought the tour close to home for the Creation Festival. Surprisingly, the turnout this evening was rather modest, but considering the show wasn't scheduled to start until 7:30pm on a school night, I suppose I can understand why.
While the church sanctuary was still filling up, Tooth & Nail pop punk act FM Static opened up the night with a short set. The house lights remained on during their set, and most of the audience remained seated. It was so laid back that it even seemed to catch the band off guard a bit in the process. But it was good to finally see FM Static live. Three of the performing members are also in Thousand Foot Krutch, so it made sense to put them on first to give them a couple-hour break before performing again in TFK. The foursome opened with "A Boy Moves To A New Town With An Optimistic Outlook," and as front man Trevor McNevan tried to pump up the crowd, monitors behind the band and on either sides of the stage displayed the illustrated music video for the song. "The Unavoidable Battle Of Feeling On The Outside," also from the new album, Dear Diary, was next, before the band broke into a worship cover song with "Bleeding Love." It seemed a little odd for them to make one of the five songs in their short set a cover, but it made for a nice worshipful moment during their show. The only older track to be played, "Definitely Maybe," from their debut What Are You Waiting For? was next, before the band closed with the single from their latest record, "Take Me As I am." They were a great warm-up act, it's just a shame the audience was a little unresponsive.
At this point, B.Reith came out to emcee and make some announcements. Considering that FM Static served more as a pre-show band than the official start of the night, this segment felt more like the introduction. Pastor Harry Thomas, a familiar Creation Festival face, came out to lead the audience in prayer, and then the night's first official act was announced. With that, Forefront Records rock band This Beautiful Republic emerged with their aggressive rock show. The audience was invited to come forward, and the lights finally went out. NOW it felt like a rock show. The Ohio natives opened with "Surrender Saved My Life" from their latest record, Perceptions. While the band's recordings are edgy, there's still a pop flavor mixed in. But at their live shows, This Beautiful Republic makes no bones about being a hard rock band, and the energy on stage is undeniable. "My God" was next, followed by the more mellow "For The Life Of Me," giving anyone not a fan of hard rock present a chance to catch their breath. To close their set, TBR then concluded with "Going Under" and the begging-for-crowd-participation rocker, "No Turning Back." It was a great live set and a good match for the diverse artists of the night.
B.Reith then came back out - this time for his own live performance. Before beginning, a video was shown on the screens around the stage of TobyMac introducing B. It seemed a little odd he needed any kind of endorsement, especially since his live show - especially with his strong vocal abilities - speaks for itself. With the assistance of DJ Promote on the turntable, Brian opened with "Comeback Kid," moving swiftly around the stage to interact with the audience. B.Reith spoke about the struggles he's had with people trying to tell him to choose either hip hop or R&B, not both, and after performing the encouraging "Mess," he played "Old School," in which spoke out about his dilemma. He then closed with the fun and funky "Go On" before ending his short but satisfying set.
At Creation East this past June, I had the pleasure of seeing Audio Unplugged (AKA "AA Talks") at a special late night performance. They were given about an hour for their set, and much to my surprise, they had about that much time on the Creation Tour -- the kind of time slot a main headliner would get. However, Audio Unplugged is a "show" unlike most you'd experience. Their performance mixes live music and speaking for what becomes a lesson in Audio Adrenaline history as well as testimony-sharing and ultimately a concert as well. This kind of show fulfills the need for a speaker on the Creation Tour, and it probably is more effective, too, then just your usual 20 to 30 minute speaking spot. For this version of the Audio Unplugged show, the band had more lights and production than their Creation East slot and the overall presentation was just a bit more refined, although it was just as strong the first time I saw it as it was this time with a little extra production. Although it's called "Audio Unplugged," Mark Stuart and Will McGinniss, formerly of Audio Adrenaline, are accompanied by a full plugged-in band to back them up. Former Seven Day Jesus (and the band Matthew) singer Brian McSweeney returns as guitar and background vocal support while the guys also feature a pianist/lead vocalist, a female vocal accompaniment (who wasn't at the summer stint), and drums. The closest thing to their set being "unplugged" was the fact that everyone remained seated on stools, but that's nothing to complain about. It just was a more laid back performance. Their AudioA song selection remained virtually the same, with the band opening with "Get Down." Stuart then introduced the next track, performing "Never Gonna Be As Big As Jesus" before stopping to talk about the band's history and how Mark and Will got started in music. "Big House" inevitably followed, and then Mark shared about a period of time in the band when he was really going through a tough time, and then moved into "Ocean Floor," from their album Lift. Stuart seemed to be providing more vocals than he did over the summer, and his voice was still showing the wear and tear from over the years -- but it was just so good to hear him singing these songs again. The guys let their band support alternate verses to help Stuart with the singing, which also gave the whole set less of an "AudioA" feel (which is probably good since this isn't the full band). Still, hearing songs like "Never Gonna Be As Big As Jesus" again, and even "Ocean Floor" which they played until their final show, is an incredible treat. Afterwards, Will began talking about the day Mark approached him to tell him his marriage was failing and was virtually over, and then turned the reigns over to Stuart who emotionally shared from his own personal experience about the painful time. He talked about his feelings of failure and the incredible story of how God used AudioA's own song "Good Life" one lonely and depressing morning to encourage the Audio Adrenaline frontman - who had written it years earlier for a friend who had gone through a divorce. They then performed "Good Life" with verses of "God Is So Good" before drifting into a time of worship with Matt Redman's "Never Let Go." The guys then announced their new project "Know Hope" that will be a collaborative effort through Integrity Music and performed a new song entitled "Jealous God." The song was entirely sung by the band's live piano player, which gave the track a bit more of a standard worship flavor (instead of Stuart's characteristic vocals). Afterwards, Mark and Will shared about the Hands and Feet Project and the miraculous story of a baby that had been rescued from an outhouse and taken home to the Hands and Feet orphanage. With that, the band then closed with the AudioA song "Hands and Feet" to bring their standout performance to a finish.
A set change followed and before long, Trevor McNevan emerged on stage once again, this time dressed in all black with gold trim and Welcome To The Masquerade flame masks printed on his jacket. He waved a large flag with the logo imprinted on it as "The Invitation" played in the background. Thousand Foot Krutch then collectively burst into the title track from their new album, Welcome To The Masquerade, jumpstarting what would ultimately be an incredible rock show. Quite smartly, they continued with the anthemic "Move," but then were struck with a few pesky technical issues while trying to play some samples before their next track "Bring Me To Life." McNevan did his best to stall, and then the show was back in full-swing... of course until it happened again before they performed "Absolute" next. From then on, however, the show ran smoothly for TFK, and the title track from their previous album, "The Flame In All Of Us" was next, followed by the 9-11 inspired "What Do We Know?" and the wonderfully catchy "Forward Motion" from Masquerade. The light rock single was then followed up by one of the band's fan favorites, "Rawkfist," and then continued with one strong rocker after another with "Fire It Up," "Falls Apart," and ended with "Puppet" from their debut. It was easily the strongest live set I've heard from the band (although they probably could have done without "Puppet"), and the best live TFK shown I've seen to date.
I was shocked that it was about 10:15pm after TFK had exited the stage and there was still a set change taking place. Once the stage was cleared and Jars Of Clay's drums and keys riser was in place (featuring a nice Long Fall Back To Earth themed design), the pop rock quartet emerged to the sounds of the rocker, "Work." It's always a fantastic song for them to open with, and having to follow-up a hard rock set like Thousand Foot Krutch in concert, it only seems to make sense for them to amp their set up a little more. And amp it up they did. "Weapons" (sans the beautiful piano intro of "The Long Fall" unfortunately) kept their set upbeat, before they tossed quite the nugget to their audience. An update of the opening track "Liquid" from their 1995 self-titled debut was a fantastic surprise. The song was given a similar update as their 2008 renditions of "Flood" and "Love Song," and it fit in great with the set. The pop love song "Closer" was next, preceding their update of "Love Song For A Savior." A Jars Of Clay show is unmistakably laid back -- especially when you stack it up against a show like Thousand Foot Krutch's -- and it's always a treat watching such great guitarists as Matt Odmark and Stephen Mason at work on stage. And with their set list leaning more towards pop rock and rock, it gives the guitarists a chance to get into their playing even more. So it was fun to see Matt and Steve occasionally hop onto a platform for a solo now and then. Their single "Heaven" was next, always a nice addition to their show, and was followed by "Dead Man" from Good Monsters, the delightfully dancey "Don't Stop," and the update of their most recognizable song, "Flood." The guys then exited the stage to soon return for their radio hit "Two Hands" as an encore. After it, the foursome's drum and bass accompaniment left the stage allowing for a wonderful acoustic rendition of "All My Tears" to conclude the night. It was an unexpected surprise and a great mood to leave the audience with. By the time the house lights came back on, it was already almost 11:15pm, and all of the artists took some time afterwards to sign autographs and meet with fans.
Although seeing The Creation Tour last year at an arena and this year in a church sanctuary made the tour feel more small-scale in its second run, this year seemed to be a much stronger show all-around (and last year felt too much like a commercial for the Creation Festival). There's a great mix of veteran and new talent and a strong blend of pop and rock music for audiences of all ages. Definitely catch this tour if it rolls around your area. I'm really curious now to see if this truly becomes an annual gig and who might be featured on future installments of the Creation Festival Tour.
--
John DiBiase
, 10/21/09
FM Static Set List

01. A Boy Moves To A New Town With An Optimistic Outlook
02. The Unavoidable Battle Of Feeling On The Outside
03. Bleeding Love
04. Definitely, Maybe
05. Take Me As I Am
This Beautiful Republic Set List

01. Surrender Saved My Life
02. My God
03. For The Life Of Me
04. Going Under
05. No Turning Back
B.Reith Set List

01. Comeback Kid
02. Mess
03. Old School
04. Go On
Audio Unplugged Set List

01. Get Down
02. Never Gonna Be As Big As Jesus
03. Big House
04. Ocean Floor
05. Good Life / God Is So Good
06. Never Let Go
08. Jealous God
07. Hands And Feet
Thousand Foot Krutch Set List

01. The Invitation
02. Welcome To The Masquerade
03. Move
04. Bring Me To Life
05. Absolute
06. The Flame In All Of Us
07. What Do We Know?
08. Forward Motion
09. Rawkfist
10. Fire It Up
11. Falls Apart
12. Puppet
Jars Of Clay Set List

01. Work
02. Weapons
03. Closer
04. Liquid
05. Love Song For A Savior
06. Heaven
07. Dead Man (Carry Me)
08. Don't Stop
09. Flood
Encore:
10. Two Hands
11. All My Tears

Creation Festival: The Tour 2009 Photo Gallery

click on an image for a bigger size
**vertical images cropped for thumbnails**

FM Static:

This Beautiful Republic:

B.Reith:

Audio Unplugged:

Thousand Foot Krutch:

Jars Of Clay:

*all photos by John DiBiase and are the property of Jesusfreakhideout.com



Click here All News Headlines
|

RSS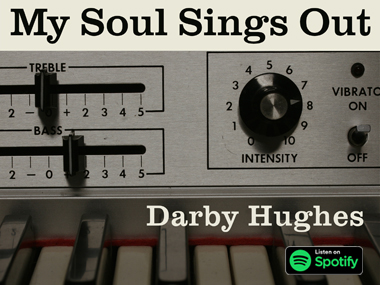 ---
---
---
---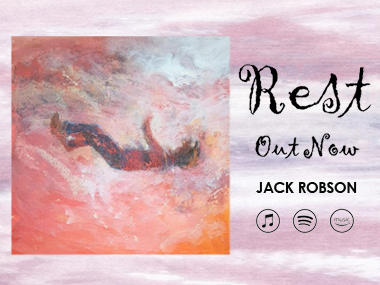 ---
---
---
---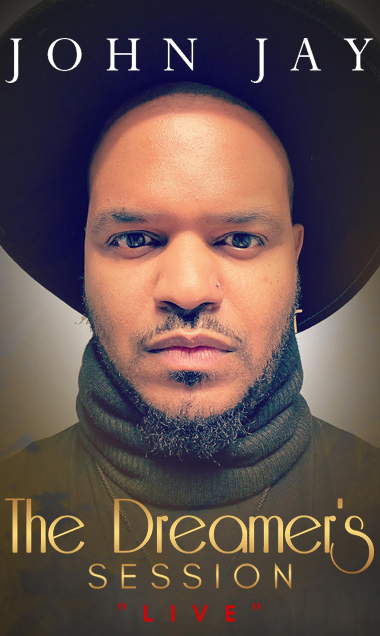 ---