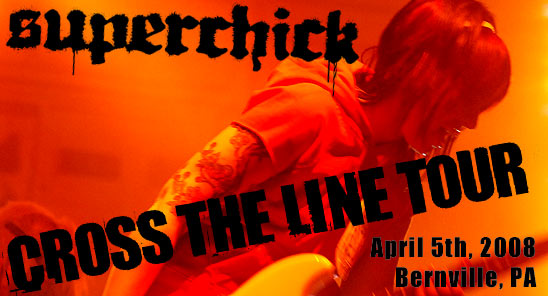 Cross The Line Tour
Superchick, Disciple, Britt Nicole, Starlit Platoon
4/5/08, at St. Thomas Church in Bernville, PA
It may confuse some people when looking at a tour line up like Superchick's Cross The Line Tour to see bands like Disciple and newcomers Starlit Platoon on a roster that includes the headliner as well as pop princess Britt Nicole and hip hop artist KJ-52. The mix doesn't exactly "cross the line" of what kind of bands you can typically squeeze onto the same stage, but it instead makes for a great deal of stylistic diversity. A tour like this is liable to offer a little something for everyone, from the screaming hard rock of Disciple to the urban flows of KJ. On this particular date at St. Thomas Church in Bernville, PA, KJ-52 was not on the list, but local band Road To Nowhere kicked off the night on the early side to fill the lineup with a fifth act.
For me, it's tough to watch a lot of local bands who attempt to perform on the same stage as a professional, national tour. There's a stark contrast between the youthful excitement one of these young bands exhibits - partially just because they're probably stoked out of their mind that they're playing before established bands they themselves listen to - and the sort of well adjusted, "this is my day job" persona of an established national act. So watching Road To Nowhere wasn't any easier than most other local indies, although the audience did seem to enjoy their joyful pop/punk songs. Their stage presence was indeed a bit forced and at times sloppy, but they managed to do better than most local bands would do in their position. While it was a good opportunity for them to play to a different audience, they just didn't really seem to fit in with the more seasoned artists that would follow. And their show seemed to obviously tacked-on to the main event that it felt pretty disjointed
Newcomers Starlit Platoon launched the main event - AKA the "Cross The Line Tour." While the group may be new to a lot of people, at least one of its players isn't entirely unfamiliar. Lead vocalist and keyboard player Brandon Estelle is playing dual roles on this tour, also serving as Superchick's longtime drummer. The group put forth a valiant effort, proving a solid opener for the tour, offering up a trio of pop/rock songs, beginning with "God Help Me," and continuing with "Two Step Program," while finishing with "Gun Fight." Estelle worked hard to get the crowd's attention and participation and the audience seemed rather receptive to his efforts.
Soon after Starlit's introductory set, Sparrow Records solo artist Britt Nicole emerged with a powerpop anthem to get the crowd energized. I'm sure with the diversity in styles represented during the night that more than a few unassuming parents would get a bit of a jolt when Britt came out with funky beats and family-friendly party anthems. But the soft ballad that's made a splash at radio, "Set Your World On Fire," soon followed, serving as a bit of a lull before the storm that would soon follow after her set. Nicole's music is very reminiscent of a lot of mainstream female pop artists, but her message is drastically different. Also, Britt's got a strong set of pipes and her voice is certainly better than many of her counterparts. To close her brief set, she performed her upbeat, optimistic anthem "Good Day" and then exited the stage.
The aforementioned "storm" struck the stage with significant force when Disciple stepped out for their opener, "Someone" (and if parents weren't completely shocked at this point...). With a shorter set than usual, Disciple performed a pretty tight selection of eight tracks - mostly from their most recent album, Scars Remain. Since Disciple has had some member changes recently, the band was trying out former Falling Up guitarist Micah Sannan who seemed right at home in the pack. Also, new bassist Israel Beechy (formerly of Staple) was temporarily out on leave to be in a wedding, so former Disciple bassist Joey Fife was back in the saddle to fill in. Considering it wasn't long ago that Joey had left Disicple, it was only natural seeing him up there again. The set pressed forward with "Rise Up," "Game On," and "Love Hate" before vocalist Kevin Young paused to share from the scriptures before performing their rock ballad hit "After The World." The hard rocking Scars Remain opener, "Regime Change" was next, with "Into Black" close behind, and they closed with what may be their most well-known song, "The Wait Is Over."
Disciple is a ridiculously tough act to follow. This is true not only because of their vicious stage presence, but also because of their hard-hitting songs. So for Superchick to have to follow it up... well, it's a bold move. But the Superchick fanbase is a loyal one. The band hasn't done a lot in the way of new music since their 2005 release Beauty From Pain and its "1.1" re-release the following year, so another headlining tour seems slightly premature without a new album for fans to have, hold, and get excited about. But the "Cross The Line Tour" actually gets its name from a new track on the band's upcoming June release, Rock What You Got, and the fivesome treated the fans to some new music during their dozen-song set.
While on their previous tour we saw last Summer, Superchick came out all dressed in some form of coordinated hot pink (yes, even the guys in the band too). This time, the gang all wore more appropriately matching red outfits, which looked great on their entirely white and black stage backdrops. The band kicked off their set with "Stand In The Rain" and "One Girl Revolution," sparking enthusiasm from the crowd right from the start. The monotonous but fan favorite "It's On" followed before the group debuted the tour's title track, "Cross The Line." It was great to hear some new music, as well as the follow-up track, "Alive," as both displayed the signature Superchick sound, but also a bit more growth along with it (although you'd probably never guess from an album title like "Rock What You Got"). From there, the quintet offered the catchy "We Live," as well as the girls' theme for smart dating, "Bowling Ball," and the funky "Pure." To close their set, Superchick performed the upbeat "Anthem," and finally, the encouraging "Hero," complete with Matt Dally's Eminem-styled raps. While I can always do without Dally's rapping, that isn't to say he's not a perfect fit otherwise for the band. Dally has a knack for encouraging the audience to get into the songs - I just can't help but wish he'd drop the hip hop. Nevertheless, the lights stayed dimmed, the crowd cheered, and Superchick returned for a two-song encore. Beginning with the remix of an oldie, "Stand Up," Superchick offered an energetic finale, but once again closed things out with the beautiful but extremely anticlimactic "Beauty From Pain." Tricia Brock shared her heart with the audience about tough times the band had gone through when they penned the song (complete with keyboard accompaniment during this -- which, honestly, wasn't needed to set any kind of mood), before closing with the emotional song. Thematically, it was a great closer, but musically it left things especially mellowed out (not that there's anything wrong with that). For such a high energy performance as a Superchick show, it just seems like an unexpected ending.
The Cross The Line Tour is an ideal Spring event for your youth group to experience. It's extremely diverse, offering a little something for everyone, and also a great way to be introduced to new styles and new music. The Superchick fans are certainly in for a treat as they get to hear long-awaited new music from the band, as well as drummer Brandon Estelle's side project, Starlit Platoon, and three other acts. You definitely get your money's worth on this one!
--
John DiBiase
, 4/11/08
Cross The Line Tour Photo Gallery
click on an image for a bigger size
Road to Nowhere (local band, not part of tour)
Starlit Platoon
Britt Nicole
Disciple
Superchick
*all photos by
John DiBiase
and are the property of
Jesusfreakhideout.com