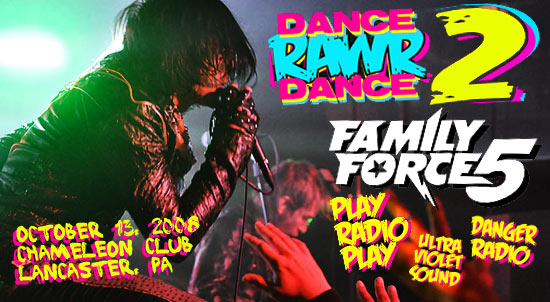 Family Force 5, PlayRadioPlay!, Danger Radio, Ultraviolet Sound
10/13/08, at Chameleon Club in Lancaster, PA
Last Fall, Family Force 5 headlined the aptly crazy titled Dance Rawr Dance Tour, hitting the road with The Secret Handshake and Jonezetta - both dance-friendly artists. For 2008, the tour is back, simply dubbed "Dance Rawr Dance 2," this time bringing out mostly mainstream support with acts like Danger Radio, Ultraviolet Sound, and PlayRadioPlay. While the lineup isn't quite as enticing as last year's (Jonezetta beats out any of this year's accompaniment, hands down), FF5 is hot off of just releasing a new album, so fans can expect a show to remember from this Atlanta five piece.
We left for The Chameleon Club in Lancaster, PA, fully intending to catch all of the night's opening acts. Sadly, things don't always go as planned (as we would also learn the following night for Relient K's Uncle Fest Tour), and after some poor Google Maps directions, we ended up circling downtown Lancaster about the time Ultraviolet Sound was playing. To make a long story mercifully short, we arrived sometime during Danger Radio, and ended up meeting up with a friend instead of sticking around for their full set. What we heard from them was a fitting warm up dance-friendly rock sound that was somewhat similar to that of Jonezetta, but perhaps more watered down. We ended up leaving for a bit and returning for the latter half of PlayRadioPlay! (aka Dan Hunter and his band), which seemed like a peculiar choice for the set to precede Family Force 5. Hunter and company were good at what they do, there's no question, but their sound is distinctly more melodic and soft (not that there's anything wrong with that), which isn't your ideal act to warm up an audience for Family Force 5. The stagnant lighting during the segment of PRP!'s set that we observed also didn't help the atmosphere. However, when all was said and done, Hunter announced that he would be playing an acoustic set outside of the venue after the show for all who were interested, and left the stage for somewhat of a lengthy set change.
It's no secret that we mainly went to this tour for its main act, Family Force 5. After all, any tour the band headlines is worth the price of admission just to experience their live show. When the stage had finished being prepped, hype man Xanadu emerged to rev up the crowd. This is the first tour where the band has their own lighting setup, so a few spotlights were perched atop speaker stacks on either side of the stage, while a few angled rows of colored bars hung behind them. And on the ceiling high above the band hung a disco ball - which was a nice touch for the dance-themed tour. When the band took their places on stage, all dressed in leather jackets, some with even lights along the seams, they opened appropriately with the title track from their sophomore album, Dance Or Die. Surprisingly, they guys brought the rock pretty soon after the synth pop anthem, performing "D-I-E 4 Y-O-U" and then a more funky rendition of "Replace Me" from their debut. Between songs, either clips from mainstream dance songs or special mixes filled the dead space, so the intro for their next track was a fun and unique electronic tune that repeated the band's name "Family Force 5" over and over before they interrupted it and launched into the fan favorite "Drama Queen." It was apparent at this point that the band was their most off-the-wall and energetic during their older songs. Whether it's because the fans are most familiar with these tunes or because the band can play them in their sleep, I'm not sure, but it seems almost as if the guys aren't quite as comfortable playing the new songs yet to perform them with their usual reckless abandonment. Still, the new songs are fun and infectious, and new tracks "Party Foul" and "Fever" followed, with the ridiculously catchy "Supersonic" close behind. The guys whipped towels around in the air for the silly "Put Your Hands Up," and when it concluded, they took a break for frontman Soul Glow Activatur (aka Solomon) to introduce the band and address the crowd. He concluded by stating that the band does what they do because of Jesus and that anyone who doesn't know Him is "missing out on the party." It was great to hear them say this in a bar/club venue with a mixed audience. The wise part about stating it halfway through their set, too, is that people have had the opportunity to really experience Family Force 5 as a truly unique live show. And their unashamed approach to their faith fits the show's in-your-face delivery.
The fun and funky anti-complacency song, "Wake The Dead," was next, followed by the first time I've ever seen the band perform a slow song live (a very weird feel indeed), "How In The World." Solomon encouraged the audience to get their cell phones out as the guys took a physical breather with the ballad. From there, the classic dance anthem "Numb" followed, bringing with it some of the band's most wildest moments, with its conclusion finding drummer Crouton pulling a signature headstand on his set with the help of Xanadu. An odd banjo sample between songs ended up being the perfect segue for "Kountry Gentleman," and the band closed their delectable thirteen-song buffet with the Dance Or Die album closer, "Radiator." Heaven knows the band can't stop there, so the Atlanta sextet (that is, including their trusty sidekick, Xanadu) came back for their most recognizable hit, "Love Addict," with Solomon donning his signature, silver painted Hulk gloves. This time, however, the gloves had an added feature... tiny glowing skulls dug into the knuckles of each glove (?!), as Soli continues his tradition of changing up the gloves' appearance per tour. A new favorite, "Get Your Back Off The Wall," followed, with the frenetic energy of "Earthquake" serving as the night's trusty closer. With that, the guys offered a "God bless you" to the crowd, announced their signing of autographs outside the venue, and left the stage.
Dance Rawr Dance 2 may arguably offer an underwhelming tour lineup, but as stated earlier, you can't go wrong with seeing Family Force 5 live. A fun show that never ceases to entertain, you get your money's worth with these guys. While the upcoming Winter Wonder Slam Tour boasts a much more enticing lineup (Relient K and TobyMac as well as FF5), don't miss the Dance Rawr Dance 2 tour if it rolls into your town and the WWS tour doesn't.
--
John DiBiase
, 10/17/08
Dance Rawr Dance Tour 2 2008 Photo Gallery
click on an image for a bigger size
**vertical images cropped for thumbnails**
Danger Radio
PlayRadioPlay!
Family Force 5
*all photos by
John DiBiase
and are the property of
Jesusfreakhideout.com