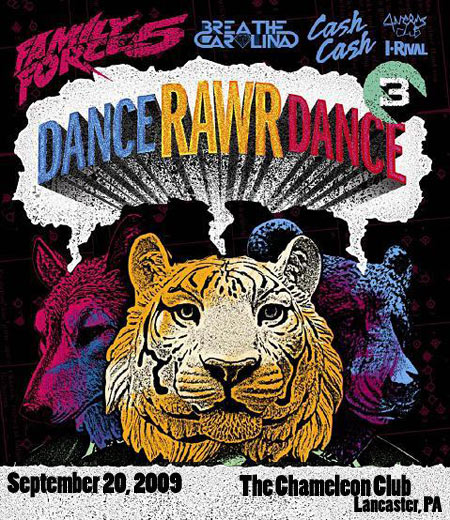 Family Force 5, Breathe Carolina, Cash Cash, Queens Club
9/20/09, at Chameleon Club in Lancaster, PA
Two years ago, Family Force 5 debuted what they aim to make an annual event, the Dance Rawr Dance Tour. This year, the aptly titled Dance Rawr Dance 3 Tour is in effect, and when it rolled back into Lancaster, PA, once again at The Chameleon Club, we decided it was a good chance to catch the boys live again.
The Dance Rawr Dance Tour typically consists of mainstream (and in some cases altogether secular) dance-styled bands, the occasional addition of a Christian industry act (or at least the members are believers), and the headliner as Family Force 5. Unfortunately, Dance Rawr Dance 3 was still in its growing pains when we saw their performance as the opening acts Cash Cash and Breathe Carolina weren't really adhering to FF5's pleas for clean performances.
When we got inside The Chameleon Club, we had missed I-Rival, but we were excited to see the new Tooth & Nail Records act, Queens Club. This dance-rock band is made up of several former members of metal band, The Chariot, and their tunes can probably be best parallelled to the likes of Jonezetta. During their brief set, the guys put on a solid performance, playing cuts from their debut EP's, UH HUH (which they were selling at their merch table) and their debut Tooth & Nail release, Nightmarer. After their performance, there was a set change and electronica / pop band Cash Cash was next.
It wasn't long before I was confident that Cash Cash wasn't my kind of band. Despite attempting to tone down their set for FF5's own tour, the guys still frequently used some language (especially "h*ll") while addressing their audience. But it wasn't only their on stage speak that was problematic. Their set-closing song, "Party In Your Bedroom" had their fans singing back such lyrics as "Cuz there's a party in your bedroom / All night long / Pretty girl, it's your show / Let it go when you're alone"... which was especially creepy given that much of the audience were teenagers. Aside from skin-crawling lyrics, their music was just a bit too sugary-pop for my tastes. They couldn't have left the stage fast enough for me.
But I had no idea just how "inappropriate" things could get. Dance-rock band Breathe Carolina was next, immediately ruffling any believer's feathers that were present, with a bass drum head that read "F--k Breathe Carolina" (and it was not edited). Front man Kyle Even then stepped out wearing a t-shirt that showcased a mildly creepy face that sported an upside-down cross on its forehead. To make matters worse, the band proceeded to use the "F" word from the stage more than once, including as part of a song or two they sang from stage. If I didn't enjoy Family Force 5's live show so much, I would have left as soon as their drum kit was set up (but honestly, I wouldn't have been there at all). It's especially unnerving that the band obviously couldn't have enough respect for the tour headliner OR the headliner's audience to tone things down. If anything, it really seemed as though they were going out of their way to be abrasive and offensive.
I was eager to get on with the main event, so by the time Family Force 5 finally started their show, it couldn't have come soon enough. For their Dance Rawr Dance 3 stage setup, the band had a large screen displayed behind them which would show music videos and random images for each song they played during the night. When they opened with "Dance Or Die," the band's recent concept music video for the song naturally displayed behind them. I was very surprised to find the guys were once again wearing their Summer festival gold and purple football gear on stage. They've often changed up their look per tour and for them to carry it into their DRD3 Tour seemed odd. I did, however, later find out that they were planning to debut a new stage wardrobe later that week and were saving them for a photoshoot in NYC the day after this show (and therefore didn't want to dirty them before the shoot) and that this was their last time wearing the football theme. Still, I had been hoping to catch a glimpse of the new look.
After their "Dance Or Die" opener, the guys moved into "Kountry Gentleman," which featured the ancient music video they had filmed in their indie days while they played the song (the video was even from before their longtime guitarist ChapStique had even joined the guys!). For the next song, "Drama Queen," behind the scenes footage of the guys on the road was edited together for display behind them. For later songs, they showed clips of old 70s or 80s sci-fi films, and various deliberately cheesy images to go along with their performance. "Party Foul" followed, and then the band paused for a chance to talk with the audience. Here, vocalist Solomon "Soul Glow Activatur" Olds plugged their upcoming Oct. 6 release of their new Christmas album (for which he said is "all about the baby Jesus"), and then announced their next song, a new one currently being used for a Skelanimals promo at Target stores, "Keep The Party Alive." During their performance, the commercial that incorporates the new song played behind them. To change their set order up a bit, "Love Addict" was next (complete with random images of dogs and cats?!), and then "Put UR Hands Up." And while still donning his signature usage of HULK gloves, Solomon lead the guys into "Supersonic" and "Radiator," the latter of which displayed a montage of 70s or 80s yoga/aerobic footage behind them. A headlining set for Family Force 5 is always the best way to experience the band because it really gives them more time to do their thing and settle into a groove. It also gave them a chance to play songs you might not normally hear live from them in a different setting. After a brief clip of Michael Jackson's "Thriller" lead into "Get Your Back Off The Wall" (and the video behind it incorporated tiny pieces of the music video for MJ's hit), C&C Music Factory's "I Got The Power" lead into "Earthquake" - a song the band normally ends a set with - and featured video clips from what looked like the film Earthquake. At that point, Solomon introduced the next song as a song about riding on the hood of cars and performed a new song, "Ghostride The Whip" (which was released on their remix record and more recently on their Target-exclusive EP). The band then took the opportunity to signal the end of their set and left the stage, leaving an audience eager for an encore. They swiftly returned and broke into the dancefloor anthem, "Fever" (which featured an animated video of dancing stick figures/robots). It was a solid finish to another great set from Family Force 5.
It was unfortunate that the evening's lineup couldn't have been stronger. It's completely unnecessary for bands to be vulgar or crass on stage - I've seen hundreds of great shows that were completely devoid of such material - and the persistance of Breathe Carolina to be as brash as possible was a sincere turn-off. For fans of Family Force 5 hoping to catch the band live again, you may want to just avoid this tour altogether. It's arguable whether just seeing their show is worth the price of admission alone (actually, the venue setup would contribute a lot to deciding that, as I'm not sure The Chameleon would be worth it), so maybe just getting there late in time to see FF5 would be the way to go. It was irritating that The Chameleon Club wouldn't allow readmission because we couldn't leave to avoid the two openers, but if you know ahead of time that your venue would allow for it, that may be a good option. In any case, it's unfortunate to even have to consider such an option because FF5 still puts on one of the best live shows around. It's just a shame they couldn't surround themselves with better company. At least this Fall, they'll be hitting the road with two gems - House of Heroes and Remedy Drive - for their Christmas headlining tour, so you WON'T want to miss that one!
--
John DiBiase
, 9/28/09
Dance Rawr Dance Tour 3 2009 Photo Gallery
click on an image for a bigger size
**vertical images cropped for thumbnails**
Family Force 5
*all photos by
John DiBiase
and are the property of
Jesusfreakhideout.com