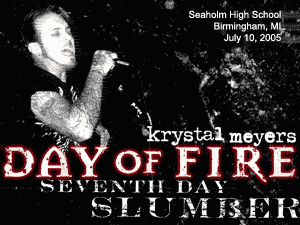 Day Of Fire, Seventh Day Slumber, Krystal Meyers
7/10/05, Seaholm High School, Birmingham, MI
Upon arriving at Seaholm High School, my excitement began to build for the much-anticipated Day of Rock tour featuring Day of Fire, Seventh Day Slumber, and Krystal Meyers. Once I took my seat in the spacious auditorium, I anxiously awaited the start of the show. The very moment teenage rocker Krystal Meyers approached the stage and strapped on her guitar, I knew immediately it was all worth the wait.
Beginning her five-song set, Krystal Meyers and her three-piece band jumped into "My Savior," which led right to her "don't conform" anthem "Anticonformity." Meyers continued to build up her momentum with her hit single "The Way to Begin." She then whirled her way into "Fire" before coming to a crashing conclusion with "Can't Stay." Though this rocker may be a mere sixteen years old, she held her own against the competition with her fun stage presence and way with the audience. Her brief set came as a wonderful surprise by living up to the "rocker" tag she has been given. The only downside to Meyers set seemed to be the length of her performance time. As entertaining as this teen is, more time would have been a bonus to an already great start to the evening's show.
As soon as Krystal Meyers and crew wrapped things up, Seventh Day Slumber began preparing for their performance. After moving things out of the way from Meyers' set and tuning up, the foursome began their time slot. They satisfied the crowd with mostly rock numbers from their latest release Once upon a Shattered Life. SDS performed the title track from that release, which was released to radio just last week, and their other hit single "Caroline" during their eight-song set. Though music was the primary focus of the band's segment, lead singer Joseph Rojas shared his personal testimony of how his life changed after giving up his former cocaine addiction and moving past felony charges to now living to serve God. Everyone in the audience seemed to respect Rojos' brutal honesty, hanging on to his every word. Shortly after that, SDS wrapped things up with "Break Me" and "Oceans from Rain." Even though Seventh Day Slumber is still somewhat of a new band, they displayed musical chops normally seen in more experienced musicians, giving us a glimpse of what's in store for the future.
Finally, after yet another brief set change, new Dove Award winning band ("Best Rock Album") Day of Fire took their place. Despite the fact I was familiar with only a few of the band's songs, I still was looking forward to seeing this up-and-coming talent. Day of Fire ripped through a twelve-song set that kept the crowd anxious for what was in store. The guys kicked off with "Through the Fire," following it up with other high energy songs such as "Door" and "Time." Lead singer Josh Brown often commanded the crowd to clap or join him in singing, as well as getting personal with the concertgoers, whether it were by slapping high fives or sharing his microphone with enthusiastic fans. Day of Fire even offered some material that had not appeared on the band's debut record, with songs likes "Wake," "Now You Know," and "Anybody." Though the band didn't mention where the songs had or would appear, it's probably a safe guess that those few tunes will appear on an upcoming project.
As Day of Fire's performance time began to fade, they offered live takes on "Reap and Sow" and "Rain Song." When Day of Fire later launched into "Detainer," no one could predict the crazy surprises that would come with the song. As the band continued the song, Krystal Meyers accompanied by her band, returned to the stage- only this time with brightly colored wigs adorning their heads! Day of Fire and Krystal Meyers and crew seemed to be thoroughly enjoying the moment, creating the evening's greatest highlight. Once Meyers and crew exited, the quintet also performed their hit single "Cornerstone." Before the band's time drew to a complete close, Brown took the time to share with the crowd his drug-filled past and later coming to Christ. His honesty was certainly to be appreciated. Alas, Day of Fire brought wrapped up their heavy rock-based set with "To Fly." At the end of the evening, I couldn't help but anticipate the next time I would be able to see such a great rock show.
Though the show in and of itself ranked up among my favorites far, something must be said about the performers offstage as well. All of the artists took time after the show to chat one-on-one with fans, sign autographs, and pose for photo ops. Even more impressive were the attitudes that each performer displayed. Despite the fact that the turnout was unusually low, they came and gave their all. While talking with Seventh Day Slumber's lead guitarist Jeremy Holderfield afterwards, I found that the band would offer their best whether it be five or five thousand. Quite impressive indeed.
With a name like "Day of Rock Tour," most would attend hoping for nothing less than a great night of rock performances. Those expecting this will most definitely not be disappointed. Though the tour's end is near, the artists who came together and leant their talents to create the show are worth checking out on their own endeavors this fall.
--
Lauren Summerford
, 7/12/05
Krystal Meyers Set List
01. My Savior
02. Anticonformity
03. The Way to Begin
04. Fire
05. Can't Stay


Seventh Day Slumber Set List
01. Innocence
02. Make Believe
03. Shattered Life
04. Caroline
05. I Know
06. Candy
07. Break Me
08. Oceans from the Rain


Day Of Fire Set List
01. Through the Fire
02. I Am the Door
03. Time
04. Wake
05. Jacob's Dream
06. Now You Know
07. Reap & Sow
08. Anybody
09. Detainer (with Krystal Meyers and band)
10. Rain Song
11. Cornerstone
12. To Fly

Day Of Rock Tour 2005 Photo Gallery
click on an image for a bigger size
Krystal Meyers
Seventh Day Slumber
Day Of Fire
*all photos by
Lauren Summerford
, and are the property of the photographer and
Jesusfreakhideout.com